Maspalomas & Playa del Ingles Weather in January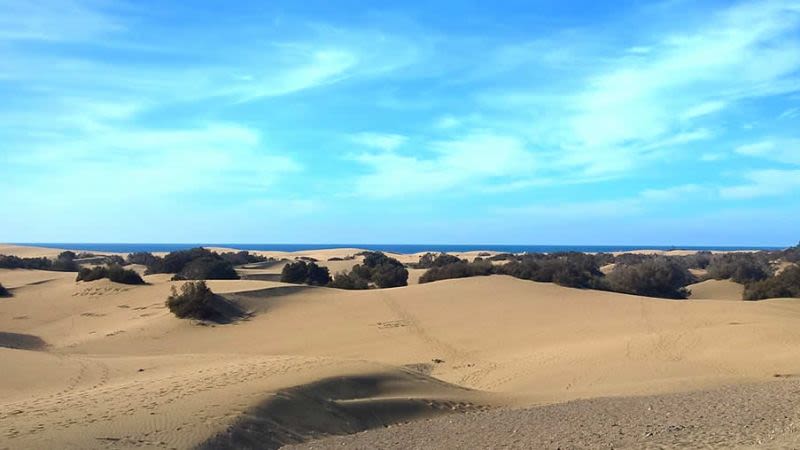 Thinking of coming on holiday to Maspalomas in January?
The weather is what can make or break a long-awaited holiday, so better check the weather forecast before deciding which month to book for your next trip to Maspalomas (Gran Canaria).
Weather averages for January in Maspalomas & Playa del Ingles
RECORD HIGH TEMPERATURE: 29 °C
AVERAGE HIGH TEMPERATURE: 20 °C
DAILY MEAN TEMPERATURE: 17 °C
AVERAGE LOW TEMPERATURE: 14 °C
RECORD LOW TEMPERATURE: 11 °C
AVERAGE RAINFALL: 27 mm
MEAN MONTHLY SUNSHINE HOURS: 217
MEAN DAILY SUNSHINE HOURS: 7
PERCENT POSSIBLE SUNSHINE: 64
MEAN MONTHLY DAYLIGHT HOURS: 341
MEAN DAILY SUNSHINE HOURS: 11
ULTRAVIOLET INDEX: 4
SEA TEMPERATURE: 19 °C
What is the weather like in Maspalomas in January
For January you can expect a mix of warm sunny days with cloudy and even rainy days, but usually no more than 3 or 4 wet days throughout the month.
It is possible to sunbathe in January in Maspalomas, although most people will find the ocean too cold for swimming at this time of year.
Average temperatures
The average temperature is 17°C, which is a mean value calculated between the average high temperature during the daytime of 20 °C and the average low temperature of 14 °C
Packing tip for January: bring at least a jacket and a cardigan with you as the nights can be quite chilly.
January and February are usually the coldest months in Maspalomas and Gran Canaria in general, but the weather is still much warmer than in the rest of Europe.
Rainfall
The average rainfall in January: 27 mm
January is the 4th wettest month after the months of December, November and February which all get more rain than January.
Sea temperature
Average sea temperature in January: 19°C
January is one of the coldest months for swimming in Maspalomas, along with February, March and April, all situated at 19°C.
Sunshine hours and daylight hours
Daily hours of daylight: 11
Daily hours of sunshine: 7
With 11 hours of daylight and 7 hours of sun on average per day, January is one of the months with the shortest days.
Also, in January you have 64% chances of seeing the sun each day, which is far better than most other places in Europe.
UV Index
UV Index in January: 4
Other months with same UV index: December
The UV index is at its lowest in December and January in Maspalomas, but you should always use a sun lotion to protect your skin from sun damage.
Should you come on holiday to Playa del Ingles and Maspalomas in January?
Although January is one of the coldest months in the Canary Islands, this is the same for the rest of European countries as well, which at this time of year are struggling with snow and sub-zero temperatures. Compared to that, the weather in Maspalomas will be much warmer and better, even if it's not guaranteed sunshine all the time.
If you are looking for a warm winter destination close to Europe, Gran Canaria remains one of the best options for sunny days and mild warm weather, just don't expect a tropical climate in order to avoid disappointment. The weather will be better than the UK, Germany or Scandinavia for sure at this time of year, so maybe this should make it easier for you to decide!
Maybe these articles will help you reach a decision