6 Best Things To Do in Puerto del Rosario, Fuerteventura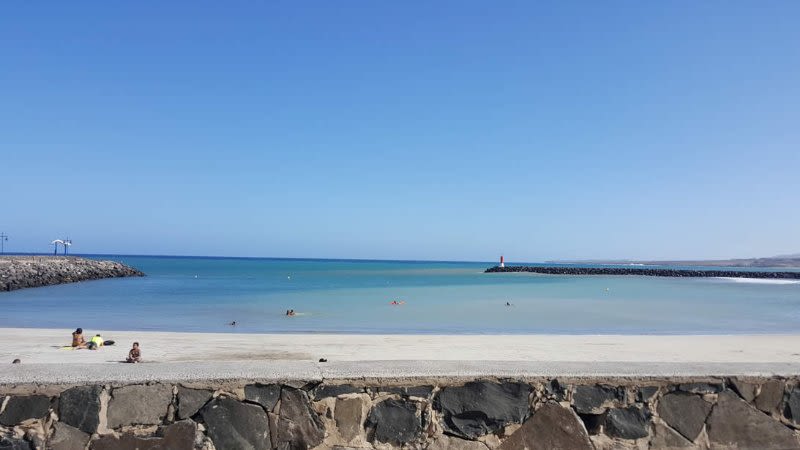 Puerto del Rosario has been the capital of Fuerteventura since 1860 and it was previously called "Puerto de las cabras" (Port of the goats). The city is the largest on the island, with a population of around 30,000 people according to Wikipedia and it's the main port in Fuerteventura, with many big ships coming here every day.
Puerto del Rosario is not considered a popular tourist attraction in Fuerteventura, but if you decide to visit, here's a list of things to do and see. However, in the recent years, the city has seen a lot of changes and the beach has improved a lot, being now a really pretty place to take a walk or spend the day.
Many cruise ships now make a stop in Puerto del Rosario during the winter season, so the city becomes more lively due to the larger number of tourists. Also, many visitors from nearby resorts come to Puerto del Rosario just to see the big ships when they arrive to port.
1. Shopping at Centro Comercial Las Rotondas
Address: Calle Veintitres de Mayo, Puerto del Rosario, Fuerteventura, Spain
If you plan on doing some shopping while on holiday, then Las Rotondas is probably the best place on the island. It has a great number of shops, like Zara, Bershka, C&A, H&M and some other local brands. There is also a big Hiperdino supermarket on the ground floor and some buffet restaurants, with indian and chinese food, at the top floor.
Depending on where you are staying on the island, you may want to read more about shopping in Fuerteventura in order to get more information about other towns and resorts.
2. Outdoor Sculpture Park in Puerto del Rosario
The entire town of Puerto del Rosario is an Outdoor Sculpture Park, with over 50 pieces of art scattered all over the city. The sculptures were designed by different artists as part on an annual contest called The International Symposium of Sculpture.
You can just take a walk through the pedestrian city center, or the ocean promenade and you will find these pieces of art at every corner, each different from the other. Some of the big pieces are placed in the roundabouts or intersections and you will be surprised at the creativity demonstrated by the artists.
3. Mural Paintings All Over Puerto del Rosario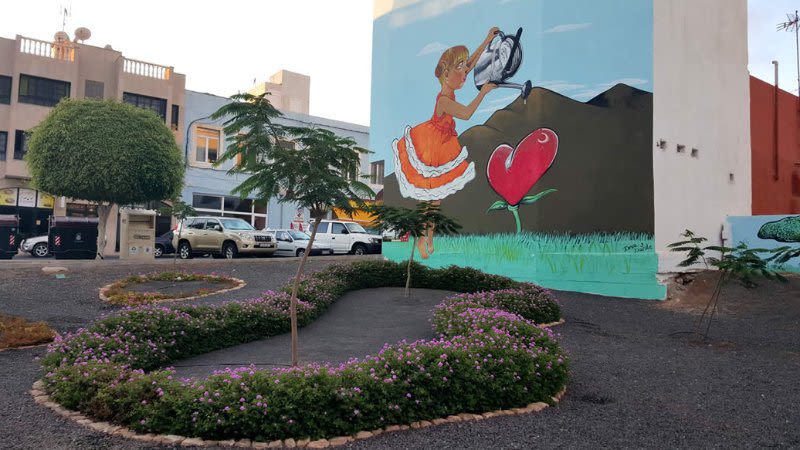 It seems like the town of Puerto del Rosario loves art and aims to bring it to the streets, both with the sculpture park and now with the mural paintings. The initiative has started in 2011 and by now there are over 400 mural paintings in the city.
Some of the local brands have sponsored the project and the talented artists, among which there are names like Dailos Paniagua, Luis of God, Juan Pedro Mendoza, Sophia and Lorenzo Mederos and Martinsolar Deva.
While you take a walk to discover the sculptures, look out for the paintings too, since you will find them in the most surprising places, not only in the town center, but all over Puerto del Rosario, making the place more beautiful.
4. Visit the Miguel de Unamuno House-Museum
Address: C/Virgen del Rosario, 11 - Puerto del Rosario
Telephone: 928 862 376
Admission is FREE.
Schedule: Monday - Friday: 9am - 1pm and from 5pm - 7pm. On Saturdays the museum is open from 10.30am till 7pm. It is closed on Sundays and official holidays.
Miguel de Unamuno was a Spanish novelist, poet and philosopher who was forced to live in exile until 1930 in Fuerteventura. His house in Puerto del Rosario is now a museum open to the public, so if you want to know more about Unamuno, you should go and visit the where he lived.
Don't miss our list of places to see & explore in Fuerteventura
5. Playa Chica
Playa Chica is a town beach and it is situated close to the harbor where some of the big ships arrive, so it is not as popular for swimming among tourists. The beach in Puerto del Rosario has been updated and now it looks really good and it's also bigger than before, so maybe the name Playa Chica (the small beach) isn't so appropriate anymore. The water here is usually calm and you can find many beautiful seashells if you walk on the shore.
Playa Chica has many facilities like beach showers, life guards and changing rooms.
Close to Puerto del Rosario you will find another large beach called Playa Blanca.
6. Puerto del Rosario Carnival
Since Puerto del Rosario is the island's capital, each year it organizes its own carnival, which is very popular especially among locals and residents.
This event usually lasts for 2 weeks, sometimes between February and March and it has a different theme every year.