Where to eat in Tenerife: 3 Recommended Restaurants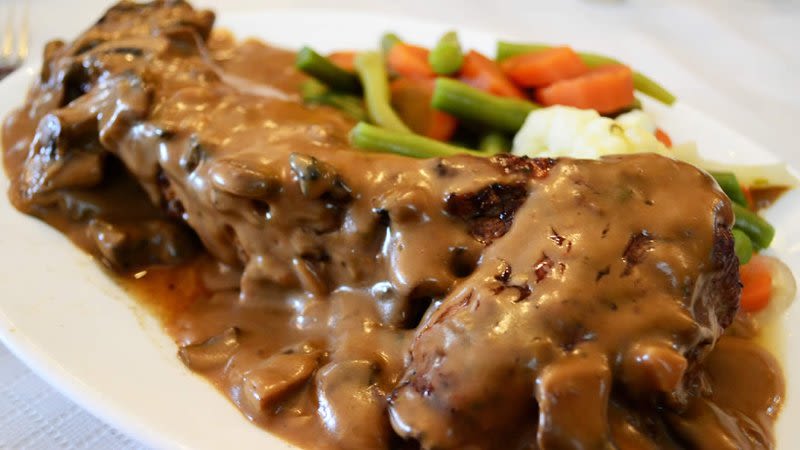 Tenerife has many great places to eat, from fancy restaurants where you can enjoy a special meal, to typical Spanish restaurants, where you can try the local dishes.
On our first trip to Spain, a local man from the rental car company told us to look for the restaurants that are called Bodegon in Spanish, because there we will find authentic food. These restaurants usually don't have the best design but the clientele is usually made up of Spanish people and the waiters usually don't speak that much English, or any other foreign language.
These are the sorts of restaurants we will try to recommend to you in this article, typical Spanish restaurants found on the island of Tenerife, far from the popular resorts like Playa de las Americas.
In Tenerife, for a really authentic experience, we also recommend you to try to eat at a Guachinche, which are usually located in the north of the island.
Restaurants in Tenerife
We have personally tried all these restaurants and we hope you will enjoy them too if you decide to eat at some of the places. And if you do, please come back and let us know what your thoughts were, we want to keep this article updated, and the situation with restaurants can change pretty quickly.
Restaurante Las Goteras - Guia de Isora
Address: Virgen del Rosario, 12, Guia de Isora, Tenerife, Spain
Telephone: 922857056
We went to this restaurant because of a personal recommendation from a friend and we enjoyed it so much, that we returned for lunch the very next day.
This is the kind of place you wouldn't normally find without knowing about it, since it isn't right on the main road. You have to turn onto a small street and there you will the Las Goteras restaurant.
Both times we went there it was full with Spanish people, some of them only came to take food at home, since the place was so crowded. We did not have a reservation, so we had to wait to get a table. A waiter wrote our name on a piece of paper and told us to wait along with all the other people already waiting.
Las Goteras serves hearty food, big chunks of stakes and large portions of chicken with mushrooms sauce, incredibly delicious. The waiters were friendly and they even invited us to choose our own piece of stake, before it was cooked on the grill.
If you're ever in the area, or you're just planning to take a drive on the island, don't miss this typical Spanish restaurant in Tenerife.
El Rocas - San Miguel de Tajao
Address: Avenida Callao Hondo 22A | San Miguel de Tajao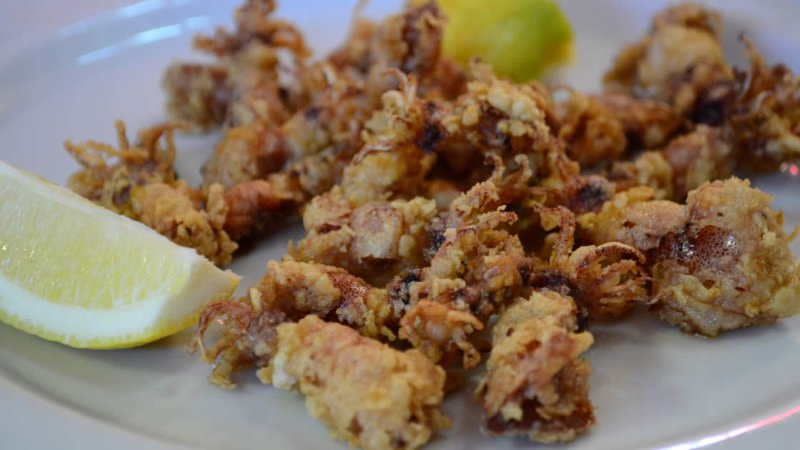 The friendly guy at the car rental company recommended us to go to San Miguel de Tajao if we want to eat some of the freshest fish in Tenerife.
We did not have the name of a restaurant, but El Rocas was so busy at the time we got there, that we knew something good had to be cooked there.
The crowd was a mix of tourists and locals, it was noisy as there were large tables with Spanish people, but the whole atmosphere was nice and the waiters extremely friendly and prompt.
There is no written menu, you have to choose from what was caught that day: fish, langostinos, calamari etc. You take a plastic tray, where they put everything you choose, the it's being sent to the kitchen to be cooked.
The service was fast, when we finished one dish, immediately came the next one and it was truly surprising the fact that we did not have to wait, since the place was completely full.
We paid less than 40 euro for 2 people, with beers, langostinos, calamari, fish of the day and some wrinkly potatoes.
This meal was a great experience, probably the best seafood restaurant in Tenerife we tried so far.
La Zahorra
Address: Carretera TF-436, 64, 38489 Santa Cruz de Tenerife, Tenerife, Spain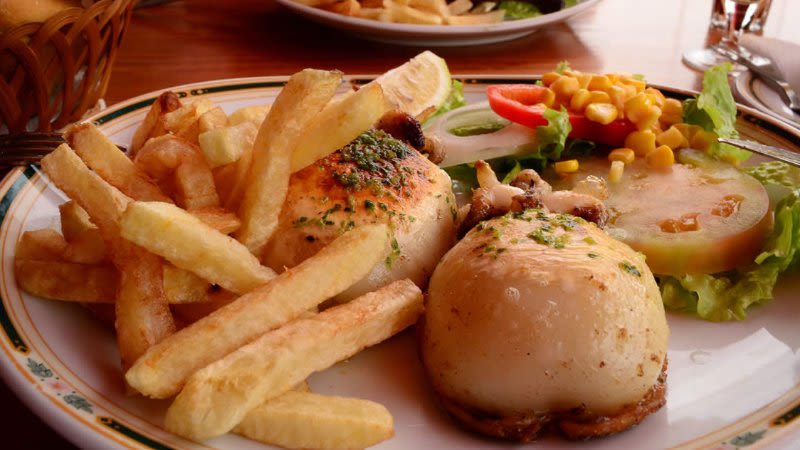 This place wasn't a recommendation, we simply found it on the 1st of January, while driving from Masca to Garachico.
There were lots of people on the terrace, though it was still early lunch hours, so we decided to stop and give it a try.
Funny moment with the waiters, when my partner said a whole chicken would be too much for him, they laughed and they couldn't believe a grown man can't eat an entire chicken in one sitting. Other than that, the food was good, especially the goat cheese, cooked on the grill and brought on a plate with typical canarian mojos. We also ordered the fried squid, which was good and not at all chewy.
This restaurant serves Spanish food, simple but tasty and it was also full of Spanish people, a sign that many locals come here to eat.
These are our 3 restaurants recommendations in Tenerife, a bit out of the typical tourist areas, in case you want to explore more on this beautiful island.
Restaurants in Fuerteventura
If you plan on visiting Fuerteventura in the near future, check out our list of restaurants in Fuerteventura that we also personally recommend.