Tenerife Weather in April - Is It a Good Month for a Visit?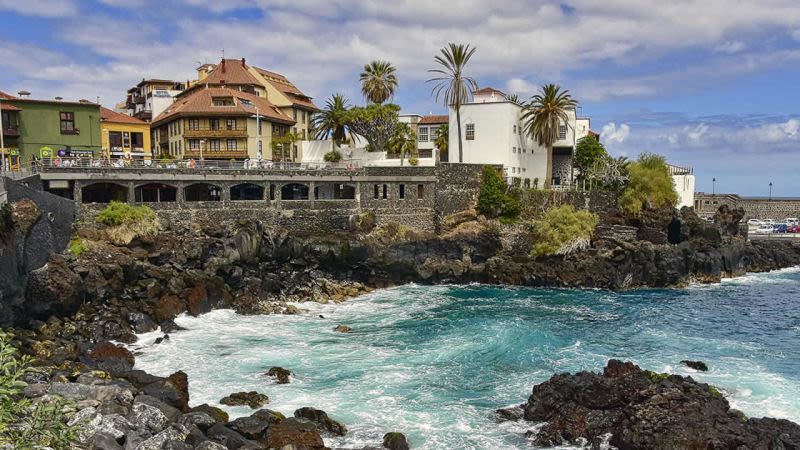 April can have a bit of a bad reputation when it comes to weather, although it may have more to do with people's erroneous expectations, than with the actual weather on the island. So what's the problem then?
Weather in Tenerife in April
April in Tenerife is usually a "transition" month: rain doesn't happen as often as in the previous months and temperatures tend to go up. Of course, it depends on where you are staying in Tenerife, as the weather can be quite different from coast to coast, so it's hard to give a general prediction.
Temperatures in Tenerife in April
Temperatures in Tenerife in April are similar between towns and resorts in the south. The north is still not as hot, but the weather is picking up there also and the temperatures slowly start to rise.
Although you shouldn't expect extremely high temperatures like in summer, the weather will still be warm enough to sunbathe and get a bit of a tan.
Average high temperature: 23.1°C (73.6°F)
Average low temperature: 16°C (60.8°F)
Daily mean temperature: 19.5°C (67.1°F)
In Tenerife South, the daily mean temperature is 19.5°C in April, which is calculated as a mean between the average high temperature of 23.1°C and the average low of 16°C. As you can see, the temperatures are only slightly higher than they were in March.
Record low & record high temperatures
The highest temperature ever recorded in Tenerife in April (at Tenerife South Airport station) was 35.6°C and the lowest temperature was 12.2°C.
Sea temperature

The average sea temperature is still below 20°C, which may be too cold for many people.
Can you swim in Tenerife in April?
Yes, but it depends on the beach and each person's preference in regards to sea temperature. We usually go swimming in the south at Playa Las Vistas, but we've also been able to swim at Playa Las Teresitas - but this depends on how the seasons are that year.
Rainfall
Showers
Yes, there's the chance of showers in April, but the overall chances of rain in Tenerife have dropped considerably compared to the winter months and even to March.
And if it's only a passing shower, chances are that in a few hours you may be blazing sunshine if you're staying the South.
Most of the "serious" rain will be happening in the north anyway, so if you book a holiday to the south, chances are you will only get the odd shower mentioned previously. However, days of storms can happen sometimes, and there are days when it's hard to escape the rain or bad weather. For those days we have a list of suggestions of things to do in Tenerife when it's raining, so you don't let this spoil your holiday.
Clouds
Yes, April in Tenerife can be a bit of a cloudy month. But don't be fooled into not wearing sun cream. The sun is still passing through those clouds and you will get tanned (more like burnt) if you don't wear sun cream.
Tenerife South weather in April
The weather in Tenerife South is usually warm enough in April for sunbathing, although the water may still feel too cold to swim in. It's the Atlantic Ocean after all.
Temperatures range in the mid-20s °C during the daytime in the south, so it's hot enough to sunbathe and spend time on the beach.
Tenerife is not a tropical island, so it's wrong to expect a tropical climate when coming here on holiday. But the temperatures in the south are pleasant year-round, and April is typically warmer than the previous months.
Los Cristianos & Costa Adeje in April
There are no significant differences between the weather in Los Cristianos and the weather in Costa Adeje in April.
If you're debating on which one to choose as a destination, choose based on what you find more interesting, not based on meteorological differences. Weather is difficult to predict nowadays with all the climate changes, plus Tenerife is an island easy to navigate, so it's easy to travel to most places if you want to do some sightseeing during your holiday.
If you find the ocean water is too cold for you to swim in, then most hotels have heated pools, plus there's Siam Park where the water is heated to a comfortable temperature of 24°C all year round.
How hot is Tenerife in April?
This is the no. 1 question when we are talking about the weather in general, no matter the month of the year.
April in Tenerife brings pleasant temperatures usually well above 20°C in the south of the island.
The temperatures are still far from the summer months when it's scorching hot. We find that these spring temperatures are pleasant and perfect for enjoying the island.
25°C is hot enough to sunbathe and to swim, especially in a heated pool. This is usually the temperature felt in the sun, although when we look at weather apps the numbers we see there represent the temperature in the shade, so that is why the numbers are lower.
At 23 - 25°C you can spend time out all day long at a perfectly warm temperature, without getting too hot. During July or August it's hard to withstand the midday heat (at least this is the case for us writing this article, as we find it difficult to stay out in the sun when it's above 27 - 28°C).
What to do in Tenerife in April
Go and see the amazing Los Gigantes cliffs. The picture above is from a beautiful April day in Los Gigantes with a view towards the amazing cliffs.
Visit Tenerife National Park.
A cloudy day in Teide National Park in April - sometimes it can be a perfectly sunny weather in Tenerife South and when you go up towards Teide you can encounter this type of weather. It had to do with Tenerife's micro climates, but we find it's part of the island's charm and this place, in particular, looks mysterious in this sort of weather.

Siam Park in Tenerife South - go there on a sunny day to enjoy it fully. The pools are heated and there are lots of attractions for any age.
Is April a good month to visit Tenerife?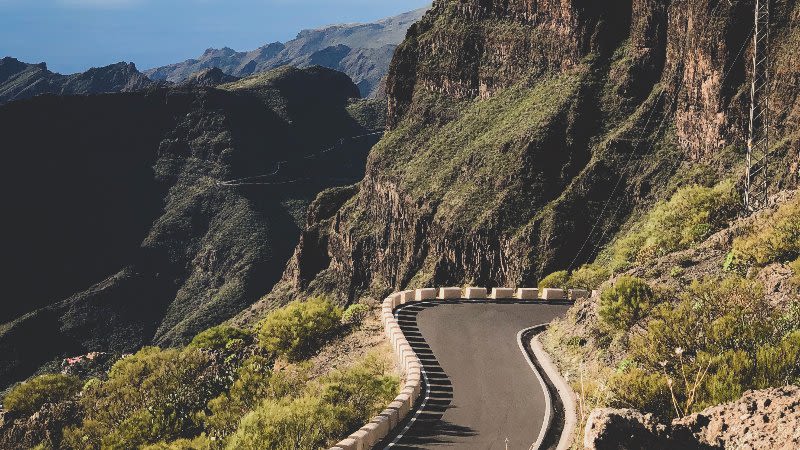 As we said, April is a transition month.
Some of the swallows (temporary residents in Tenerife over the winter period) start to head back home. But in April there are usually more visitors coming over from mainland Spain and the UK for the Semana Santa and Easter. The week or weeks after Easter are a bit quieter in Tenerife, as there's usually still around a month left until the school holiday begins and families with kids come over.
We find that April is a perfect month to explore Tenerife without being so worried about the weather or about the overwhelming crowds of tourists that start to arrive from mid-June.
FAQ about Tenerife in April
How hot is Tenerife in April?
During the daytime temperatures in Tenerife South often go up to 25°C, which is hot enough to sunbathe and enjoy long days at the beach.