Airbnb Coupon Code: Get $40 Off Your First Booking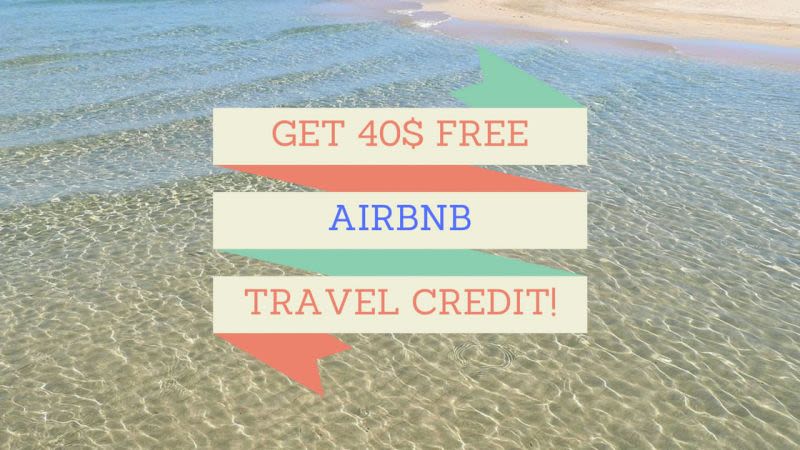 Airbnb has become a pretty popular choice for accommodation all over the world and you can find some amazing places, that will cost less than the price of a boring hotel room.
Booking on Airbnb is fast and safe, as long as you complete the reservation and pay on the Airbnb website.
You can get a discount off your first reservation, and the discount can sometimes be 24$ and other times up to 40$, it's all up to Airbnb. At the moment Airbnb is giving 40$ for everyone who creates a new account and completes a booking.
The standard travel credit amount is of 40$, but it can be more sometimes if they have a promotion running for a new account.
Below you can see a step by step instruction article on how to use the Airbnb discount code.
To create a new account and get your up to 40$ Free Travel Credit now, click here and Sign up on the Airbnb website. Once you've created your new account you are ready to go and the credit will be automatically applied to your first reservation with a total of more than 71$.
CHECK OUT THE BEST AIRBNBS IN THE CANARY ISLANDS
How To Get Your (up to) 40$ Airbnb Coupon Code
Step by Step Instructions
1. In order to get the discount you have to Sign Up for your Airbnb account using our link.
You can see in this case that the Airbnb discount code is for 24$ (or 22 €), but you can get up to 40$ (which is really great).
2. Click the button that says "Sign up to claim your credit" and you can create a new account using you email address, or you can just sign up using either your Facebook or Google account, which is a much easier option.
3. You will see your credit in the Credit tab available in your account.
3. Complete your profile and maybe write a short introduction about you, so that hosts can get to know a few things about you and then start looking for your accommodation.
How Can I Use The Airbnb First Time Coupon?
In order to get the 40$ off your Airbnb booking, you only have to sign up first. Then the Airbnb credit will be applied automatically when you make a reservation of at least 71$.
Just look for a place you like, and when you decide to make the reservation Airbnb will automatically apply the discount to the final amount. The only condition is for the reservation to be above €69/ $71.
Or, you can simply sign up now and get your Airbnb credit and when you find a property you'd like to book, the 40$ off will be automatically discounted from the final amount if your booking exceeds 71$.
How Long Is The Airbnb Coupon Code Valid?
Once you've signed up, you have to use the Airbnb travel credit within one year since the date you created your account, otherwise, it will be expired and you won't be able to use it.
This doesn't mean you have to travel within that one year, instead, you just have to make your first booking on Airbnb using the coupon code within one year since you've signed up.
For example, if you've signup up on 20th October 2018, you just have to make your first booking before 20th October 2019, but this booking can be for a trip that planned at a later date. So you have plenty of time to make plans and travel after you have signed up.
How Much Airbnb Credit Will I Get If I Sign Up?
It depends.
As we've previously said, the standard amount is 40 USD and you will get it automatically in your account after signing up.
However, Airbnb sometimes makes promotions for certain countries, so for example, if they are running a campaign in the USA, you may get more Airbnb credit if your IP address is from the US at the time when you sign up. But there's no way to know beforehand and you're getting free travel credit anyway, so any amount of money that you get as a discount should be good.
Can I Use The Airbnb Coupon Code If I Already Have An Account?
No.
The Airbnb discount code only applies to new accounts.
If you already have an account but you want to get your 40$ coupon code, just sign up for a new account using another email address or another social media account (if the email address is different). We would advise you to be honest and only sign up once. You could invite your friends and family you're traveling with to sign up as well, so you'll still end up getting a discount if you go somewhere together. See below our steps on how to invite friends and family to sign up.
In What Currency Will I Receive My Airbnb Credit?
You can change between the several currencies available in Airbnb, so your credit will change accordingly to the currency you choose.
You can Sign up and get a €22 credit or the equivalent of $40 or any other currency available on Airbnb.
Can I Get My Own Airbnb Coupon Code To Share With Friends?
Yes.
Everyone who has an Airbnb account can get their own discount code that they can share with family and friends.
In the menu, you will see the Travel Credit page, where you can get your own referral link. Just share the link with your friends or work colleagues.
Can I Get More Coupons And Discounts On Airbnb?
YES.
After setting up your account and getting your first discount for signing up, you can use your own code to invite friends and people you know.
Follow the steps listed above in order to get your own discount code and for every friends that signs up and makes a booking using the discount you gave them, you will also get another coupon. This will add up to the coupon you got when you first created your account (if you haven't used it already). If you get more discounts from friends, these will add up and you will be able to use the credit for your next booking on Airbnb.
How Can I Invite My Friends And Family To Sign Up For Airbnb?
In order to invite your friends to sign up, you have to go to https://www.airbnb.com/invite and there you can see your personal invitation link, that you have to send to them.
Share the link via email, Whatsapp, Facebook Messenger and when they sign up you will see them on your list and you will receive the credit once they complete their first trip.
Is Airbnb Safe To Use?
The most important thing you have to remember when booking a private apartment or villa is that you should never send money directly to the owner or the agency managing the property.
As long as you book using the Airbnb website, you will be protected under their program and if you have problems with the rental place or the hosts, you can contact Airbnb and they will manage the situation.