Blues Festival in Corralejo 10th Edition: from 19 to 21 October 2017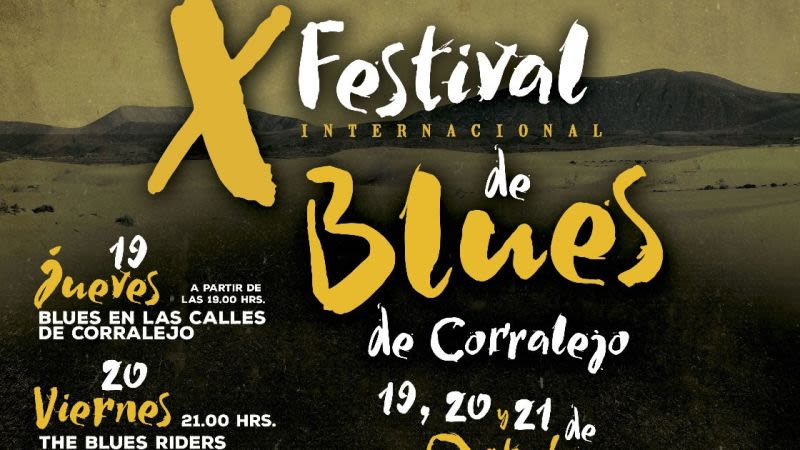 Cultural October in the municipality of La Oliva, Fuerteventura
Blues is coming to the streets of Corralejo between 19 and 21 October in an epic event that will celebrate this year its 10th Edition.
Corralejo Blues Festival: 19 - 21 October 2017
Location: Patricio Calero Square
See info about the latest edition of the Blues Festival in Corralejo
Shanna Waterstown from USA, The Cyborgs (Italy), Shirley Davis and The Silverbacks (UK) are just some of the headliners for the 2017 edition of the blues festival.
The organizer or the event is the Ayuntamiento of La Oliva, who has announced a mix of Spanish and international artists from all over the globe, including the USA and the UK.
The 2 main days of the event will be Friday the 19th October and Saturday the 20th October, when the event will take place in the main square of Corralejo - Patricio Calero. On Thursday there will be a prelude for the festival, with a program of blues music on the streets and corners of Corralejo.
The mayor of La Oliva has stated that now that this event has reached its 10th edition it has a great level of awareness among locals and visitors as well and there are people who love this style of music and who travel during this time especially to take part in the event.
Schedule for the X Edition of Blues Festival in Corralejo 2017
Thursday, 19 October from 19:00
Blues on the streets of Corralejo
Friday, 20 October from 21:00 in Plaza Patricior Calero

The Blue Riders (Gran Canaria)
Shanna Waterstown (USA)
The Cyborgs (Italy)
Saturday, 21 October from 21:00 in Plaza Patricior Calero

Alex Martin (Fuerteventura)
Maho Blues Band (Valencia)
The Sugar Hill Band (Gran Canaria)
Shirley Davis and The Silverbacks (UK)