Digital nomads in the Canary Islands - Which is the best island?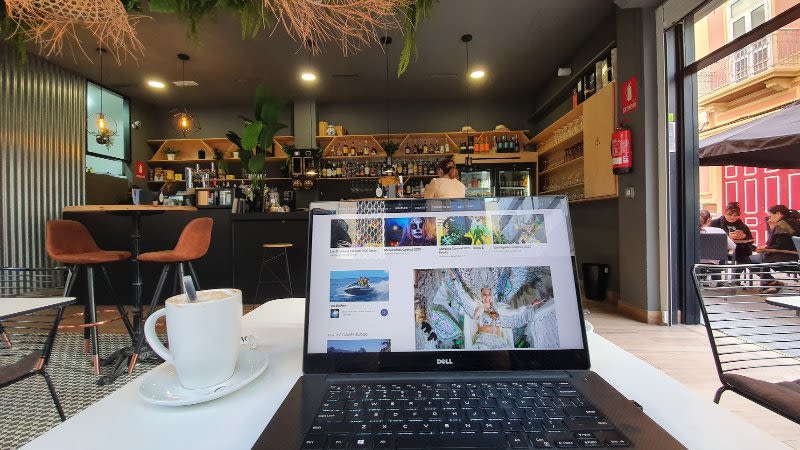 Since the start of the pandemic, the Canary Islands have become a place of interest for digital nomads and remote workers, especially ones coming from Europe.
So are the Canary Islands a good place for digital nomads?
The islands are part of Spain, and as such, they have all the advantages of being in a developed European country.
Advantages of working remotely from the Canary Islands
Safety - the islands are safe, although pickpockets exist and you should not leave anything of value in your car;
If you are from the European Union you can use the free roaming, so you won't need a new SIM card in order to have mobile internet on your phone
Good infrastructure - it is easy to rent a car and drive around the islands
The digital nomad community in the Canary Islands is growing quickly
The climate - during the winter months, the warm climate of the Canary Islands is the main advantage, since most of the other places in Europe are quite cold
High-speed internet is available, especially in the big cities like Las Palmas and Santa Cruz and in tourist resorts
Co-working & Co-living spaces - there are some co-living and co-working spaces, mostly in the capitals Las Palmas and Santa Cruz, but also other places like Maspalomas or Costa Adeje
Nature - the Canary Islands are a great destination for active people, who enjoy hiking, surfing and exploring.
Which Canary Island is best for digital nomads?
Tenerife and Gran Canaria are the most popular islands in the archipelago for remote workers.
They are also the largest islands in terms of population and they each have a large developed city, similar to other big European cities in terms of what you can find here.
GRAN CANARIA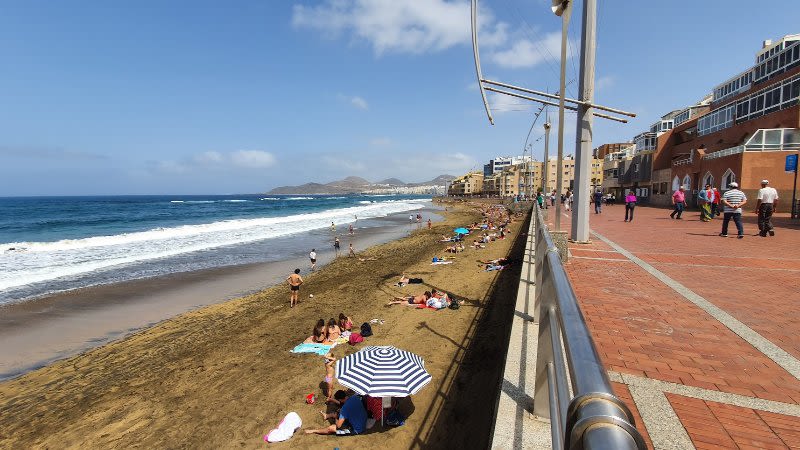 In Gran Canaria, the most popular place to stay for digital nomads is Las Palmas.
Las Palmas is also our favorite and in general the most popular destination among remote workers in the Canary Islands.
Las Palmas de Gran Canaria is actually the most popular destination in the Canary Islands for remote workers. It is the largest city in the Canary Islands in terms of population, with a fantastic beach and lots of shopping places.
CoolivingC and repeople Coliving are two popular options for co-living spaces in Las Palmas.
In general, most nomads prefer to be close to Las Canteras beach, which is the heart and soul of Las Palmas. This is even more important for those who want to spend their free time surfing ad in this case the area known as La Cicer is the best location where you should look for a place to stay.
Also near Playa La Cicer, you can find a great co-working space Work-Labs, which is as close as it gets in terms of beach proximity.
We usually prefer to stay in a private apartment near Las Canteras beach and you can find loads of them on Airbnb. You can also try to find a shared house or apartment, where you can rent a look in a house along with other nomads, especially if you are a solo traveler.
In terms of accommodation, Las Palmas is definitely more expensive than other popular destinations for nomads like Chiang Mai or Bali. However, compared to other large European cities in Germany, Norway or the Netherlands, the Canary Islands are much more affordable.
A nice studio in Las Palmas, close to Playa Las Canteras, costs between 800 - 1000 Euros per month, while an apartment with a balcony or a terrace will set you back anywhere around 1000 - 1500 Euros per month. Of course, these budgets depend on the season (winter is high-season here), how long you are staying for and what expectations you have from the place. Generally, the apartments in Las Palmas are small and many buildings have an interior courtyard, and some apartments only have windows towards that interior courtyard, which can make them dark and noisy, because you can easily hear the noise from other neighbors.
Here are some nice options for places to stay next to Las Canteras:
We have selected places that offer a good monthly rate.
In terms of great cafes, where you can get a good coffee and a bite to eat while you do some work, our favorite place is Roka Cafe, a great coworking cafe which is also minutes away from the middle part of Las Canteras beach.
In our opinion, the digital nomad community in Las Palmas is more active than the ones in Santa Cruz and there are many events or meet-ups in the city or activities during the weekends, as it's easy to rent a car and go out to explore the island.
If you want to see what's going on in the digital nomad communities around the Canary Islands we recommend joining these Facebook groups: Gran Canaria Digital Nomads and Canary Islands Digital Nomads & Remote Workers.
TENERIFE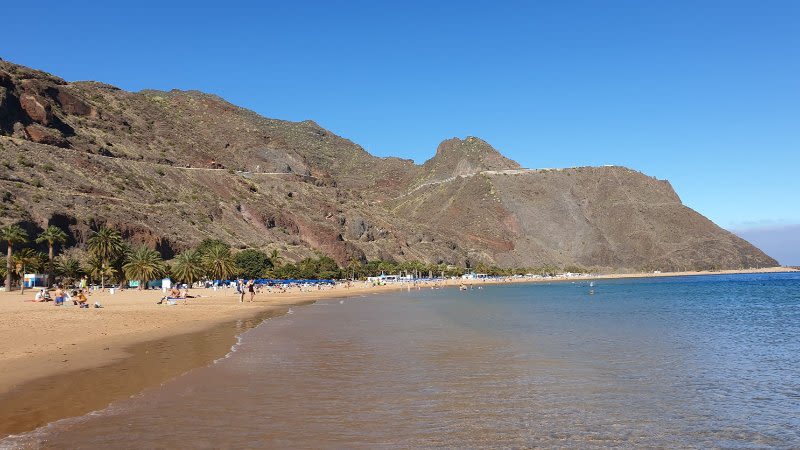 In Tenerife, the most popular place to stay for digital nomads is Santa Cruz de Tenerife.
Santa Cruz is the capital of Tenerife and the largest city on the island.
It is mostly a residential city, so you won't necessarily feel on holiday here and you won't be surrounded by tourists.
Here you can see the list of the co-working space in Tenerife and as you will notice, the vast majority of them are located in Santa Cruz.
If you prefer the south of the island, CoWorking Costa Adeje could be an option or for a less touristy side of Tenerife, you can stay in Amarilla Golf at Amarilla CoLiving & CoWorking.
Santa Cruz remains the best option for digital nomads in Tenerife, due to the diversity in co-working spaces and great cafes where you can bring your laptop during the day and work. In the south, everything is mostly geared towards tourists, so you won't find as many options in terms of places from where you can work.
Unfortunately what Santa Cruz lacks is a beach right in the city, which is why Las Palmas, in Gran Canaria, is so so popular among the nomad community.
The closes nice beach to Santa Cruz is Las Teresitas, which is actually considered by some the prettiest beach on the island, due to its golden sand. But it is not within walking distance, so you either have to take the bus, a taxi or drive there.
FUERTEVENTURA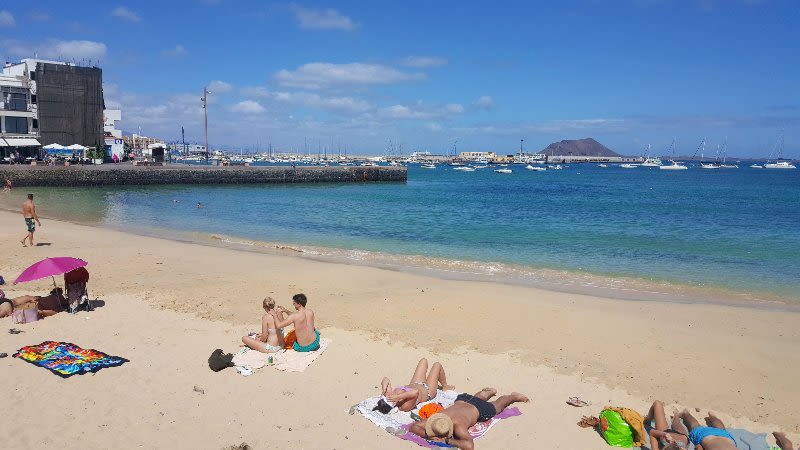 Corralejo, in Fuerteventura, is also a good place for remote workers in the Canary Islands.
Our third recommendation would be Corralejo, the town and resort in the north of Fuerteventura, which also the island's most popular resort.
Here you can find lots of nice cafes and restaurants, great beaches nearby and it's also the liveliest place on the island in terms of nightlife. Corralejo is also a great place for kitesurfing - Flag Beach is the place to be if you are into water sports, but El Cotillo is also a great spot.
Compared to Las Palmas and Santa Cruz, Corralejo is more laid back and chilled, despite the fact that it's a tourist resort.
If you are choosing to come to the Canaries for their warm winter weather only but you don't want to be in a busy place, with lots of things going on, Corralejo might a better option for you than the larger cities.
Overall, our favorite place for working remotely in the Canary Islands remains Las Palmas.
Here we can have a good balance between work and free time, we can find lots of spaces to work from and the beach is always just a few minutes away. We travel as a couple and we prefer to work from home, so we rent a larger apartment where we can have a separate place to work from, and in Las Palmas, we have many options to choose from and the internet is usually reliable and fast, which is not always the case in other smaller towns and villages.
Of course that you can stay and work from the other islands as well, the only difference being in terms of community, as you won't find a nomad community as strong as the one in Las Palmas on the smaller islands.
There are some co-working spaces in Lanzarote, as well as in Santa Cruz de La Palma, but these places are not as popular as the ones in Tenerife and Gran Canaria.
FAQ about working remotely from the Canary Islands
Which city is the best for digital nomads in the Canary Islands?
Las Palmas de Gran Canaria is by far the favorite destination for digital nomads in the Canary Islands.
Which are the best islands for remote work?
Tenerife and Gran Canaria are the best islands for remote workers, as they have large cities, offering many options of places to stay, a solid community of digital nomads and lots of co-working spots.