Faro del Toston and the Traditional Fishing Museum in Fuerteventura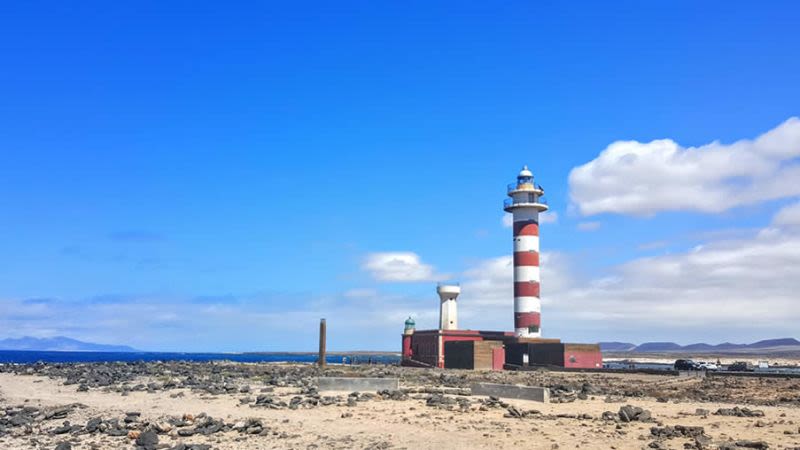 Faro del Toston is located close to El Cotillo, only 5 km north of the small fishing village, in a place known either as Punta Ballena or as Punta Toston.
The Toston Lighthouse was first used in 1987 and it is currently 30 m high - when it was first constructed it was only 7 m high.
Together with the Pechiguera and Punta Martino Lighthouse, Faro del Toston marks the Strait of La Bocaina, the strait that separates the island of Fuerteventura from Lanzarote.
Initially, the lighthouse del Toston was characterized by its fixed white light, with a range of only 9 nautical miles and the light was provided by an oil lamp. It has gone through several renovations since it was built since the height of just under 10 m has provided insufficient and it had a lot of work done, and now it reaches at 30 m high. In its current form, the tower began operating in 1986, with a white flashlight, a cycle of 8 seconds and a range of 14 nautical miles.
Faro del Toston houses today the Traditional Fishing Museum (Museo de pesca tradicional)
Nowadays, inside the lighthouse, you can visit the Museum of Traditional Fishing, since this was an activity of great importance for the old inhabitants of Fuerteventura.
Traditional fishing was the main activity for majoreros for a long time, until starting from the XIXth century, the industrial fishing has started, due to the abundance of fish species discovered in the area.
Back in the old days, fishermen used to move around the island according to the season, in order to improve their catch rates. The main fishing areas in Fuerteventura were: El Cotillo, Corralejo - in the north, Puerto del Rosario and Gran Tarajal in the center of the island, Morro Jable and Puerto de la Cruz in the south in Jandia.
By visiting the Traditional Fishing Museum, you will get a better understanding of why this activity was of great importance for Fuerteventura and how it has helped its inhabitants.
Important observations
The museum is closed on Mondays.
The exhibits inside have descriptions only in Spanish, so it's not a friendly experience for foreign visitors who can't read Spanish.
From Toston lighthouse you can easily go to the lagoons of El Cotillo or to the famous Playa Concha, one of the best beaches in Fuerteventura.
Also, from Faro Del Toston you can admire the sunset in all its glory since this is considered one of the best secluded places to see the sunset in Fuerteventura.
There was a small cafe where you could enjoy a cup of coffee while admiring the beautiful landscape, but unfortunately, this cafe is now permanently closed.