La Gomera Weather in June - Enjoy the Early Summer Days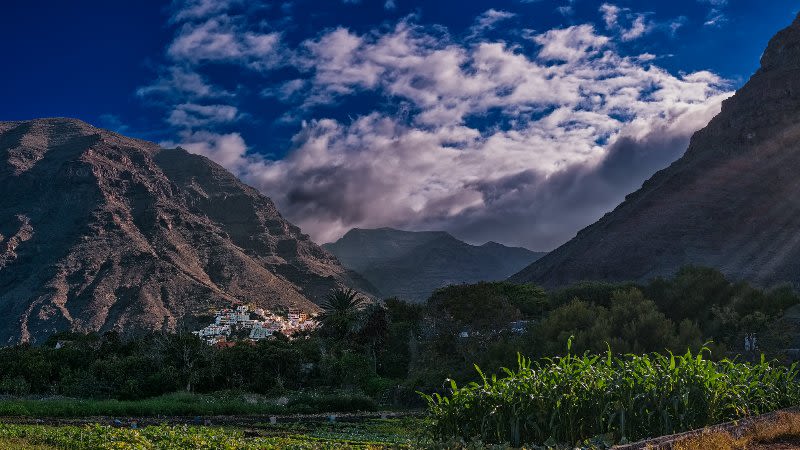 The start of summer is a beautiful time to visit La Gomera, since the weather is getting warmer and warmer, so it will be possible to enjoy the water and go out to swim in the ocean. So if you're planning a trip to this small and lovely Canary Island in June, read our article to learn more about what temperatures you can expect in June in La Gomera.
La Gomera is a popular tourist destination for hiking and walking, so it's nice to visit when you can be (almost) sure that the weather will be favorable for outdoor activities.
The first month of summer is almost guaranteed to have dry days, with only one day of rain usually occurring at this time of the year. For those seeking to maximize their time spent here and wishing to explore all the hidden corners of the island, June is a perfect time to come over.
Weather in La Gomera in June
The temperatures in June are slightly starting to rise, but not so much as to stop you from enjoying the outdoors in La Gomera, although a sun lotion with high SPF is required.
Average temperatures in San Sebastian de La Gomera in June
The average high temperature in June in La Gomera is around 23°C, while at night you can expect temperatures of around 17°C. The average temperatures in June is considerably higher compared to the month of May.
Average high temperature: 23 °C (73.4 °F)
Average low temperature: 17 °C (62.6 °F)
Daily mean temperature: 20 °C (68 °F)
In San Sebastian de La Gomera, the island's capital, the daily mean temperature is 20°C in June, which is calculated as a mean between the average high temperature of 23°C and the average low of 17°C.
Rainfall
Average rainy days (>=1mm): 1
There is only one rainy day in June on average on the island of La Gomera, although it may rain more in the center of the island in the mountains, compared to the coast.
Sunshine hours
La Gomera gets an average of 9 hours of sunshine per day in June, so this number stays the same as in the previous month.
Sea temperature

Average sea temperature in June in San Sebastian de La Gomera: 20°C / 68°F
Can you swim in La Gomera in June?
For some, the sea temperature of 20°C / 68°F in June may seem a bit low for swimming, but it doesn't get much warmer than this is most places around La Gomera, even in summer. You can certainly find small coves or natural pools where the water temperature is higher and there you will be able to cool off after a day in the sun.
What's La Gomera like in June
The data below is from the weather station in San Sebastian de La Gomera. They represent the weather averages for the month of June in San Sebastian de La Gomera (the capital of La Gomera).
| June Weather Averages | San Sebastian de La Gomera |
| --- | --- |
| Average high temperature | 23 °C (73.4 °F) |
| Daily mean temperature | 20 °C (68 °F) |
| Average low temperature | 17 °C (62.6 °F) |
| Mean monthly sunshine hours | 270 |
| Percent possible sunshine | 64% |
| Mean monthly daylight hours | 420 |
| Average Ultraviolet index | 11 |
| Average sea temperature | 20°C / 68°F |
Things To Do in La Gomera in June
In June we recommend spending as much time as possible enjoying nature and a visit to Fortaleza de Chipude is a must since it's a protected space, known as Monumento Natural de La Fortaleza.
You can also enjoy La Gomera's beaches in June since it will be warm enough to enjoy some long days of sunbathing on the black beaches which make up the beauty of this small volcanic island.
Cycling is also a popular activity in La Gomera, but try to avoid the midday heat and start early in the morning. You could even do a circuit around La Gomera in a day, which would certainly make for an interesting experience.
Events in June
6 - 8 June 2019 - Big Game Fishing La Gomera
Once again, Marina La Gomera organizes the Big Game Fishing Championship on the island of de La Gomera on June 6, 7 and 8, 2019. This is the 19th consecutive edition, and the event now has a well-known reputation within the world of Deep Sea Fishing.
Plan the perfect holiday in the Canary Islands
We always use Airbnb for apartment rentals and if you sign up from our link you get a 41€ discount for your first booking.
Looking for a hotel? We have selected for you some of the most popular hotels in the Canary Islands:
Also, take a look at our dedicated guide to help you choose which Canary Island to visit.
Best Day Trips in the Canary Islands
These are the top 3 day trips in the Canary Islands: