St. Patrick's Day in Lanzarote 2021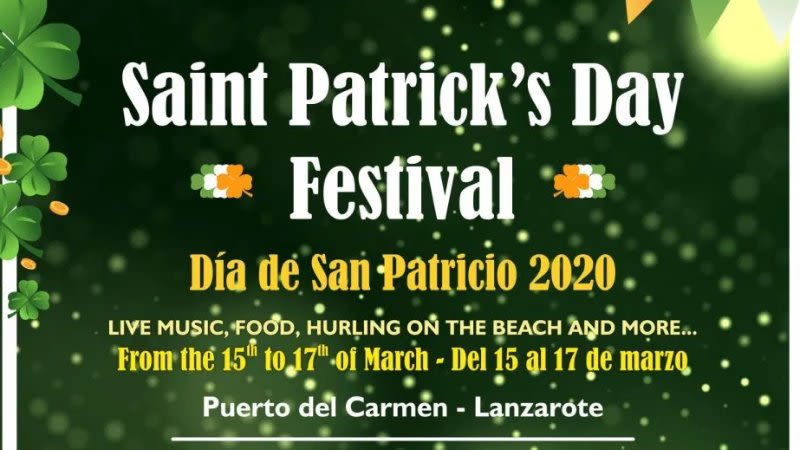 The council of Tias usually organizes a celebration for St. Patrick's Day in Puerto del Carmen every year and it's a great event that draws a lot of crowds. The resort has celebrated this day every year and everything is organized with the help of the Irish community in Lanzarote.
Puerto del Carmen is the most popular resort among Irish tourists in Lanzarote, so it makes sense to have a celebration for St. Patrick's Day. Local people and other tourists are also interested in tasting food typical to Ireland, and of course the famous Irish beer.
St. Patricks Day in Puerto del Carmen, Lanzarote
As you can imagine, in 2021, due to the restrictions put in place according to Covid protocols in Lanzarote, the celebrations for St. Patrick's day won't be the same as in previous years.
This is the schedule for the event organized last year in Puerto del Carmen for St. Patrick's day in Lanzarote, but keep in mind that due to restrictions things will be different this year.
We will update this page in case there's an event organized in 2021.
17 March 2020, from 11:00 am until 22:00 - Harbour, Old Town, Plaza del Varadero
11:00 - Mass in The Church Of Our Lady of Lourdes in Puerto del Carmen
12:30 - Opening act in in Plaza del Varadero
13:30 - 22:00 - Music and dancing in Plaza del Varadero
17:30 - St. Patrick's Day Parade in Puerto del Carmen: Avenida las Playas - starts from the outskirts of the Tourist information office and goes towards Plaza del Varadero
The festivities will start this year since the 15th of March and will last until the 17th of March.
See what to expect in regards to the weather in Lanzarote in March
There will be many activities organized each day: concerts, sports activities on the beach and also the main parade.
Usually, after the parade ends, the party moves to the harbor area in the Old Town of Puerto del Carmen, where there is live music from the bars, traditional Irish food, beer and fun all night long.