Lanzarote Weather in March - How Warm Is It?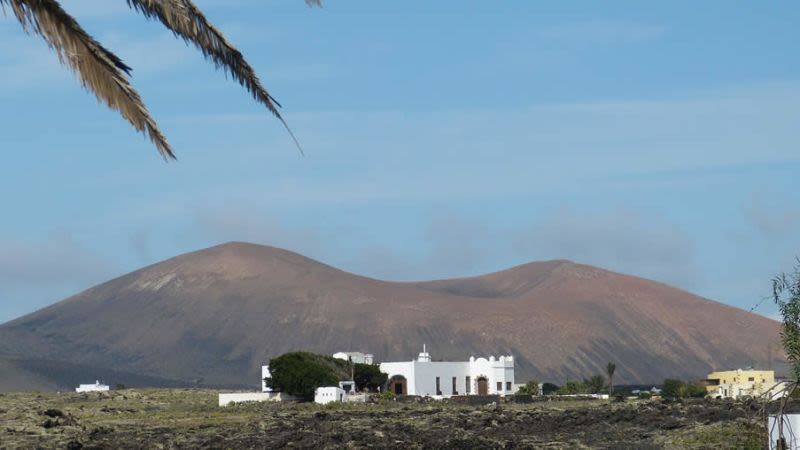 March marks the transition from winter to spring in Lanzarote and the weather gets warmer and warmer as the month progresses.
Lanzarote in March is also still warmer than most other sunny winter destinations in Europe - unless you are planning to go some other Canary Island.
Although Lanzarote is not a tropical island, the temperatures in March are mild and it's definitely a lot warmer than the UK, Germany, Finland or even continental Spain. So although realistically you shouldn't expect summer weather and temperatures, there are still big chances that you will go back home with a tan after spending a few days in Lanzarote.
Weather in Lanzarote in March
The weather in March in Lanzarote can be a mix of sunny days, one or two odd rainy days and maybe some calima.
Temperatures will be in the mid 20s°C, so when the sun is up on the sky the weather is perfect for sunbathing.
On those overcast days you can still go out and travel around the island, as there are lots of things to see in Lanzarote for the curious traveler.
The sea is usually still too cold for swimming, so especially if you are traveling with children we recommend you book somewhere to stay with a heated pool. This way you will be able to make the most of the beautiful weather, even if the sea is too cold for you to swim in it.
What to wear at night
In the evenings you will need a jacket and long trousers, as temperatures drop when the sun is gone. At night you can expect temperatures around 15 - 17 °C and if there's wind it will feel even colder, so a cardigan or a jacket is definitely needed.
Puerto del Carmen, Playa Blanca or Costa Teguise in March? Which one has the best weather?
When you look at weather reports for Lanzarote's main resorts you can see easily that the predictions are almost the same.
And although the temperature in Puerto del Camen can be the same as in Costa Teguise, the weather conditions can be different due to wind speed and clouds.
For the winter months like January, February or March we tend to prefer Playa Blanca as we fell it's more protected from wind. This is mostly a personal opinion, so you should choose based on your own preferences.
Temperatures in Lanzarote in March
Temperatures in March in Lanzarote go up to 22 - 24°C during the daytime, but when the sun is out it will feel warmer, so don't forget to bring your sun cream with you. At night temperatures go down to 14 - 17 °C, so a jumper or a coat are a must.
Record low & record high temperatures
The highest temperature ever recorded in Lanzarote in March (at Airport station) was of 32.7°C and the lowest was of 8.3°C.
Temperatures recorded in Lanzarote in March 2018
Highest temperature during daytime: 28 °C
Lowest temperature during daytime: 22 °C
Highest temperature during nighttime: 18 °C
Lowest temperature during nighttime: 14 °C
Rain in Lanzarote in March
In March you can expect an average of 2 rainy days and the chances of rain decrease as the month of April gets closer.
However, with all the climate changes the weather is now unpredictable almost anywhere in the world, so Lanzarote has seen in the last 10 years some exceptions from the average rule of 2 rainy days per month. March 2011 brought to Lanzarote the most severe rainstorm ever recorded, while the following year in 2012 the island saw the driest month of March ever, with no rain at all.
So although we can present an average based on historic data, the future weather is very hard to predict, as exceptions can always occur. If you are coming to Lanzarote in March you should be prepared for some rainy days, but it will still be warmer than back home, so that's a consolation.
Sunshine hours in March
Lanzarote gets an average of 8 hours/day of sunshine in March. It takes a while in the mornings for the sun to come up, but once it does you can expect a beach day 'till sunset.
Sea temperature in March in Lanzarote

These are the average numbers for the sea temperature in March in Puerto del Carmen:
Max: 19.8°C / 66.7°F
Avg: 18.6°C / 65.5°F
Min: 17.5°C / 64.4°F
Info from https://www.seatemperature.org
With an average of 19.8°C / 66.7°F, the sea is starting to warm up, but it can still be too cold for most people to enjoy a swim in the sea.
Things to do in Lanzarote in March
What we most like to do when visiting in March is to explore the island from corner to corner, discovering new and secret places every time.
For us the summer days are just too hot to be out in the sun all day, so we can't walk as much as we would like. This is why months like March are perfect for journeys of discovery.
Go to Timanfaya National Park
The journey through Timanfaya National Park is beautiful no matter the season and in March it will be definitely less crowded than in summer.
Cueva de los Verdes
If it's raining outside, this is the perfect place to escape the rain. The visit to Cueva de los Verdes is fascinating and a must for anyone traveling to Lanzarote, as you will learn more about the island's volcanic history.
Events in Lanzarote in March
Carnival month
In 2019 the carnivals in Lanzarote will take place in March, so this is the perfect month to visit if you want to participate in at least one of these big events. People get dressed up and there is a big parade with floats and costumes, so the atmosphere is great and tourists and locals as well take part in these celebrations that last for several days.