Top 10 Best Beaches in Gran Canaria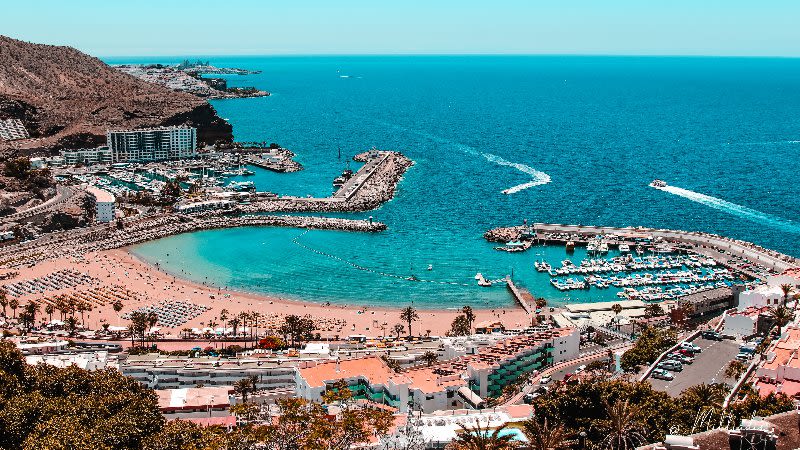 Gran Canaria has many amazing beaches, all very different in terms of atmosphere, natural conditions, type of sand and location, so there's something great to discover for each taste.
In our opinion, when it comes to beautiful beaches in the Canary Islands, Gran Canaria and Fuerteventura are the absolute winners.
We love the variety among the beaches in Gran Canaria and this is the reason why we prefer it as a destination for a beach holiday if we were to choose between Tenerife and Gran Canaria.
10 Most Beautiful Beaches in Gran Canaria
Did you know that in 2020 Gran Canaria has 15 Blue Flag Beaches? It's the Canary Island with the largest number of beaches awarded with the Blue Flag distinction.
From small coves and secluded beaches to large beaches with all the amenities for a comfortable day in the sun, Gran Canaria has something for everyone's taste. Just look through our list to see where you'd like to spend your next holiday in the sun.
Great beaches for a family holiday in Gran Canaria
The south of the island has many great hotels and beaches suitable for family trips, with lots of facilities, plus bars and restaurants nearby.
1. Amadores beach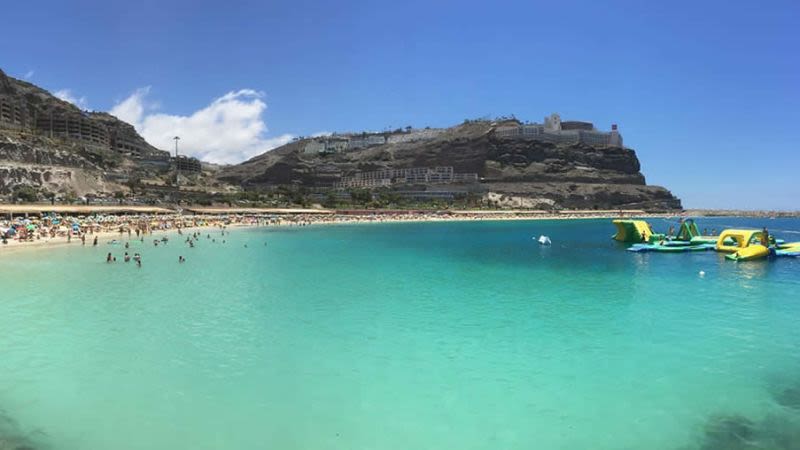 Playa Amadores looks almost postcard-perfect, with fine white sand and crystal clear water. This beach is "fairly new", as it was purposely built to accommodate the growing number of tourists in Puerto Rico.
Amadores beach is an ideal destination for families with children, as the water is always warm and calm. Plus, there's a great choice of restaurants near the beach, which makes it easy to grab a quick lunch before returning to your sunbed.
Playa Amadores has all the modern facilities you need: sunbeds, umbrellas, lifeguards and it's only a short stroll away from neighboring Puerto Rico.
2. Puerto Rico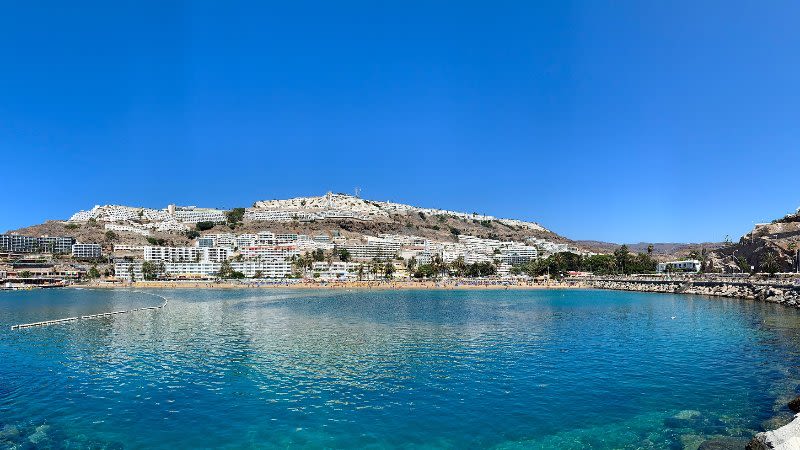 Puerto Rico beach is probably one of the most crowded beaches in Gran Canaria but for a good reason: the weather is sunny and perfect almost all year round and the entire place has a Caribbean feel (just like its name).
Puerto Rico is buzzing with British tourists and one the best places to stay in Gran Canaria: it is a white-sand beach, calm water, ideal for families, lots of restaurants, beautiful promenade with palm trees and a great feeling in general. It's not for those who want a quiet beach all to themselves though.
3. Anfi del Mar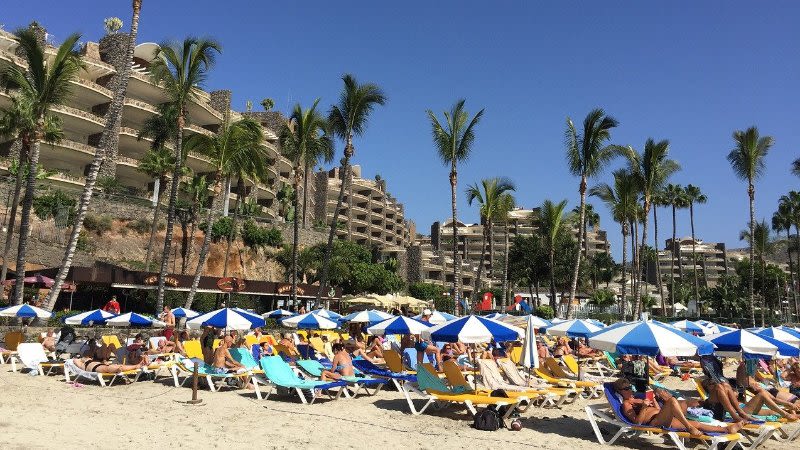 Anfi del Mar is a man-made beach and if we were to compare it to some other beach it would be Las Teresitas, in Tenerife.
This is one of the nicest white sand beaches in Gran Canaria, located just behind the Anfi del Mar hotel complex. There are restaurants around, sunbeds and umbrellas and you can even rent jet skis here. This beach becomes extremely crowded during the summer months when locals, as well as tourists, come here to enjoy the perfectly warm water, ideal for swimming.
Anfi del Mar is also great for a family holiday, as the water is pretty shallow near the shoreline and the kids can go in safely.
Best beaches for a romantic couple's holiday in Gran Canaria
This is our favorite beach for a romantic getaway and with guaranteed sunshine.
4. Playa de Mogan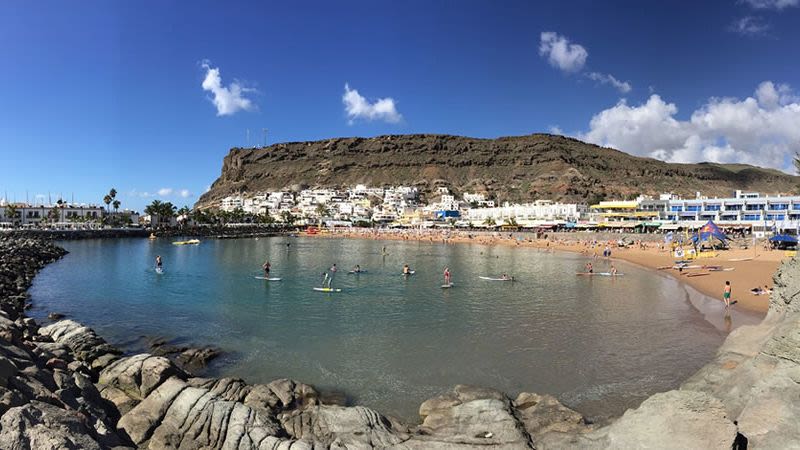 Playa Mogan is a golden sand beach, situated right next to the marina.
This beach has a more chilled vibe and often times people come here to spend time at the beach as well as walk through the beautiful streets of Puerto de Mogan. We love the vibe of the town, with pretty streets and windows decorated with colorful flowers.
The beach is smaller than the ones previously mentioned, but it has a certain charm and is a bit quieter.
5. Maspalomas beach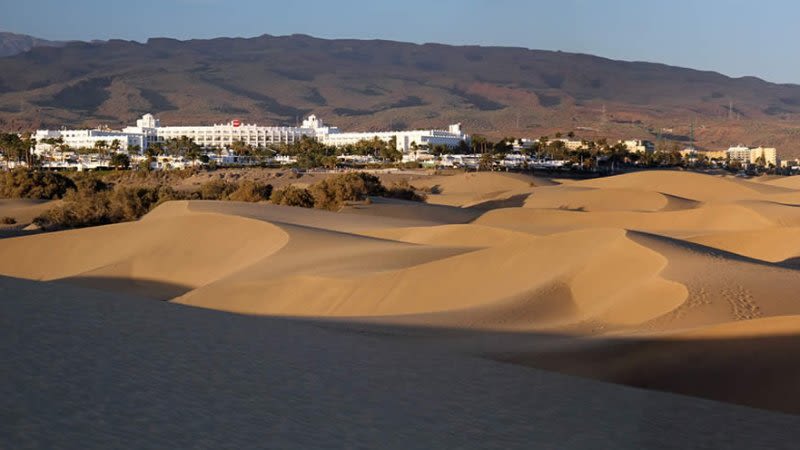 A visit to Gran Canaria just wouldn't be complete without a stroll on the Maspalomas dunes and beach. This is a unique landscape in Gran Canaria, similar only to the Corralejo dunes in Fuerteventura.
The Maspalomas dunes are one of the main attractions in Gran Canaria and they stretch for around 6 km, so there's room for everyone and here you'll find gay couples, as well as families with children and naturists who come to enjoy the warm sun of the Canaries. Just find your spot on this fabulous and majestic beach and enjoy some of the best views Gran Canaria has to offer.
What to do in Maspalomas - places to visit & attractions
6. Playa del Ingles
Another popular beach in Gran Canaria is Playa del Ingles beach.
Playa del Ingles is probably the Mecca for nightlife and partying in Gran Canaria, so it's a beach popular among the younger crowds visiting the island. This beach can sometimes be a bit windy, but it's still considered one of the best in Gran Canaria, also popular among naturists visiting the island.
There are hotels and apartments nearby, good restaurants and bars, plus all the facilities you can think of. Give it a go if you want to take the island's pulse and spend your time on the beach and your nights partying in the various clubs.
Best city beach in Gran Canaria
Did you know that Gran Canaria is home to one of Spain's best urban beaches?
7. Playa Las Canteras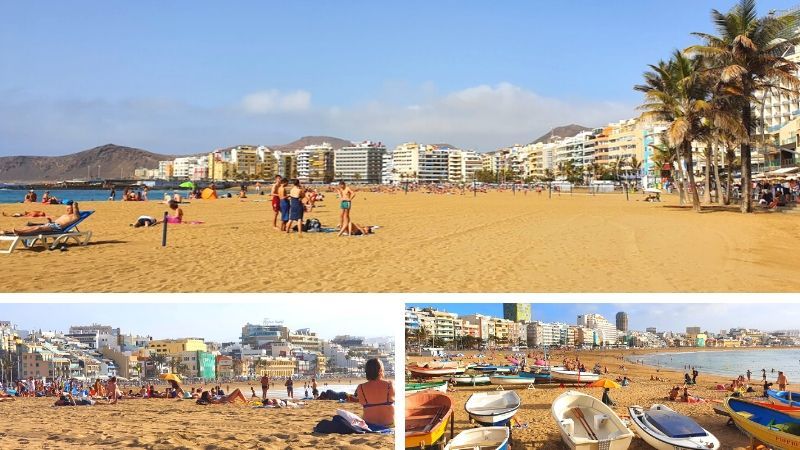 Located in the island's capital, Las Palmas de Gran Canaria, Las Canteras beach was often named as Spain's best city beach and often times mentioned as one of the best city beaches in Europe and in the world.
Las Canteras stretches for around 3 km and has golden sand, calm water and is ideal for swimming. You have easy access to bars and restaurants and although it has a city feel, it's a really nice beach and it's that a city like Las Palmas has such a beautiful beach. You can even come to the capital for a short city break and you can still enjoy time on this beautiful beach, no need to go to the south for that.
As you can see, there are plenty of amazing and beautiful beaches in Gran Canaria and you can be adventurous and discover them one by one, to see what makes all of them great.
8. Playa de Las Nieves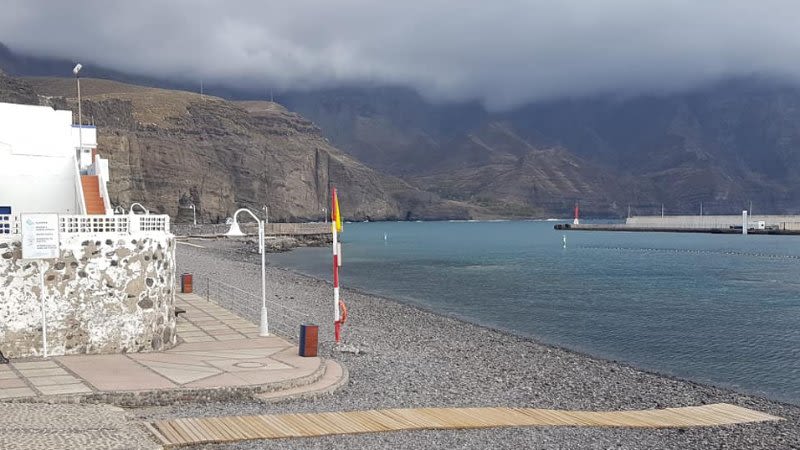 Situated on the northwest coast of Gran Canaria, Playa de Las Nieves is situated next to Puerto de Las Nieves in the municipality of Agaete.
Although the beach itself is pebbly, this place is really nice for swimming, since the beach is very protected from big waves and rip tides. The atmosphere is very authentic, with many restaurants serving fresh fish and seafood since Agaete is known as a fishing village in Gran Canaria. Nowadays, the fast ferry from the company Fred Olsen connects Gran Canaria from the port of Agaete with the island of Tenerife.
9. Playa Hoya Del Pozo
A blue flag beach in the municipality of Telde.
Playa Hoya Del Pozo has black volcanic sand and is really beautiful and clean, with a very different vibe compared to the touristy beaches in the south of Gran Canaria. It's also located close to Bufadero de la Garita, which is another place that we recommend to visit in the area.
10. North Beach Sardina
Playa de Sardina del Norte beach is located in a small coastal town in the very north of Gran Canaria, in the municipality of Galdar. North Beach Sardina is great for diving and here you'll meet a lot of local divers, which is always a good sign.