Top 10 Best Beaches in Spain for Summer 2021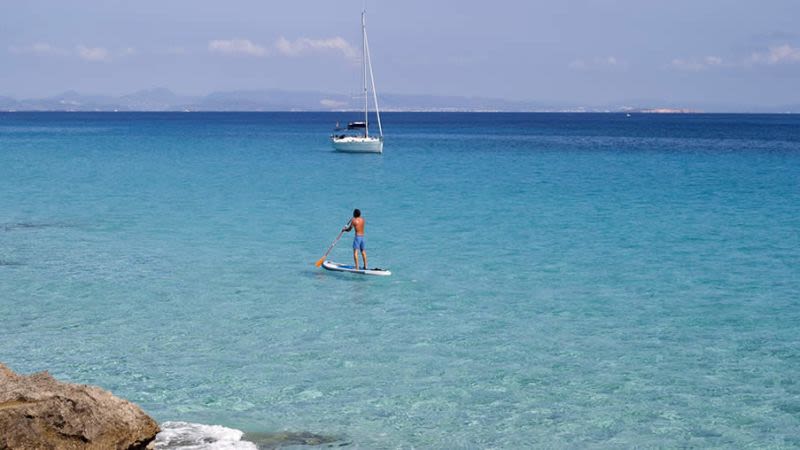 Spain is one of the world's best beach destinations, with thousands of miles of sandy beaches to be discovered all around the country.
Besides the beaches on mainland Spain, there are also various Spanish islands that attract millions of tourists each year due to their beautiful beaches and coastlines, as well as an array of activities, great hotels and tasty local food.
So if a beach holiday is what you're after, you needn't look further than sunny Spain.
Top Beaches in Spain
For most Europeans Spain is only a short and cheap flight away, with no more than 2-4 hours of flight from the UK, northern Europe, Germany or France. The Canary Islands are Spain's most distant territory and also the one with the best climate in winter, so the archipelago is a great choice for a warm holiday during the cold season. Plus, some of Spain's most beautiful and pristine beaches are in the Canaries, so there's another reason for you to visit.
Mainland Spain - Our recommendations for best beaches
Spain has some amazing beach on the continent as well, not only on the islands, although those might be more famous.
1. La Concha Beach, San Sebastian - Donostia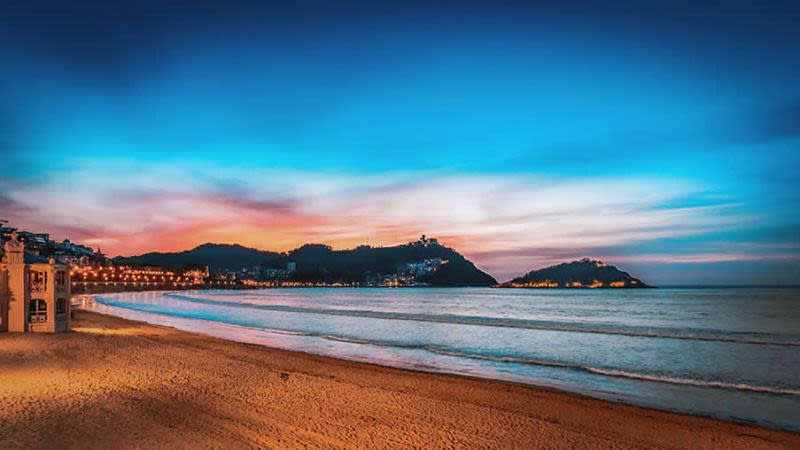 Maybe the north of Spain isn't the first location you would think about when looking to book a beach holiday.
But for several years now, La Concha beach has been on every top about beaches in Spain and even in Europe. This is an urban beach, with fine golden sand a great view. Plus, it is safe, clean and great for families with kids.
Even if you're not a fan of going to the beach, this one is located right in the middle of town, so strolling on the promenade is one of the best ways to spend your time, especially in the evenings around sunset. You will simply fall in love with the colors and the view of the night lights.
2. Playa de las Catedrales, Galicia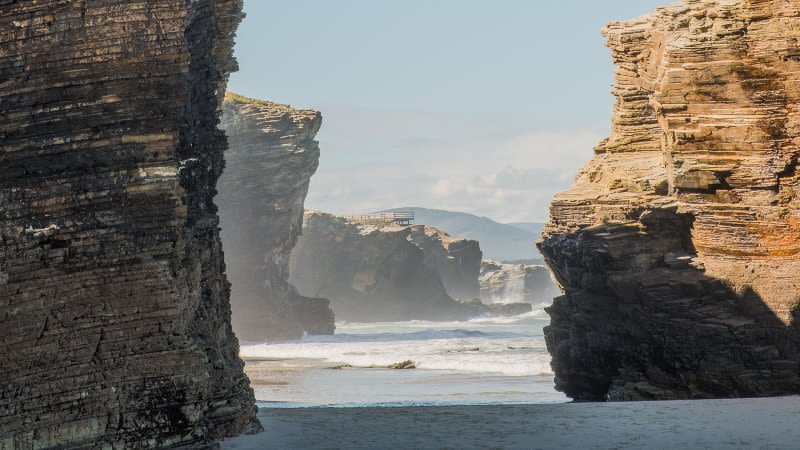 Praia de Augas Santas, also known by tourists as Playa de las Catedrales (Cathedral's Beach) welcomes visitors with a dramatic look, natural arches and hidden caves. The beach itself can only be visited during low tide and during high tide, you can simply wander on top of the majestic cliffs. This is a very unique beach to visit, although not many people come here for a typical beach day, with lounging in the sun and swimming. Most visitors come here to see the enormous cliffs and arches and to view this dramatic side of the Spanish coastline situated in the northwest part of the Iberian Peninsula.
3. Playa de Bolonia, Tarifa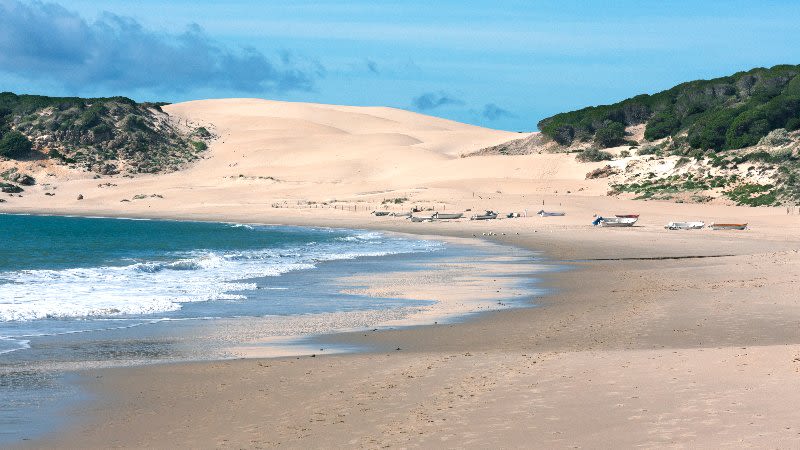 Playa de Bolonia is one of the most famous beaches in southern Spain. Although located in the municipality of Tarifa, it is still sufficiently far away from the town to keep its natural look and relaxed atmosphere.
This is one huge stretch of beach, still undeveloped and untouched by mass tourism. Playa de Bolonia is great for people who want to escape the busy beaches on Costa del Sol and who want to enjoy the natural landscape of one one of the best beaches in the south of mainland Spain.
Spanish Islands - Our recommendations for the best beaches

Our recommendations contain a mix of places from the Canaries and the Balearic Islands, as these are the most popular groups of island in Spain, which you can easily reach due to frequent flights from all over Europe and by ferries as well from several places in mainland Spain.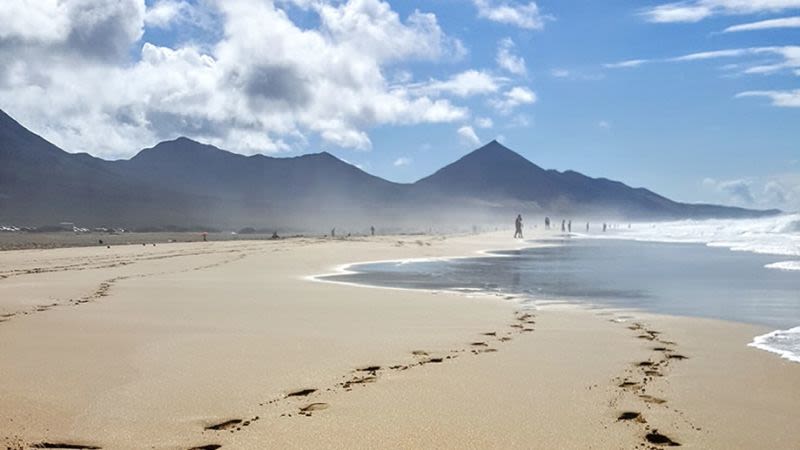 The wild jewel of Fuerteventura and our favorite beach on the island (possibly in all of Spain as well).
The drawback of visiting Cofete is the difficult journey to get there. The great thing about Cofete is that due to its remote location and difficulty in getting there, the beach still retains its natural charm, as it's undeveloped. So no sunbeds here, no umbrellas and no bars or restaurants on the beach.
Just endless miles of wild beach, with the ocean on one side and the mountains on the other side. Sunset here is a magical experience, but the road back in the dark is not for the inexperienced driver.
5. Calo des Moro, Mallorca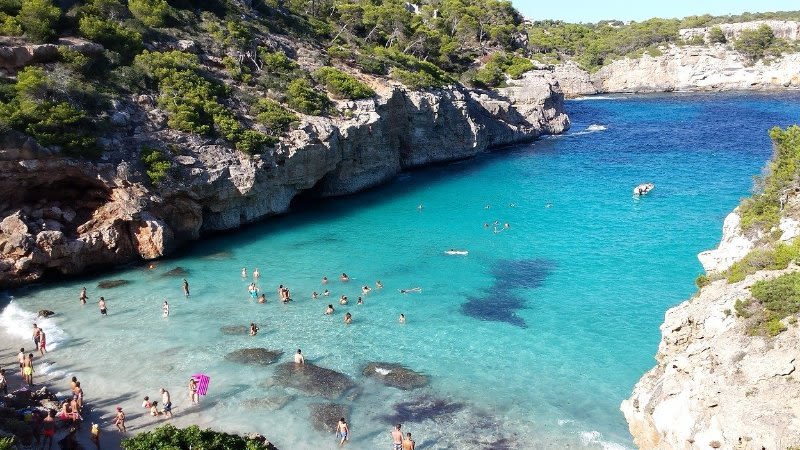 Between two steep cliffs, you will find the charming Calo des Moro, one of the tiniest and most precious beaches in Mallorca and Spain as well.
It takes around 30 minutes to walk to this beach, but once you're there it's breathtaking. Although it takes a while to get there, the effort is well worth it. However, the beach itself is really small and with her growing popularity, it gets crowded quite fast. So try to arrive there early in the morning, in order to find a good spot and enjoy a few moments of quietness on this glorious beach.

Turquoise water, (almost) white sand and small coves that you can have all to yourself.
Visit the Cotillo Lagoons especially during the low tides if you are going on a family holiday with the kids. They will love the shallow water and it will be safe for them to play and go into the water.
La Concha beach is not far from lagoons and you will probably drive by on your way to the lagoons. This is one of the beaches that you will see on many postcards of Fuerteventura and it's truly of the best beaches in Spain - still peaceful and relaxed, very different from busy urban beaches.
7. Playa Las Canteras, Las Palmas de Gran Canaria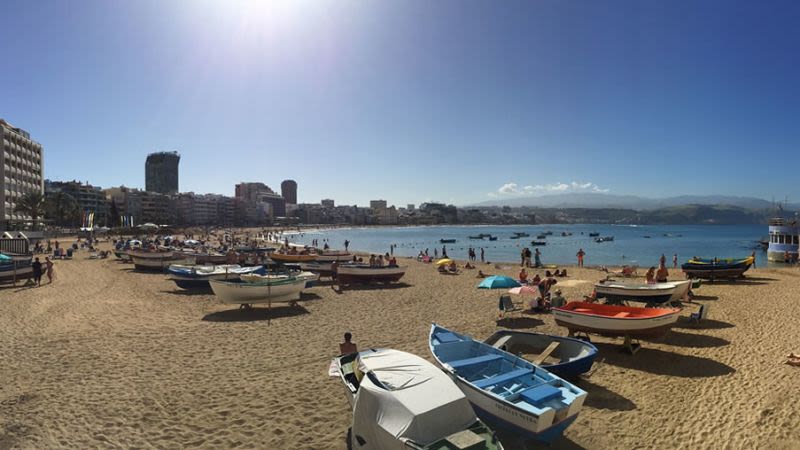 Las Canteras beach is located in Las Palmas, the capital of Gran Canaria and is one of the best city beaches in Spain, along with La Concha in San Sebastian.
Tourists and locals as well prefer this beach, as it is right in the heart of the city, it has all the amenities you can think of and it's close to bars and restaurants. Plus, since it's in Gran Canaria, the weather is mild and pleasant even during the winter months, so you can even come over for a short winter city break and still enjoy this beach on a sunny afternoon.
8. Ses Illetes, Formentera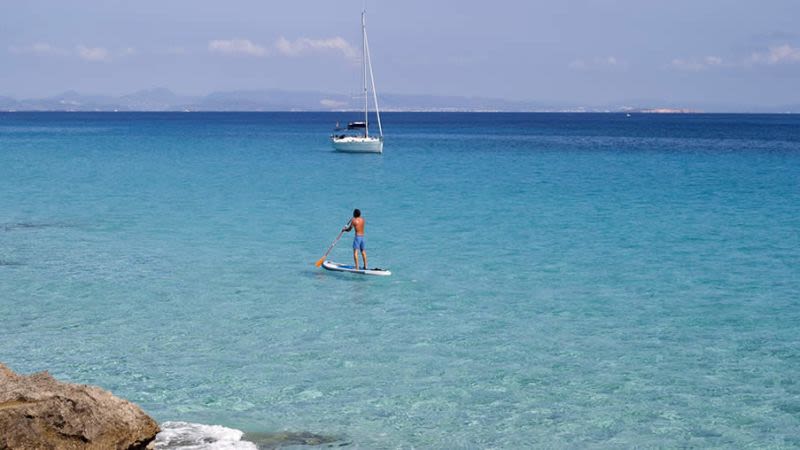 If Ibiza is well known all around the world, her tiny sister island Formentera isn't quite so popular.
Formentera is located just 30 minutes away from Ibiza by ferry and here you will find one of the most beautiful beaches, with pristine water and perfectly white sand: Ses Illetes.
This beach looks and feels like the Maldives, which is why it attracts many day tourists from Ibiza. So if the Maldives seem like a distant and expensive destination right now, why not take a look at this tiny Spanish island? Ses Illetes feels truly looks heavenly, this is why during the months of July and August it gets very crowded, so we recommend you to arrive there early if you want to have a few moments by yourself in this tiny paradise.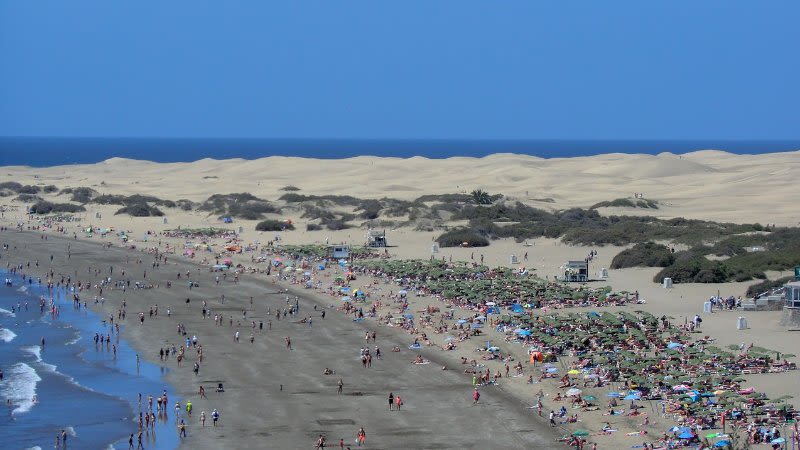 Maspalomas is one of the most unique beaches in Spain, with its sand dunes that will make you feel like you are in the middle of the desert, while you are just moments away from the Atlantic ocean on one side and the hotels and restaurants on the other side.
The Maspalomas Dunes invite to explorations and long walks around the coastline, in a unique location which attracts tourists seeking places to take memorable photographs. It's probably one of the most Instagrammed places in Gran Canaria, as it's an enormous canvas to put your most creative ideas into practice.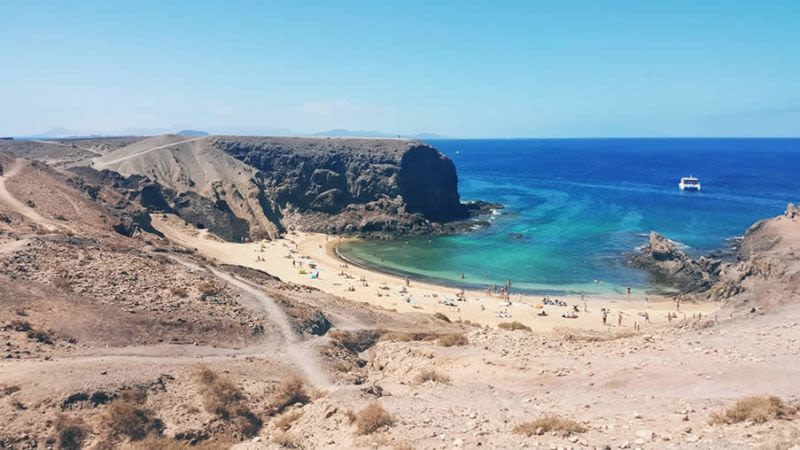 Lanzarote's most precious gem in terms of beaches is located in the south, very close to Playa Blanca.
You will not find this collection of beaches on many guides about Spain's best beaches, but they are worth a visit for their natural beauty.
Located inside a natural park, these beaches have turquoise water and fine white sand, with no hotels or restaurants in sight. There is actually one restaurant overlooking Playa Papagayo itself, but otherwise, the place is undeveloped and retains its natural beauty. You will need a car to get to these beaches but the drive is well worth it and we strongly recommend you to visit Lanzarote in order to discover more charming places.