Canary Islands Wrinkled Potatoes Recipe - Papas Arrugadas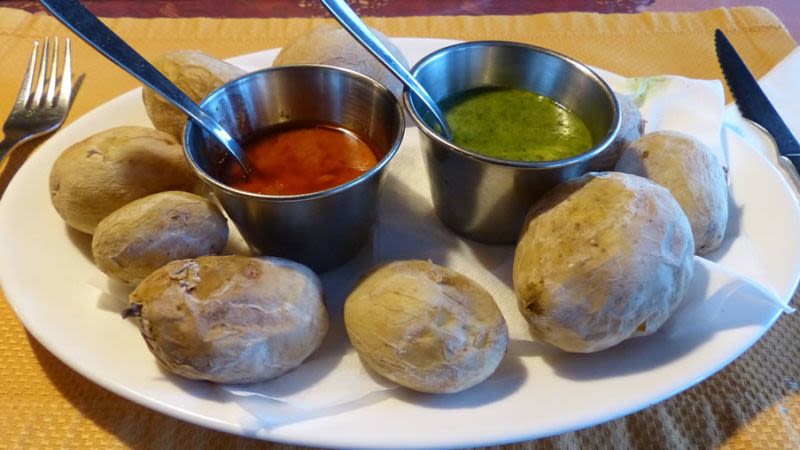 The wrinkly potatoes, or papas arrugadas as they are called by the canarians, are the archipelago's most famous dish and at first many people wonder what can be so special when it comes to potatoes.
Although potatoes are no native to Tenerife or the other islands, the Spanish conquistadors have brought them back to Spain in the 16th century from the Andes, and from here they have been brought to the Canary Islands also. At first, people didn't even know what to do with them, so they were just a plant to look at in the botanical gardens.
Nowadays, the potatoes used to make the Canarian potatoes recipe or papas arrugadas, are of 2 types: Papa Negra from Tenerife and Papa Bonita from Gran Canaria. So if you're trying to recreate the exact recipe you've tried while visiting the islands, it might be difficult since you can't really find these types of potatoes outside of Tenerife, Gran Canaria and the other islands.
Did you know... that the rest of Spain calls potatoes patatas and just the people in the Canary Islands call them papas, juts like the other latin American countries? So you have the famous patatas bravas on the continent and papas arrugadas in the Canary Islands.
Best wrinkly potatoes result - What type of potatoes to use?
In order to achieve the best results possible, choose a small-sized potato that boils fairly fast.
Most importantly, try to have potatoes of the same size so they will cook evenly.
Also, use sea salt in order to recreate that authentic taste. In the old days, people used to boil the potatoes in ocean water, which is naturally salty, but nowadays you can use sea salt in order to achieve that same result.
Canary Islands potatoes recipe
Authentic Papas Arrugadas recipe
This recipe is specific to all the Canary Islands (Tenerife, Gran Canaria, Lanzarote, Fuerteventura, La Palma, La Gomera, El Hierro).
INGREDIENTS:
1 kg of potatoes
water
4-5 tbsp sea salt
INSTRUCTIONS:
1. Wash the potatoes well and scrub all the dirt but don't peel them. Leaving the skin on is crucial for making canarian potatoes, this way they can achieve their typical wrinkly look.
2. Add just enough cold water to cover the potatoes and add the salt.
3. Bring to a boil and allow them to boil for 15 - 20 minutes, depending on their size, until the tip of a sharp knife penetrates their skin easily. If during this time the water level drops a lot, you can add some more hot water to the pot.
4. Drain the potatoes and leave them in the pot to get dry. When the water will evaporate, they will become wrinkly from all the salt and you will be able to see a faint salt layer on their skin.
5. Serve the papas arrugadas with the typical Canarian mojo sauces: mojo picon and mojo verde.
If you don't get it right in the first try, just keep experimenting with other varieties of potatoes or try to add less/more salt. Depending on their size, the potatoes will need more salt in order to become wrinkly. One piece of advice would be to add enough salt so that the potatoes are floating in the water.
Since this is such a simple and cheap recipe, you can tweak it and experiment with it, until you achieve the perfect result.
Canarian potatoes are best when served along with mojo sauce: mojo verde and mojo picon.
In Tenerife and the other islands, the Canarian potatoes are served with the 2 typical sauces mentioned above. (click on the link to see how you can prepare them at home from scratch).
In some shops in the Canary Islands, you can also buy bottled sauces that you can bring home, or you can buy packs/boxes of dry seasonings, which you can use to prepare your own at home. You usually just have to add some olive oil, water, vinegar, salt and then mix.
On our first-ever visit to Tenerife, we went to a seafood restaurant and ordered different types of fish and seafood, and then we asked for Canarian potatoes as a side dish. We were surprised to see that they served our potatoes as a dish on itself, along with mojo picon and mojo verde, not as a side dish. Depending on the restaurant you go to, papas arrugadas will be the go-to side dish included with most dishes. Canarians serve it with meat, chicken, fish or even by themselves, especially if you go to a tapas restaurant, but also accompanied by at least one of the 2 typical mojos (sauces).