Potaje de Berros - Canarian Watercress Soup Recipe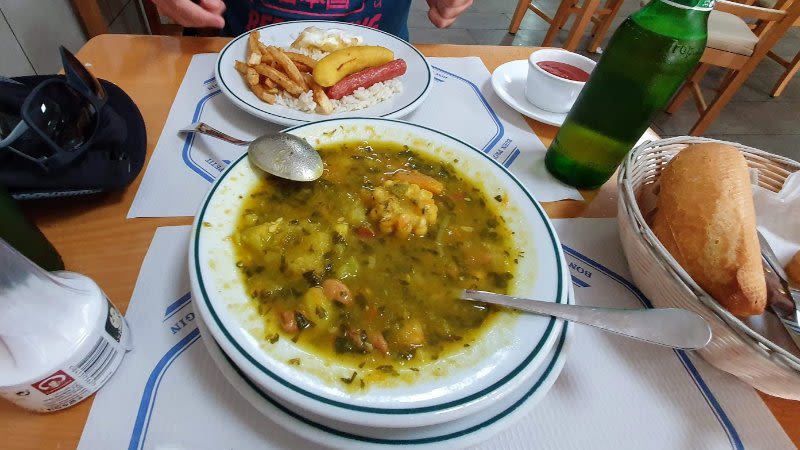 Potaje de berros is a very popular soup recipe from the Canary Islands, which is actually a watercress soup, served as the first course with many lunch menus across the Canaries.
This thick watercress soup is usually packed with other vegetables like potatoes, corn, onion or beans, which make it very hearty and filling. We've usually found this watercress soup in typical Canarian restaurants, who serve it during their lunch hours, included in the "menu del dia" as a starter.
Potaje de berros often looks more like a vegetable stew than a soup, but it's very tasty and filling, which makes it so popular among locals. This typical Canarian dish does not look very appealing when you first see it on the plate, since it's usually served in casual restaurants, which don't pay much attention to plating and looks.
We've seen this soup served most often in Tenerife and Gran Canaria, usually in restaurants where the locals eat and less so in restaurants located in tourist areas.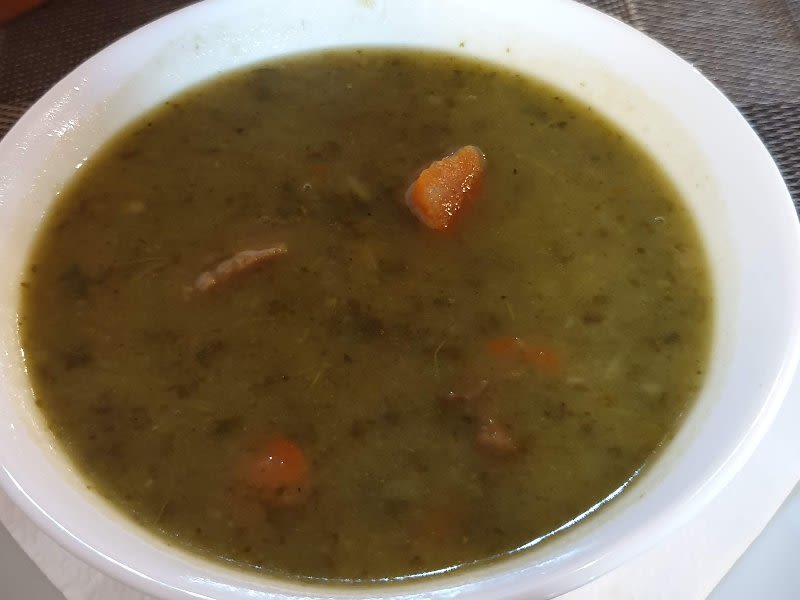 Watercress is a popular ingredient in the Canary Islands and you can easily find it fresh in most supermarkets and also local markets where you can buy local produce (which we highly recommend - see Adeje market or Arona farmer market in Tenerife).
When most of us Europeans think of watercress we think of the baby watercress which is usually sold packaged and used decoration or garnish for some dishes. But if you look for watercress in the shops or markets in the Canary Islands you'll find that it's sold as a big bunch, really fat and big compared to the baby watercress.
But if you really want to recreate this Canarian recipe at home and you can't find the type of watercress found in the Canary Islands, you could still try to use the baby watercress usually found in most European countries.
Typical Canary Islands Watercress Soup Recipe
Ingredients
Watercress 300 g
Beans (white beans or chickpeas) 1 can
2 - 3 potatoes
Pumpkin (or sweet potato) 250 g
Pork rib 400 g
2 cobs of corn
Water or vegetable/chicken stock 1500 ml
1 laurel leaf
Salt and pepper
Olive oil
How to prepare potaje de berros at home
For the beans, you could also opt to use dried beans, but you would need to let them soak the night before you prepare the dish and make sure to allow for the necessary time for them to be fully cooked through.
Start preparing this Canarian stew (or soup) by browning the meat in a pot with some olive oil. Chop the vegetables in big chunks and chop the watercress finely.
Add the stock and allow for the meat to cook for a while before adding the rest of the ingredients and seasoning: salt, pepper and a leaf of laurel. After you've added the vegetables let the soup simmer until all of them are cooked - at least 1 hour at a low simmer. If you are using canned beans you can add them in the last 15 minutes before you turn off the soup.
For a thick consistency, you could smash a few pieces of the potato in order to thicken the soup.