Christmas in Tenerife 2018: Christmas Dinner & Things To Do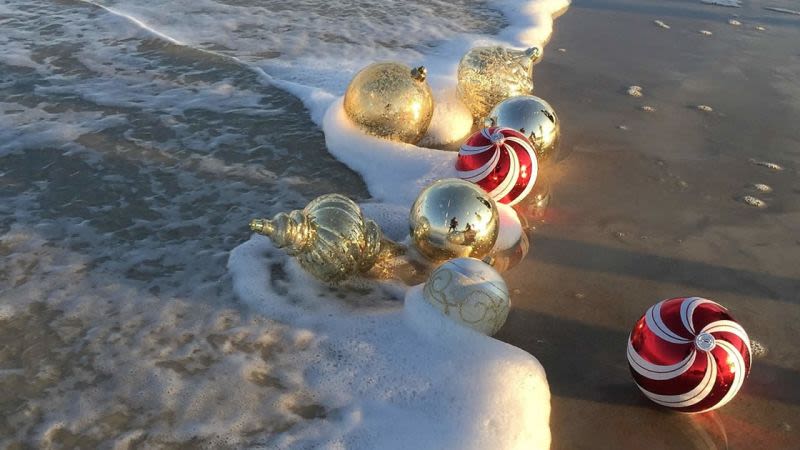 Some dream of a white Christmas... but not the people who are thinking of spending their holidays in Tenerife. They are dreaming of a warm and sunny Christmas and if you're reading this, you're probably one of them as well.
Weather in Tenerife at Christmas
The Canary Islands are blessed with the warmest weather in Europe during the winter months, so if you're wishing for some winter sun the Canaries are the place to go.
Temperatures in December and January in Tenerife South still rise around the 23 - 25 Celsius during the daytime, and at night it gets a bit chilly, but a cardigan will suffice on most evenings. You can see more photos from Tenerife in December, just so you get a better sense of what you can expect if you decide to spend Christmas and New Year's Eve in Tenerife.
Even with the nice weather we still recommend to pack a light coat. On most winter nights you will need one, or at least a cardi, but for the daytime you should always pack a the bathing suit and flip flops.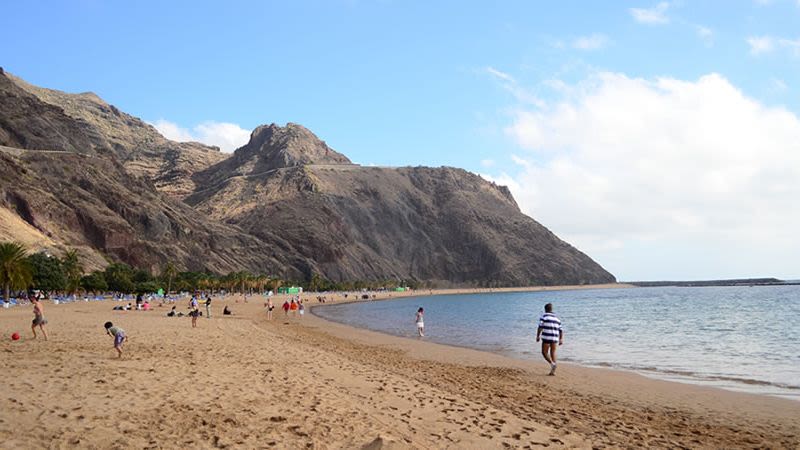 Traditional Christmas in Tenerife
In Spain, Christmas is a bit different from the UK and other countries in Europe.
Kids will receive their gifts on the 6th of January, when there's a national holiday known as The Three Kings or Dia de los Reyes Magos.
So for Spanish people Christmas is usually a holiday to be spent at home with the family, having a nice dinner together before going to church for the ceremony known as Midnight Mass or La Misa del Gallo.
However, since Tenerife is a tourist destination all year round, most of the restaurants, bars and places will be open on Christmas day just like any other normal day.
Some of the shops will be closed on the 25th of December, since this is still a public holiday in all of Spain. So if you need to stock up on something you should do your shopping at a day in advance. In the main tourist areas in the South you will still find some shops open even on Christmas day, but big hypermarkets like Mercadona will be closed on Christmas day and will reopen on the 26th.
The 26th is not Boxing Day as it's in the UK, instead the Sale Season in Spain starts on the 7th of January, the day after the children get their gifts from the Three Wise Men, otherwise known as the Three Kings.
Christmas Market in Puerto de la Cruz 2018
In 2018 a Christmas Market with more than 30 stalls will be opened between 30 November and 13 January 2019 in Puerto de la Cruz.
Schedule: from Monday to Friday from 5 pm; Saturdays, Sundays and holidays from 12 pm.
Location: Explanada del Muelle
See more details in the Christmas Program in Puerto de la Cruz, with all the activities planned for the month of December.
Christmas dinner in Tenerife 2018
Most of the restaurants in Tenerife will prepare a special meal for Christmas day, either with a set menu or a buffet.
Some restaurants get fully booked for next year right after the present year's Christmas dinner has ended, since many of the visitors are return customers who come here each year to spend their holidays.
Restaurants will usually publish their Christmas menu on their Facebook page or their website at least a few months in advance, some starting from August or September.
If you have a favourite restaurant in Tenerife where you'd like to go for Christmas dinner then you should ask them in advance or check their social media to see if they've announced anything.
Regarding what's on the menu on Christmas day in Tenerife, it pretty much depends on what you'd like to have. You can choose anything from a traditional roast meal to a Chinese buffet or Spanish cuisine. Some restaurants will serve a traditional Christmas menu and others will keep business as usual and serve what they are usually serving. There's plenty of cuisines to choose from, so if you're spending a Christmas in a sunny destination like Tenerife you might as well try something new.
Below you have a list of places to go check out for Christmas lunch or dinner in Tenerife:
Christmas day at Gulliver's Grillhouse
Address: Bungalow no. 2, Calle trasera san blas, c.c. san blas, golf del sur, san miguel de abona, tenerife
The menu is 17,5 Euros per person, plus IGIC.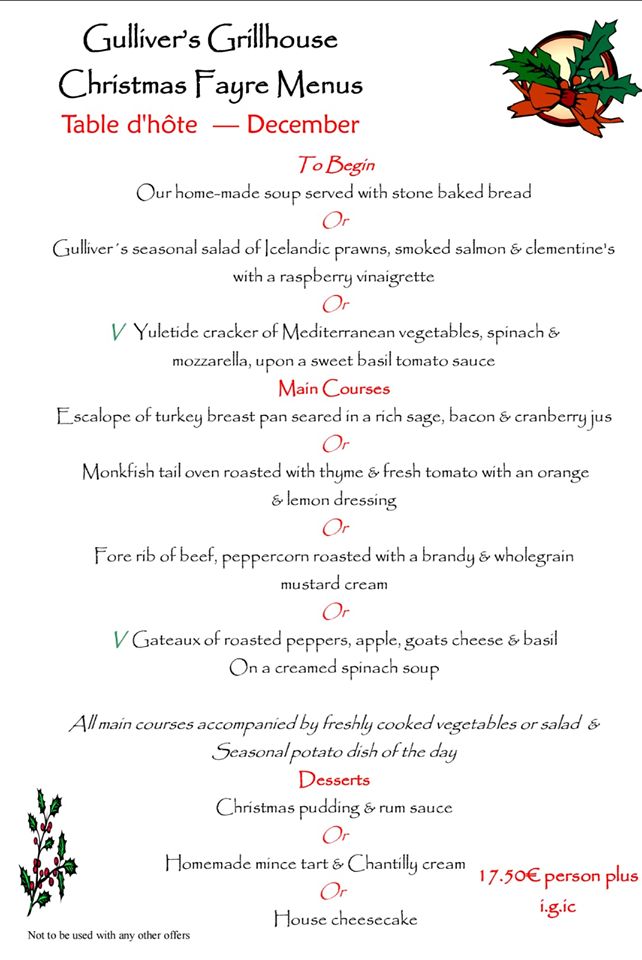 Christmas Parties at Tramps in Tenerife
The Tramps Tenerife Club will host a Christmas party every night of December.
Address: Centro Comercial Starco Av. Arquitecto Gomez Cuesta, s/n 38660 Playa de la Americas, Tenerife
Get in the festive spirit and celebrate:
Christmas Jumper Party
Jingle Jam
Bad Santa Party
Office Christmas Party
Red & White Party
The Ulimate Christmas Party
Christmas Day Bonanza
Boxing Day
Winter Wonderland
Winter sun = Winter Fun :)
Drinks from just €3
Paddy's Lounge Bar & Grill in Los Gigantes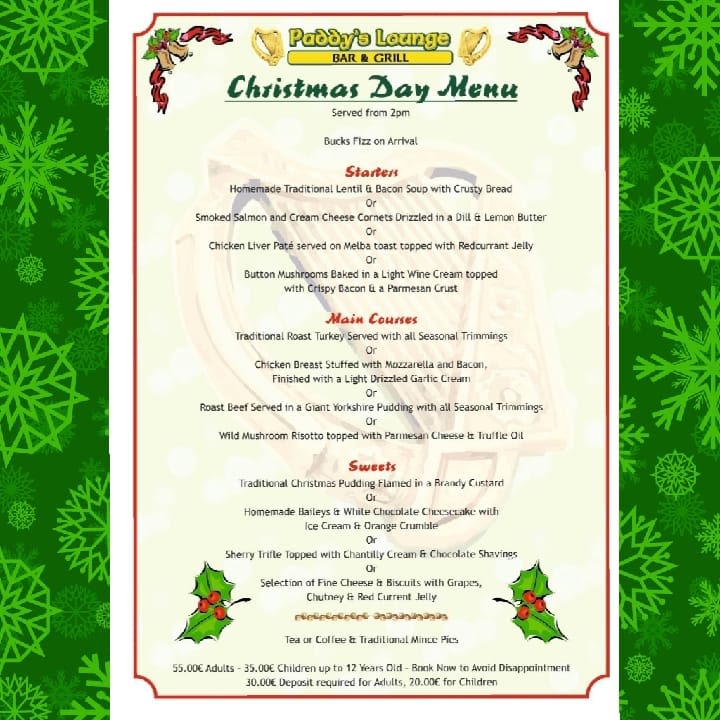 Christmas events in Tenerife 2018
Christmas program in Los Realejos - see program for the entire month of December, up to the 5th of January.
Christmas in San Miguel de Abona

Christmas on the beach in Tenerife
If the weather is nice, why not grab something to eat the day before from the supermarkets, a bottle or wine or cava and on Christmas day go to the beach and have a picnic there?
If you're spending Christmas day getting a tan, you might as well take advantage of the sunshine and beautiful weather to get a really unique meal right in front of the ocean. You could always have a Christmas lunch on the beach and then go out for a fancy dinner.