6 Best Things To Do in Puerto de Santiago, Tenerife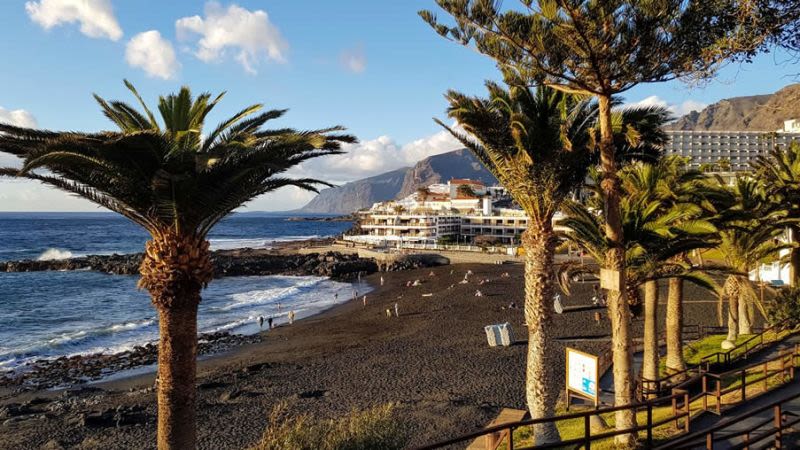 Puerto Santiago is a quiet resort on the west coast of Tenerife, part of the municipality of Santiago del Teide.
It is located very close to Los Gigantes, famous for the majestic cliffs that rise up from the ocean.
Puerto Santiago is the perfect place for a quiet holiday in Tenerife if you don't like the busy areas in the south like Playa de las Americas, Playa del Duque or Los Cristianos. The vibe here is very different, there are no noisy bars and no nightclubs, although some places have some entertainment in the evening in the form of karaoke.
The resort is ideal for young families with small children and mature couples who just want to relax and enjoy the nice weather. Most of the tourists who come to Puerto Santiago opt for a self-catering holiday, since there are lots of apartments available in the area, at cheaper prices compared to the resorts mentioned above. There's also the option to stay at the big hotel Be Live Experience Playa la Arena, which is situated very close to the beach with the same name.
Tip if you are looking to stay in Puerto Santiago: the town is very hilly, so if you have mobility problems this might not be the right place. If you're looking to rent an apartment, check to see exactly where it is located in order to avoid an unpleasant surprise.
What to do in Puerto Santiago
Puerto de Santiago is a great option for people looking for a relaxing, chilled and quiet holiday in Tenerife.
Beaches in Puerto Santiago
As its name suggests, this is a small beach, with just basic facilities. There are no sun loungers and the beach can only be accessed via a set of stairs.
This is the most popular beach in the area and it's usually packed with tourists even during the winter months.
It is a black sand beach, with sun loungers, showers, lifeguards, and restaurants just a few meters away.
Playa de la Arena gets very busy all year round, even though the currents here are strong and on most days you'll see a red flag on the beach, especially during winter. Even so, this beach is still really beautiful and we personally have enjoyed many relaxing days here, plus some amazing sunsets.
The price for a sun lounger at Playa la Arena was 3 Euros in February 2019.
3. Try the local restaurants in Puerto de Santiago
Although a small resort, you will find plenty of restaurants here, from Chinese to Indian and typical Spanish food.
Flor del Drago is a popular one and we've also had good lunches or snacks at Bar El Gourmet - nothing fancy, just honest and cheap meals (the pizza is also good).
The Chicken Shack is another great restaurant if you're in the mood for fried chicken. The owner is super friendly and a great host, so we definitely recommend you try them for dinner one night.
Bilanzerri, the ice cream shop opposite Playa la Arena is really good also, with creamy Italian ice cream and cold drinks.
4. Coastal walk to Los Gigantes or Alcala (even up to Playa San Juan)
Puerto Santiago and Los Gigantes are practically connected, so you can walk between them along the coast.
The view of the cliffs is always breathtaking and you'll find some nice shops and restaurants here as well.
You can also walk in the other direction towards Alcala, even up to Playa San Juan (although that section is not paved, hence more difficult to do).
Read all about the coastal walk from Los Gigantes to Alcala, via Puerto de Santiago.
5. The sunset in Puerto de Santiago
If you're staying in Puerto de Santiago you will see the sunset behind the island of La Gomera, which is visible on most days. Many people gather on the beach of La Arena at sunset to enjoy this lovely view.
6. Go on a boat trip to see whales and dolphins
From the marina of Los Gigantes you can go on a whale-watching trip or even on a fishing trip. Also from the same marina, you can catch a boat ride to Masca beach.
If you want a relaxing experience, with only a small group of people, you can sail from Los Gigantes aboard a beautiful sailing boat (drinks and food included) on a 3 hours trip, where you have a good chance to see dolphins, pilot whales and turtles in their natural environment.
Pick-up service from locations between Los Gigantes and La Caleta
Fresh fruit, home-made sandwiches (vegetarian, vegan and gluten-free options available) & Beverages, including cava, white and red wine, beer and soft drinks
Free cancellation up to 24 hours before activity starts
General info about Puerto de Santiago, Tenerife
If you're looking to book a holiday in Puerto de Santiago, the following details might be useful to you.
Parking in Puerto de Santiago
We have stayed in the area close to Playa la Arena, which gets busy during the daytime because of all the people that come here for the beach.
However, in the evenings and mornings it was pretty easy to find a parking spot close to our apartment. This was during the winter months, but in summer it may get busier.
If you have a rental car and you want to stay in this part of the island, Puerto Santiago is a much better choice than Los Gigantes, as it will be easier to find a place to park (unless you rent a property that has its own garage or parking place).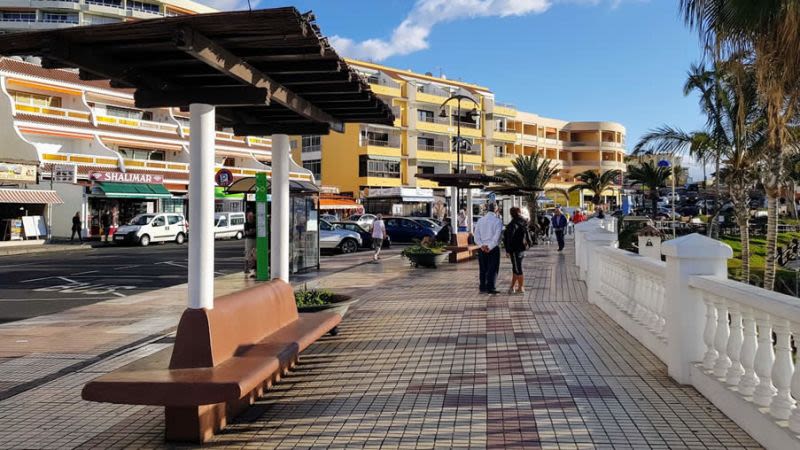 Winter in Puerto Santiago - how is the weather in Puerto Santiago in December, January and February
Winters in Tenerife are mild and warm, even in the North of Tenerife, if you compare it with some of the winters other countries in Europe get.
But the South if the warmest part of Tenerife and Puerto de Santiago makes no exception, even if it's not located quite next to the popular Las Americas and Los Cristianos areas.
Even in months like December, January or February, the weather in Puerto de Santiago is still warm enough for the beach and even to swim in the ocean. Temperatures go up to 25 Celsius (in the sun) and at night it drops to about 16 - 18 Celsius, so a jacket will be needed.
For more info about the weather in Puerto Santiago in December or winter in general, we recommend you read our article regarding the warmest Canary Island in winter. Also, take a look at what to pack for Tenerife, to get a general idea of what you should bring with you.
Puerto de Santiago - Average Weather in December
Max temp daytime: 25° C on 2nd of December

Min temp daytime: 21° C on 24th of December

Max temp night time: 19° C on 3rd of December

Min temp night time: 14° C on 25th of December
Puerto de Santiago - Average Weather in January
Max temp daytime: 28° C on 2nd of January
Min temp daytime: 20° C on 29th of January
Max temp night time: 18° C on 1st and 2nd of January
Min temp night time: 11° C on 31st of January
FAQ about visiting Puerto Santiago, Tenerife
Is Puerto de Santiago lively?
Compared to Playa de Las Americas, Puerto de Santiago is not as lively, and you won't find nightclubs here. Puerto Santiago is ideal for quiet and relaxed holidays in Tenerife.
Is Puerto Santiago in north or south Tenerife?
Puerto Santiago is located on the west coast of Tenerife and it gets plenty of sunshine and warmth during the winter months.