8 Best Spanish Festivals Not To Miss in 2020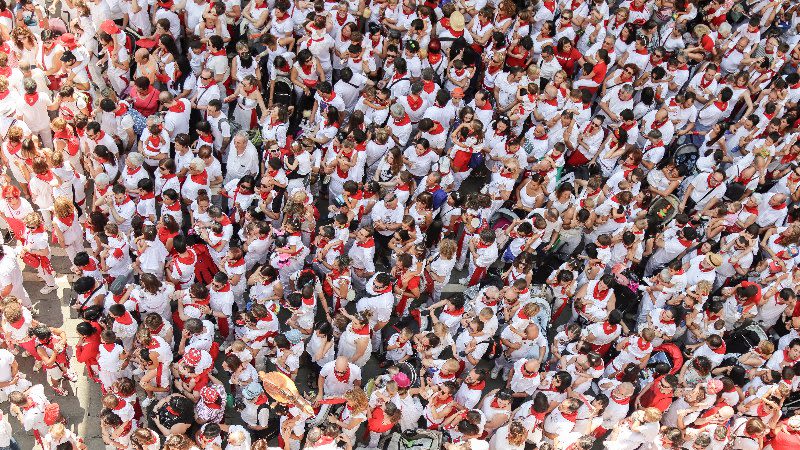 Spain: the country of sunshine and good weather, sangria, paella and fiestas. Lots and lots of fiestas, festivals and carnivals.
The Spaniards know how to party and celebrate and it's a great experience to visit during one of the big festivals in Spain.
Famous Spanish Festivals
We have chosen our favourites among the multitude of Spanish fiestas, but we would advise you to participate in any local event taking place while you're visiting, as it's a great way to experience the local culture.
Try not to miss these awesome festivals in Spain in 2020
1. Las Fallas de Valencia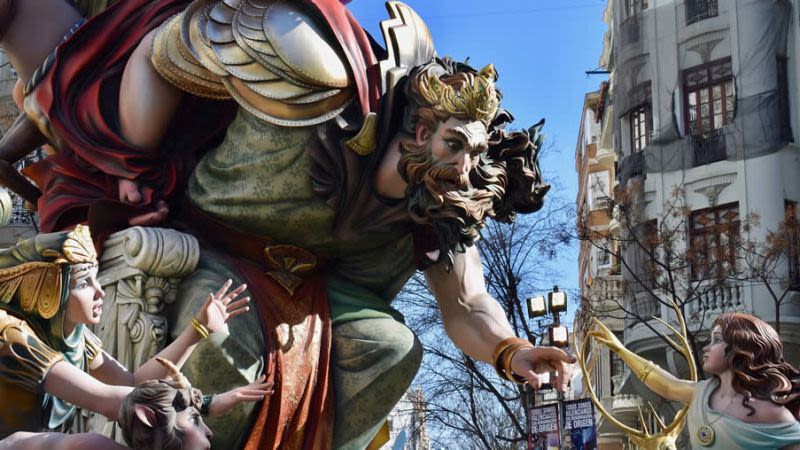 2020 Fallas of Valencia: March 15 - March 19
The festival Las Fallas de Valencia happens every March and it's a great time to visit the city, which becomes full of color and noise.
The Fallas are giant structures that are built by each casal faller and then burnt. The Fallas de Valencia event lasts for 5 days, while you can hear the sound of the exploding Mascleta and you can see people partying all over the streets. Some of the Fallas structures take entire months to build and they cost a lot of money, only to be presented in the festival and then burnt.
The Fallas de Valencia Festival was declared by UNESCO an intangible cultural heritage since November 2016.
Carnivals in Spain
The carnivals in Spain usually take place sometimes between February and March, in the week leading up to Lent. This is a wonderful season with colorful celebrations, amazing costumes, big parades, music, dancing and of course drinking. Out of all the Spanish carnivals, there are two that you have to experience at least once:
2. Tenerife Carnival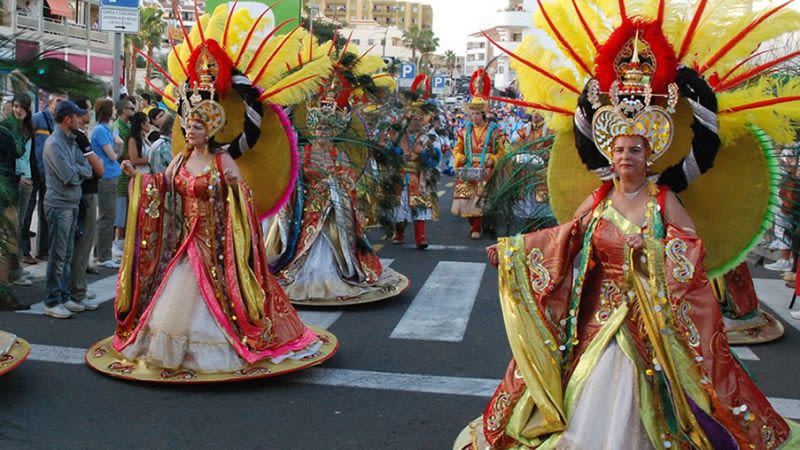 The carnival in Tenerife is the biggest in all of Spain and the second in the world after Rio de Janeiro. It is a major event that takes place in the capital of the island, Santa Cruz de Tenerife and hundreds of thousands of people participate. Do not miss the Gran Coso de Carnaval and the Burial of the Sardine. In the parade, you can see some amazing and grand floats and thousands of participants in glittery shiny costumes. Each year the carnival has another theme, so you can choose a costume that follows that year's theme.
3. Cadiz Carnival
Cadiz Carnival 2020: February 20th - March 1st
The carnival in Cadiz is not as shinny as the one in Tenerife, but it's no less fun. There's music on the streets from troubadours bands, plus fireworks are also part of the schedule. Most of the lyrics in the songs are satirical and they aim at the country's politicians and other social problems.
4. La Tomatina Festival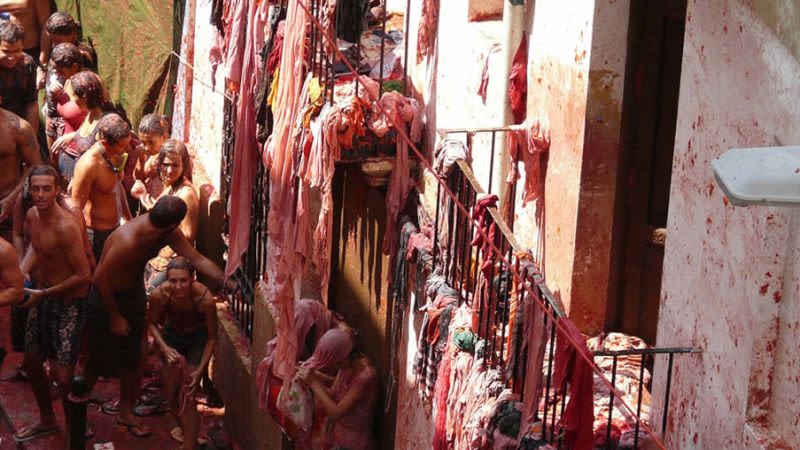 La Tomatina 2020: 26 August
The tomato festival is one of the most popular in Spain and one of the most unusual for tourists. Lots of visitors gather in Bunol, a small city in the province of Valencia, to fight using tomatoes. It's been taking place in the last Wednesday of August, during a week of festivities in Buñol and it's now considered an international event, with many foreign tourists joining. Since this Spanish festival is now so popular, since 2013 you need to have an official entry ticket in order to participate in the tomato fight. Crazy, right?
5. Feria de Abril / April Fair in Sevill
2020 Seville Fair: 26 April - 2 May
Seville is the capital of Andalusia and the fair usually starts 2 weeks after the Holy Week (Semana Santa), so it's not an exact date each year. The bank of the Guadalquivir river is filled with casetas (decorated tents) and for the duration of a week the city parties each night with music, sevillan dancing, local wine, sherry and other specific drinks like manzanilla. The casetas at the fair in Seville are usually private, belonging to wealthy families, clubs, etc so if you want to enter the tent, you need to have an invitation or a member card.
Sevilla is animated throughout the entire year, but during this special week is has a more special charm and it's a nice experience to participate in this local Spanish fiesta.
By the way, don't you find it a bit ironic that the 2019 April Fair is in May?
6. Feria de Caballo de Jerez / Jerez May Horse Fair
Jerez Horse Fair 2020: 9 - 16 May
Jerez de la Frontera is a lovely town, close to Sevilla and we recommend you to visit this place even if there's no fair going on while you're there. Back in the days, the fair used to take place so that local farmers could buy and sell horses and they used to celebrate the transactions by having a few drinks. Nowadays it is a festival of music and dancing, the difference from the fair in Seville being the fact that the casetas are public, so anyone can join in the party (no special invitation needed).
La Feria de Caballo in Jerez usually takes place one week after the fair in Seville.
7. Festa Major de Gracia / Gracia Festival in Barcelona
Festa Gracia Dates 2020: 15 - 21 August 2020
This the largest street party and festival in Barcelona and takes place in the middle of August each year.
Everything happens in the Gracia district and the streets are decorated for the activities and celebrations that take place. This is a festival that celebrates Catalan traditions and customs and the celebrations are spread around 20 plazas and streets in the Gracia district. You should participate in this local event if you want to immerse yourself in the Catalan customs and traditions.
8. Fiestas de San Fermin and the Running with the bulls in Pamplona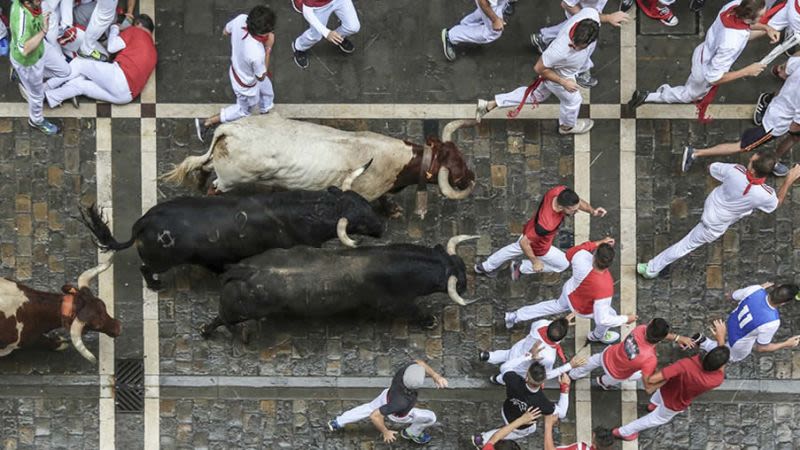 San Fermin Festival 2020: 5 - 16 July 2020
This is one event that we couldn't skip on our list of Spanish festivals.
For many people, the Sanfermin fiestas are equivalent with the Running with bulls event, but there's more than just that. The fiestas celebrate the Catholic Saint Fermin, so there are several other celebrations throughout the festival, including street parties that gather tourists, as well as locals.
The Runnings with the bulls take place each morning of the festival at 8 o'clock and the participants run in front of 6 bulls that are usually used in the corida. There is no fee to pay in order to participate, but you do have to be quick if you want to remain unharmed. This "race" does not take long, under 5 minutes usually, but lots of people gather to just watch before they start their day.
Plan the perfect holiday in the Canary Islands
We always use Airbnb for apartment rentals and if you sign up from our link you get a 41€ discount for your first booking.
Looking for a hotel? We have selected for you some of the most popular hotels in the Canary Islands:
Also, take a look at our dedicated guide to help you choose which Canary Island to visit.
Best Day Trips in the Canary Islands
These are the top 3 day trips in the Canary Islands: