Which ocean surrounds Tenerife and the Canary Islands?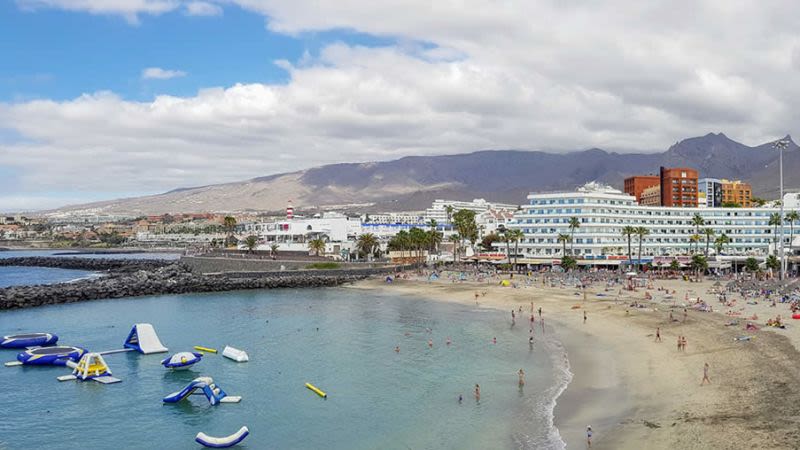 The Canary Islands is an archipelago formed by seven islands: Tenerife - the largest of all, Gran Canaria, Lanzarote, Fuerteventura, La Gomera - the closest island to Tenerife, La Palma and El Hierro.
The Canary Islands are set in the Atlantic Ocean so in regards to the question about which sea surrounds Tenerife, the answer is: the Atlantic Ocean, of course.
Take care while swimming in Tenerife - and the Canary Islands in general
Even if you are a good swimmer, always be careful while swimming in the ocean. The currents are powerful and tricky and you shouldn't be adventurous in places that are new to you.
Most of the town beaches in Tenerife have lifeguards, who are there to protect you in case anything happens. Always listen to the lifeguards, because they know the ocean well and they know where currents are strong.
Significance of flags on the beaches in the Canary Islands:
Green flag: Swimming allowed
Yellow flag: Swimming allowed, but with extreme caution
Red flag: Swimming forbidden
Yellow flag + Red Flag: Swimming forbidden for children; Adults should swim with caution
Advice for swimming in Tenerife and the other Canary Islands:
Wear water shoes - this way you are protected from stepping on jellyfish or hurting yourself by stepping on sharp stones
Wear a UV protective T-shirt - especially if your skin is fair
Use lots of sun lotion with high UV protection
If it's your first time swimming in the Atlantic Ocean or you are not a confident swimmer, choose a beach with a lifeguard and stay close to the shore
Most beaches in the south of Tenerife are protected by break waters, which don't allow big waves to come close to the shoreline. This is also the case for the major resorts on the other Canary Islands
Best beaches for children in Tenerife are in Los Cristianos: Playa de los Cristianos, Las Vistas and even Puerto Colon - this a personal opinion, not the universal truth. Read more in our guide of where to stay in Tenerife if you're coming for a family holiday.
Take care while going into the natural rock pools in Tenerife like the ones in Garachico or Los Gigantes - unfortunately, there have been several accidents with people dragged into the sea by big waves, so always take great caution and don't go in when the sea is rough
Please be respectful and don't throw plastic bottles, plastic bags or any other waste into the ocean waters - it is important for the survival of marine life and we should all respect the nature around us, even when we are on holiday
Plan the perfect holiday in the Canary Islands
We always use Airbnb for apartment rentals and if you sign up from our link you get a 41€ discount for your first booking.
Looking for a hotel? We have selected for you some of the most popular hotels in the Canary Islands:
Also, take a look at our dedicated guide to help you choose which Canary Island to visit.
Best Day Trips in the Canary Islands
These are the top 3 day trips in the Canary Islands: