Blue Flag Beaches in the Canary Islands in 2020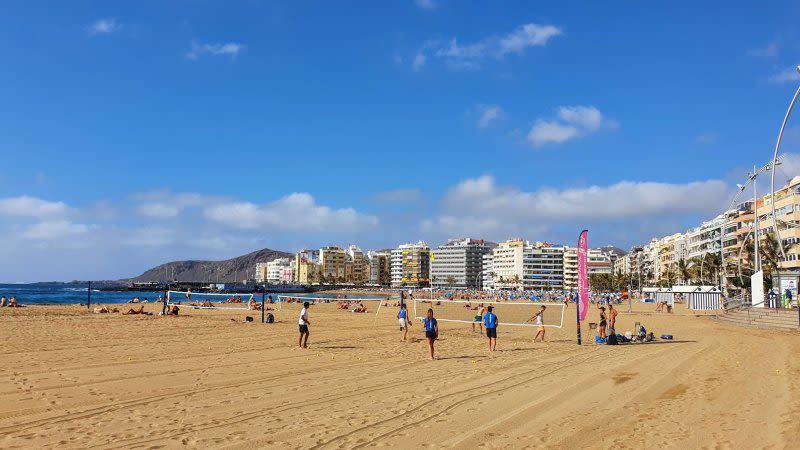 The Canary Islands have received this year 51 awards for their beaches from the Blue Flag program and 5 awards for marinas, in total 7 awards more than in the 2019 edition.
The Ministry of Health reports that the Canary Islands have obtained 51 Blue Flag awards for beaches, and 5 for marinas, according to the opinion of the international jury of the Blue Flag environmental program.
What are Blue Flag beaches?

Blue Flag is a recognition awarded to those beaches and marinas that meet the criteria of excellence in the quality of bathing water, comply with environmental regulations, and have adequate health and safety infrastructure to guarantee the health and safety of their users.
There are 51 Blue Flag Beaches in the Canary Islands in 2020
There is no shortage of beautiful beaches in the Canary Islands, but it's also good to know that there are so many places that also meet the criteria of safety in terms of water quality, public safety and preserving the environment.
The province of Las Palmas, which includes the islands of Gran Canaria, Fuerteventura Lanzarote and La Graciosa has a cumulated number of 30 Blue Flag Beaches, while the province of Santa Cruz de Tenerife has been awarded the Blue Flag distinction for a number of 21 beaches.
Blue Flag Beaches in Gran Canaria in 2020: 15
Agate: Las Nieves*
Agüimes: Arinaga
Arucas: El Puertillo, Los Charcones
Galdar: Playa Sardina
Ingenio: El Burrero
Las Palmas de Gran Canaria: Las Canteras Beach
San Bartolomé de Tirajana: Playa del Ingles, Maspalomas Beach, Meloneras, San Agustín
Telde: Hoya del Pozo, La Garita, Melenara, Salinetas
Blue Flag Beaches in Lanzarote in 2020: 8
Arrecife: El Reducto
Teguise: Jablillo, Las Cucharas
Tias: Playa Grande (Blanca), Matagorda, Pila de la Barrilla, Pocillos
Yaiza: Playa Blanca
Blue Flag Beaches in Fuerteventura in 2020: 7
Pájara: Butihondo, Costa Calma, El Matorral, Morro Jable
Puerto del Rosario: Blanca, Los Pozos, Puerto Lajas
Blue Flag Beaches in Tenerife in 2020: 12
Blue Flag Beaches in La Palma in 2020: 5
Breña Alta: Bajamar
Breña Baja: Los Cancajos
Los Llanos de Aridane: Charco Verde, Puerto Naos
Tazacorte: El Puerto de Tazacorte
Blue Flag Beaches in La Gomera: 3
Alajeró: Santiago
San Sebastián de la Gomera: La Cueva, San Sebastian
Blue Flag Beaches in El Hierro: 1
Pinar de El Hierro: La Restinga.
* This symbol represents that this beach is a new entry on the list in 2020.
Blue Flag Marinas in the Canary Islands: 5
Gran Canaria: 2
PD of Mogán, in Mogán.
PD Pasito Blanco, in San Bartolomé de Tirajana
Lanzarote: 1
Marina Puerto Calero, in Yaiza
Tenerife: 2
PD of Los Gigantes, in Santiago del Teide
Real Club Náutico de Tenerife, in Santa Cruz de Tenerife
Blue Flag Centers in the Canary Islands: 3
Interpretation Center Natural Reserve of the Dunes of Maspalomas, in San Bartolomé de Tirajana, Gran Canaria.
Aula de la Naturaleza Rambla de Castro, in Los Realejos, Tenerife.
Museo de la Restingolita in El Pinar del Hierro, El Hierro.
The requirement to become a Blue Center, in a municipality with Blue Flag beach, is the existence of a visitor center, sea or nature classroom, which includes among its objectives and activities environmental education on coastal ecosystems and / or the sustainable development, as well as specific information on the Blue Flag program.
Blue Trails in the Canary Islands: 2
Puerto Calero-Puerto del Carmen trail, in Tías, Lanzarote
Sendero del Time, in Tazacorte, La Palma
The Blue Paths are itineraries and landscape elements that link beaches or ports with the Blue Flag and contribute positively to the sustainable use of the coastline. For the awarded municipalities it is a recognition of their work in the improvement and restoration of their natural and ethnological coastal heritage.
Thematic distinctions: 1
Los Realejos, distinction in environmental education