Fuerteventura Weather in August - What temperatures to expect?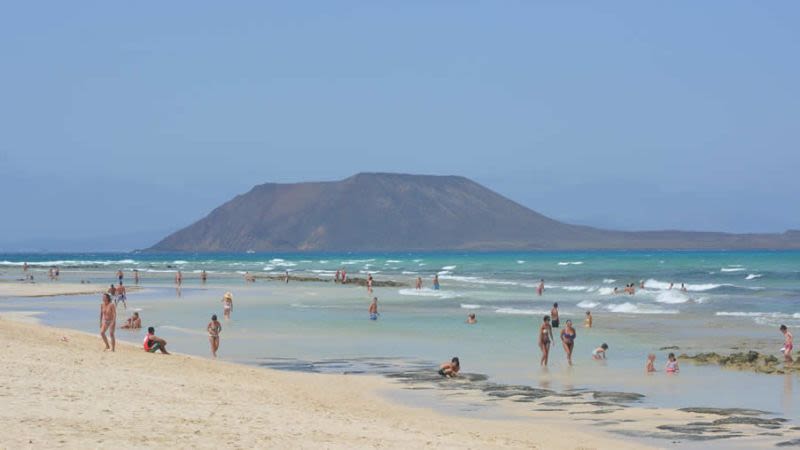 We will say it right from the start: August is the hottest month of the year in Fuerteventura.
But this probably comes as no surprise, as August is usually the hottest month of the year in most places in the Northern hemisphere.
It's true that the Canary Islands enjoy a mild climate, with enough sun and warmth that sunbathing is possible even in winter, when most other places in Europe are suffering from low temperatures and bad weather. So if the weather in Fuerteventura is warm and nice even in winter, how warm is is during the summer months, and especially in August? What should you expect if you are heading over for your summer holiday during this month?
Weather in Fuerteventura in August
In our article about July, we've said this is a hot month, because temperatures see a big increase from June, but they are still below the 30°C mark on many days (especially during the first weeks). So the temperatures are on a continuous ascending path all throughout July, so that in August the temperatures during the daytime will constantly be above 30°C, with sunny skies and the usual trade winds, which help in making these temperatures easier to endure.
If in other typical beach destinations in Europe 30-32°C might not seem like such a high temperature for August, in the Canary Islands this temperature will feel like at least 4-5 °C more that the thermometer shows. This is due to the position of these islands and if you'll also look at the UV index during the summer months you will see that it is almost every day at around 10-11 (on a scale where 11+ is the max). This means that you need to take really good care of your skin when exposed to the sun and you should only use a high SPF lotion (SPF 50 is recommended for those with fair skin).
The weather in August is perfect for sunbathing in Fuerteventura, especially if you love the heat and you love to swim. The pools and the ocean will probably be your best friends to help you cool down, as well as those cold beers that will be waiting for you in all the bars and restaurants across the resorts.
August is the perfect month to come on holiday for those who love hot weather, as there is usually no threat of rain at this time, just the usual threat of a calima, which is a common phenomenon during the summer months when it's this hot. Along the coast, the weather will be much more pleasant and will feel cooler compared to the inland.
Since Fuerteventura is characterized by an arid climate, on most places and beaches you will find no natural shade, so make sure to wear a hat to protect yourself from heatstroke.
Temperatures in Fuerteventura in August
The average high temperature in August in Fuerteventura is around 28-29°C, while at night you can expect temperatures of around 22°C. When the sun is out the temperature will feel like a few degrees higher, so keep yourself hydrated and your skin protected.
Temperatures often rise above 30°C (86°F) and combined with a high UV index, it makes the air in Fuerteventura feel extremely hot sometimes, so make sure to use a sun lotion with maximum protection.
Record low & record high temperatures
The highest temperature ever recorded in Fuerteventura in August (at the Airport station) was 41°C (105.8°F) and the lowest was 15°C (59°F).
In August the weather is pretty much the same all around the island, although in terms of cloudiness the north is usually cloudier than the south. But in August this should be no problem and don't be fooled in case you see some clouds and skin on sun lotion; by the end of the day you will have red skin and possible sunburns, so make sure you apply sun lotion regularly.
Rainfall
What rain?
There's usually no rain during the summer months in Fuerteventura. The island hardly sees any rain anyway compared to most other places, hence the arid climate and lack of vegetation.
Sunshine hours
Fuerteventura gets an average of 9.5 hours of sunshine per day in August and just like June and July, the days are long and allow for many activities during a long period of daylight.
From September on the days will become shorter, so make the most of your long August days and enjoy Fuerteventura's beaches as well as take time to rest and relax.
Sea temperature in August in Fuerteventura

The average sea temperature in August in Corralejo is 21.9°C / 71.4°F.
Can you swim in Fuerteventura in August?
With an average of 21.9°C / 71.4°F, it is still possible to swim in the ocean in August. While it is not a big increase from July, there are places like the Cotillo lagoons where the water feels warmer and on any other sheltered coves or natural pools.
SEE ALSO
Things to do in Fuerteventura in August
If you want to visit the island, which is something that we always recommend you do, since there are so many great things to see, then we have just one important piece of advice for you. Plan your day trips so that you won't be out hiking for example in the middle of the afternoon. If you want to go hiking towards Pico de Zarza let's say, then do it early in the morning, so that you'll be back by the time the blazing August sun comes into full strength.
You may think that we are exaggerating, but on some beaches and paths, there are literally no places to hide from the sun. Hiking or walking in the middle of the day in these places in August would be similar to walking in the desert in the afternoon. We are just warning you to make sure you have a great holiday and you get to enjoy your time in Fuerteventura to the max.
A day at Las Playitas Resort
Not many people know the area of Las Playitas, located south of Pozo Negro and close to Gran Tarajal.
It is quite a change of scenery from Caleta de Fuste or Corralejo, but if you want something with a different vibe and a much cozy atmosphere, then you can try to come over just for a day to see how you like it.
Go to Oasis Park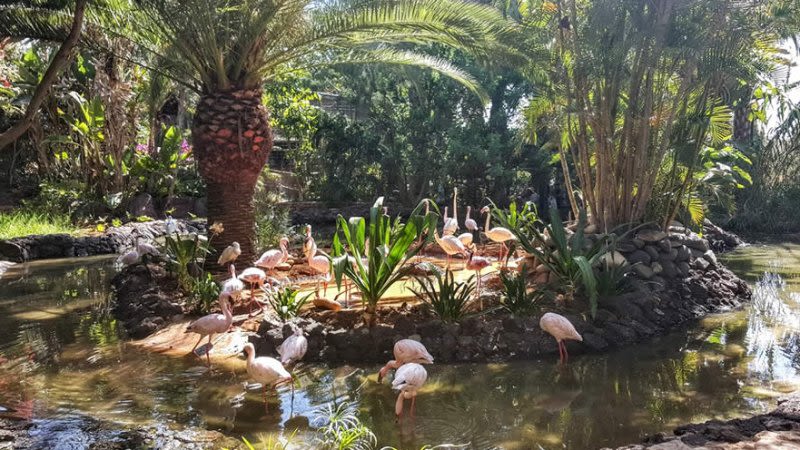 Since August is a popular month for family holidays to Fuerteventura, a visit to Oasis Park might prove to be perfect to make the children happy. The park offers a free shuttle bus and you should ask in your hotel about the stops and times. This is a full-day trip as there are so many animals and shows to see that it will keep you busy until the evening.
The ticket includes:
Bus transfers
Free access to 4 entertaining and educational live animal shows (reptiles, sea lions, birds of prey and parrots)
Free access to the Botanical Garden