Fuerteventura Weather in July - Ideal For a Hot Summer Holiday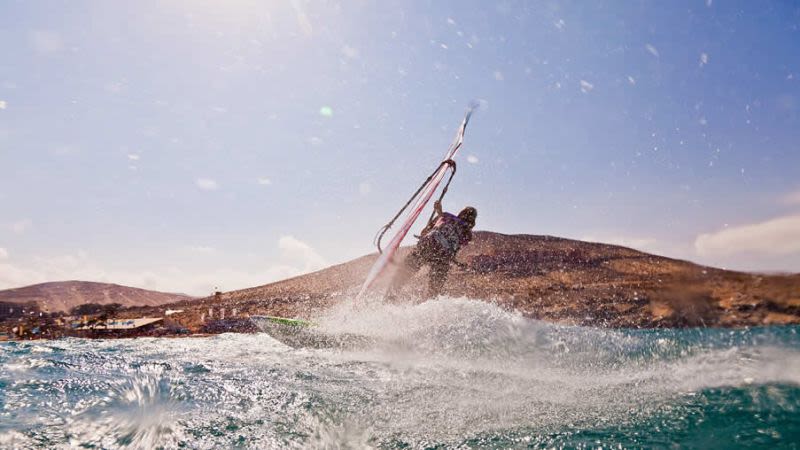 By the time July is here, Fuerteventura goes into full summer mode.
July and August are the hottest months in Fuerteventura, so if you're wanting a really warm holiday in the sun, these are the best months to visit. It's a good thing the trade winds make their presence felt, as otherwise, it would simply be unbearably hot during the afternoon.
July is also one of the busiest months in Fuerteventura since the children are on summer holidays all over Europe and it's the perfect time for family holidays. This also means that prices go up for July and August, as well as for any other time of the year when there's a school holiday.
Weather in Fuerteventura in July
Fuerteventura enjoys a mild climate all year round, which means that even in winter you will get temperatures of around 20°C during the daytime. But July is when temperatures start to go really crazy, reaching values around the 30°C mark almost every day, especially during the second half of the month.
Although 30°C might not seem like a lot to you when it comes to summer temperatures, the sun feels much hotter in Fuerteventura and in the Canary Islands in general, due to their position, so always make sure to use sun lotion with a high SPF factor (SPF 50 preferably during the summer months, when the UV index is really high).
Summer in Fuerteventura is the time when you get to enjoy the beaches at their best, plus you also get to swim comfortably, without needing a heated pool.
Temperatures in Fuerteventura in July
The average high temperature in July in Fuerteventura is around 27-28°C, while at night you can expect temperatures of around 21°C. While during the daytime you'll want nothing more than a bathing suit on your body, at night the cool temperature will be just great, although you may want a long sleeve shirt on a windy evening.
Average high temperature:

27.3°C (81.1°F)

Average low temperature:

20.8°C (69.4°F)

Daily mean temperature:

24°C (75.2°F)
In Fuerteventura, the daily mean temperature is 24 ° C (75.2°F) in July, which is calculated as a mean between the average high temperature of 27.3°C (81.1°F) and the average low of 20.8°C (69.4°F).
In July the weather is pretty much the same all over Fuerteventura, with high temperatures all over the resorts.
Record low & record high temperatures
The highest temperature ever recorded in Fuerteventura in July (at the Airport station) was 43°C and the lowest was 16°C.
As you can see, once July hits temperatures can get really crazy, so be careful while exposing your skin to the sun and always use a hat and sunglasses, to keep yourself safe from the sun.
Rainfall
July is a dry month in Fuerteventura, so there is no rainfall, no precipitation whatsoever.
There isn't much rain in Fuerteventura all throughout the year, to begin with, so there should be no surprise that July is one of the driest months, as well as August. The only reason you may need an umbrella in July is to protect your skin from the sun, but definitely not from the rain.
Sunshine hours
Fuerteventura gets an average of 9.5 hours of sunshine per day in July, so the days are long and you have time to explore, lay on the beach, swim, enjoy cocktails and really soak up the great summer weather in Fuerteventura.
Sea temperature



The average sea temperature in July in Corralejo:

21.3°C / 70.3°F
Can you swim in Fuerteventura in July?
With an average of 21.3°C / 70.3°F, the ocean water has reached a comfortable temperature, where it is possible to swim all over the island. Although the water doesn't get as hot as the Mediterranean Sea during the summer months, for example, the water is still warm enough to allow for a comfortable swim.
Things to do in Fuerteventura in July
Since it's July, it's all about beach holidays, enjoying the sun and recharging batteries. Families head over with the children for a fun holiday and since the weather is guaranteed to be dry and hot, you should take advantage and spend as much time out as possible, exploring every corner of the island.
READ ALSO
The water park in Corralejo
For a fun family day, you can head over to the island 'only water park, the one in Corralejo, Although is not as great as the famous Siam Park (and definitely not in the top best water parks in Spain), it can be entertaining for the kids during a really hot day. It can get pretty expensive for the whole family with entrance tickets and food, but sometimes the price gets lowered if you get in after 2 PM, so you should ask around and see if that is still the case.
A walk through Puerto del Rosario
Puerto del Rosario might not be your top choice of how to spend a day from your holiday in Fuerteventura, but the island's capital has changed a lot in the past few years. In winter big ships come over and bring thousands of visitors per day, but in summer there are no cruises in the Canaries. Puerto del Rosario also has now a nice large beach, popular with locals and in July it can prove to be a good spot to enjoy the sun and the sea.
Events in July
Fuerteventura Windsurfing World Championship

The dates for 2021 have not been announced yet.
The event usually takes place in July, but it was postponed from 2020 until 2021 due to the pandemic and currently, the dates have not been announced yet.
Playa Barca, part of Sotavento, is considered the perfect windsurfing spot in Fuerteventura. It is located only 200 m away from the Hotel Melia Gorriones and directly at the tidal lagoon where the World Cup takes place. If you're into surfing or other water sports then the south of Fuerteventura.
FAQ about visiting Fuerteventura in July
If Fuerteventura hot in July?
Yes, the weather gets hot in July in Fuerteventura, with an average high temperature of around 28°C (82°F).
Is July a good month to travel to Fuerteventura?
Yes, summer is a good time to visit Fuerteventura and July is a good month to come on holiday especially if you're interested in surfing or kitesurfing, as the weather conditions are perfect for these water sports.