Fuerteventura Weather in June - Your Complete Holiday Guide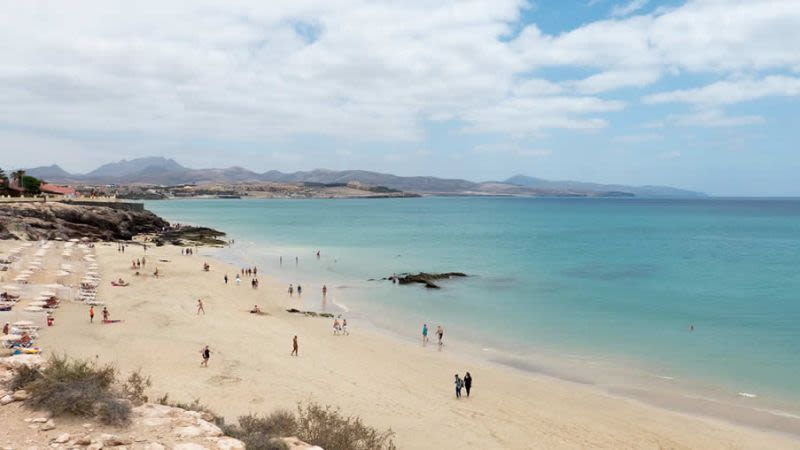 June is when things start to get heated in Fuerteventura: it's still not as hot as it will be in July or August, but for those who are satisfied with temperatures just shy of 30°C during the daytime, June will prove to be a good month to visit.
Similar to May, June is a month when things are still quiet and laid back, since school holidays haven't begun yet. Things start to get busier during the second half of June when kids in some of the countries in Europe start their summer holiday and they head over to Fuerteventura with their parents for a family holiday.
Weather in Fuerteventura in June
The weather in June is nice and warm, with temperatures going upwards of 25°C on most days.
The trade winds start to make their presence felt once June arrives, but this is usually a good thing since it will help you to cool down during the day. You may think that 27 - 29°C is not so hot and that it could be even warmer, but keep in mind how close you are to the Equator and this fact influences how strong the sun feels in the Canary Islands.
So if you want to avoid the big heat during July and August, the month of June might prove perfect for a visit in your case. The wind can be annoying sometimes, but as long as you are close to the coast it won't bother you too much.
Temperatures in Fuerteventura in June
The average high temperature in June in Fuerteventura is around 26°C, while at night you can expect temperatures of around 19°C. While it is not summer at its max, the temperatures are high enough for a pleasant beach holiday just as the summer is starting to kick off in other places around Europe.
Average high temperature: 25.8°C (78.4°F)
Average low temperature: 19.1°C (66.4°F)
Daily mean temperature: 22.5°C (72.5°F)
In Fuerteventura, the daily mean temperature is 22.5°C (72.5°F) in June, which is calculated as a mean between the average high temperature of 25.8°C (78.4°F) and the average low of 19.1°C (66.4°F).
The weather is really starting to warm up and you'll have almost guaranteed beach days throughout your entire holiday here.
Record low & record high temperatures
The highest temperature ever recorded in Fuerteventura in June (at Airport station) was 41.6°C and the lowest was 13°C.
Since the island is mostly flat, the temperatures stay pretty much the same across all major resorts in Fuerteventura: Corralejo, Caleta de Fuste, Costa Calma and Morro Jable. There can be differences in terms of wind and cloudiness, so this means that if it's cloudy where you are, somewhere else around the island it might be sunny and nice.
Rainfall
June is a month with no precipitation in Fuerteventura; on average there are 0 days of precipitation and 0 mm rainfall throughout the month. Seeing rain in June in Fuerteventura is a rare thing, so it's not something you should worry about when planning your holiday.
Sunshine hours
Fuerteventura gets an average of 9.5 hours of sunshine per day in June, so the days are getting longer and it stays that way throughout the summer months. This is as good as it gets in terms of sunshine hours, around 9 to 10 hours per day between June and August.
Sea temperature

The average sea temperature in June in Corralejo: 20.7°C / 69.3°F
Can you swim in Fuerteventura in June?
With an average of 20.7°C / 69.3°F, the sea is starting to warm up slowly. For some, it might be still too cold and for others, it might be just warm enough to enjoy a nice swim.
Things to do in Fuerteventura in June
Summer is the season to experience Fuerteventura's wonderful beaches and coastline to the max. If you want to go on walks and explorations on foot we recommend you do so early in the day, before the midday heat sets in.
Don't miss: Best Things To Do in Fuerteventura
Explore the paradise island of Los Lobos
If you've been to the north of Fuerteventura, you're seen Los Lobos probably a million times, just across the Grandes Playas beaches. It's just a short crossing away from Corralejo and you can enjoy the island on foot. Just remember to get a permit online before you go, as it is now a mandatory condition due to the limit of 200 people who can visit Los Lobos simultaneously.
A day in Gran Tarajal
Gran Tarajal may not be super popular among tourists, but it's popular among expats in Fuerteventura. It is a lovely town towards the southern part of the island, with a large beach and a lovely promenade, with many bars and restaurants along the way. It is a quiet place to visit, with many locals who go about their daily life. It is a break from the resort life and it shows you a glimpse of how day to day life in Fuerteventura really is.
Events in June
Bonfire night / Noche de San Juan

23 June 2021
On the 24th of June, Spain celebrates the Fiesta of San Juan de Bautista, so the night before is the night when you can see lots of bonfires burning in different parts around the island. People burn things from their yards that they don't need anymore, as it is illegal to do so at other times of the year.
FAQ about visiting Fuerteventura in June
Is Fuerteventura hot in June?
The weather is warm and sometimes hot in June in Fuerteventura, with an average high temperature in June in Fuerteventura is around 26°C.
Is June a good month to visit Fuerteventura?
Yes, June is a good time to visit Fuerteventura, especially if you like to visit the island when it's less crowded. The weather is nice and warm, perfect for sunbathing.