Gran Canaria Weather in August - Hottest Month of The Year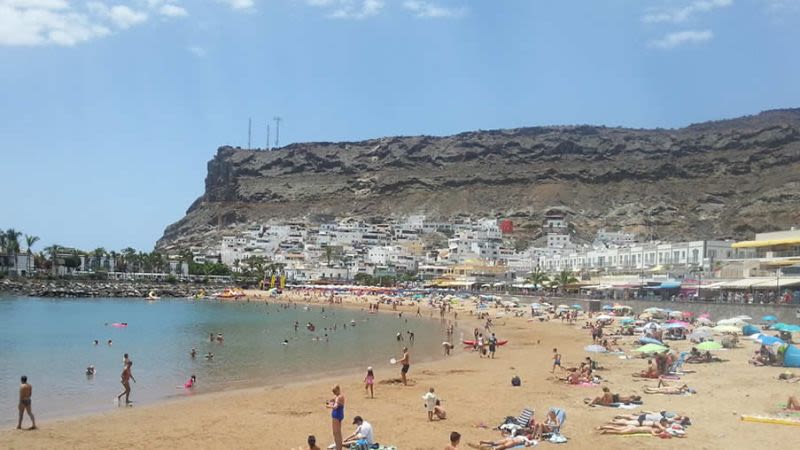 August is the perfect month to visit Gran Canaria only if you like it...HOT! The weather that is.
There's no other way to describe the weather in August accurately. It is very similar to July, but slightly hotter.
With almost no rainy days, plus many hours of sunshine and a warm ocean, August is a month when it's best to come over if you are looking for a holiday where you want to spend all your time on the beach or by the pool. For people looking for an active holiday, with lots of walking and hiking, August might not be such a good idea, as you will suffer from the heat and walking during midday hours will not be pleasant.
In terms of prices, August is one of the more expensive months to come on holiday to Gran Canaria. Since the kids all over Europe are still on summer break, many families come here and prices tend to go up, especially for flights. So better to book in advance for August, as it's highly improbable to get a last minute deal for the Canaries at this time.
Weather in Gran Canaria in August
THE NUMBERS MENTIONED IN THE ARTICLE (temperatures, sunshine hours, sea water temperature etc.) ARE FROM GRAN CANARIA AIRPORT WEATHER STATION
The temperatures during the day in August are between 24°C and 29°C, while sometimes they can go up to 31°C.
On average August has 18 clear days, with no clouds and very few. But even during the rest of the month, the days won't be entirely cloudy; the days usually start with a cloud but by the afternoon the sun comes up and it's beach time again.
The UV index is at 11 in August, which means the highest level there is. This is why we only recommend a factor 50 SPF sun cream in order to protect your skin. Reapply often and don't stay in the sun during lunch hours, when the sun is at its fullest.
The great thing about August is that the ocean is warm and pleasant, which is why you'll see so many people in the water. If you feel like the beaches in the resorts are too crowded for your taste you can simply rent a car and drive up the coast until you find a more secluded one.There are plenty of great beaches and it would be a shame not to explore more during your holiday.
August also comes with the risk of calima, a phenomenon where dust from the Sahara is suspended in the air and it usually gets very hot outside (or the opposite, but this is less likely).
If you are looking to escape the rain back home, Gran Canaria in August is a safe choice, With 0,3 rainy days on average during this month, the island is usually completely dry and it usually stays like this until mid October.
For us personally, August is a bit too hot and too crowded, but we know that many prefer this types of temperatures when coming for a beach holiday. If you can, we advise you to postpone your holiday until September. It will be a bit less crowded and also more inexpensive as the school year starts.
Temperatures in Gran Canaria in August
The average high temperature in August in Gran Canaria is around 29.1°C, while at night you can expect temperatures of around 21-22°C.
Record low & record high temperatures
The highest temperature ever recorded in Gran Canaria in August (at Airport station) was of 40.4°C and the lowest was of 14.6°C.
Temperatures recorded in Fuerteventura in August 2018
Highest temperature during daytime: 32 °C
Lowest temperature during daytime: 26 °C
Highest temperature during nighttime: 13 °C
Lowest temperature during nighttime: 21 °C
As you can see, during August even the nights are pleasantly warm and you will most likely be okay with a short sleeved T-shirt or dress.
Rain in Gran Canaria in August
Average rainfall (mm): 1.92 mm
Average rainy days (>=1mm): 0.3
Rain is almost non-existent in Gran Canaria in August, so no need to bring your rain coat here.
Sunshine hours in August
Sunshine hours per month in August: 312
Sunshine hours per day: 10
Percent of possible sunshine: 77%
Daylight hours: 403
Average UV Index in August: 11
With 10 hours of sunshine per day, you have a long day ahead of you to enjoy the sunshine.But with a 11 UV index the sun is really strong and you need to protect your skin if you want a healthy tan. If you are travelling with a checked-in luggage you may want to consider bringing your own sun lotion, as these products are most expensive in Gran Canaria than back on the continent.
Sea temperature in August in Gran Canaria

Average sea temperature in August: 22.8°C
Can you swim in Gran Canaria in August?
With an average temperature of 22.8°C / 73.04°F, the ocean is warm enough for a really pleasant swim. No need for a heated pool in August, as the ocean will do just fine and you can save some money if you decide to rent a private apartment instead of a hotel room where you have access to amenities like a pool.
Things To Do in Gran Canaria in August
This is the month for beach holidays and if you want to make sure you have hot weather all around it is best to choose a summer holiday, either in July or August. So for this month we recommend that you discover some of the more hidden beaches in the North, which are not as popular as the ones in the South.
North Beach Sardina
Spagna, Av. Alcalde Antonio Rosas, 67A, 35469 Gáldar, Las Palmas, Spain
This is one of those places that will charm you from the first moment, especially if you arrive here on a sunny day when the beach looks wonderful.
You will find many locals here, the beach is clean and protected by high rocks. Plus, although it is situated in the north it has fine sand (although it is dark brown in colour).
Tufia Beach (Telde)
This is another small beach (especially at high tide), located in a small and quaint little village. It gets packed with locals, especially during the summer months and on Sundays, so if you can avoid this day it would be best. During any other time of the week you can almost have the beach to yourself and there is also a Mirador where you can climb to get a lovely view of Playa de Tufia.
Events in Gran Canaria in August
La Rama de Agaete

4 August 2019

This is a local fiesta dedicated to Virgen de la Nieves and you will see thousands of participants dancing through the streets of Agaete, in the north of Gran Canaria. This fiesta is celebrated each year on August 4th.