7 Best Places To Watch The Sunset in Tenerife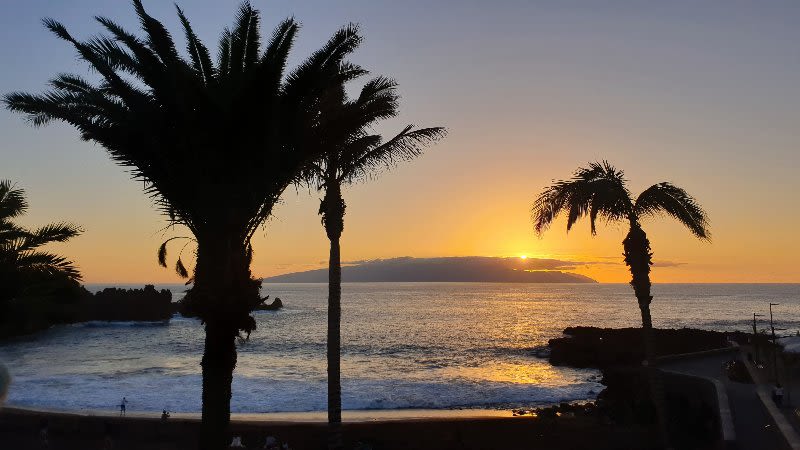 From sunrise 'till dusk, Tenerife is an island full of amazing surprises and if you're on the hunt for the best spots to see the sunset, we will show you our favorite ones.
Being an island in the middle of the Atlantic Ocean, you can imagine that there are many great places where you can admire both the sunrises and sunsets.
But the landscape of Tenerife is so unique and diverse, that it can offer a variety of experiences and for each one, you'll be tempted to say: "This is the best Tenerife sunset ever!".
Best sunsets in Tenerife
Watching the sunset in Tenerife is a great romantic idea, perfect for a couple's holiday, so we'll show you where the best places are.
1. Mount Teide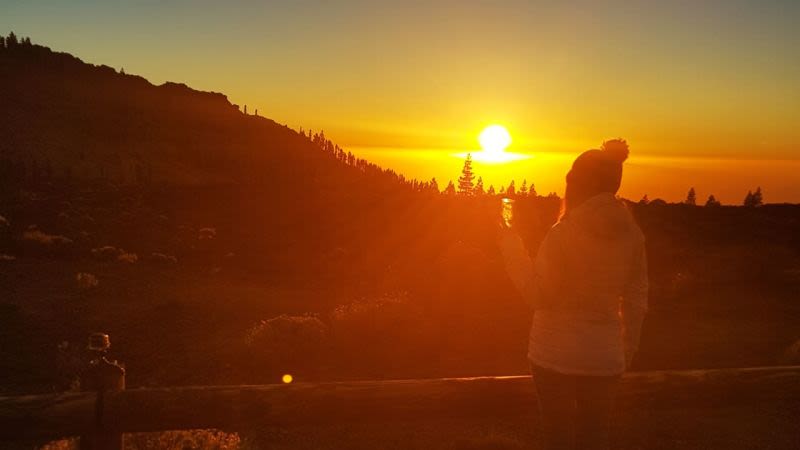 We started with the most unique location, as nothing can honestly beat a sunset at over 2000 m (6500 feet). It is a one of a kind experience in all the Canary Islands and if you rent a car you can drive to Teide National Park by yourself and there's a car park on TF-38 from where you have a really lovely view.
We've also been on a day trip with Teide by Night which included a stargazing experience, as well as watching the sunset with a cup of champagne inside the Teide National Park.
2. Playa La Arena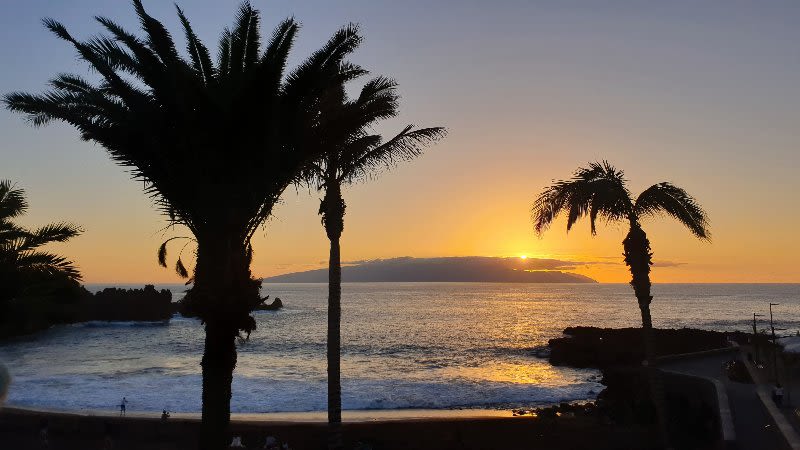 We may be biased, as we love Playa La Arena and we spend a lot of time here, but we really do love the sunsets here, especially when you see the sun setting behind the island La Gomera.
You can either watch from the beach or from the balconies on the promenade and there are even a few restaurants right by the beach, so you can even have dinner or a drink while watching the sunset.
3. Mirador Archipenque
Not far from Playa la Arena you have Mirador Archipenque, which offers amazing views at any time of the day.
You have the lovely Los Gigantes cliffs in the background, so with the warm sunset colors in the picture, you can imagine that the place is a great setting for watching the sunset in Tenerife.
4. Punta de Teno
Punta de Teno is the westernmost point of Tenerife and so it offers some amazing views at sunset, so if you are ever in the area at that time, don't miss the chance to see an amazing natural show.
From here you will have another perspective of the Los Gigantes Cliffs and you have the opportunity to make some great photos, especially if you get here during the golden hour (one hour before the actual sunset).
5. Playa de las Americas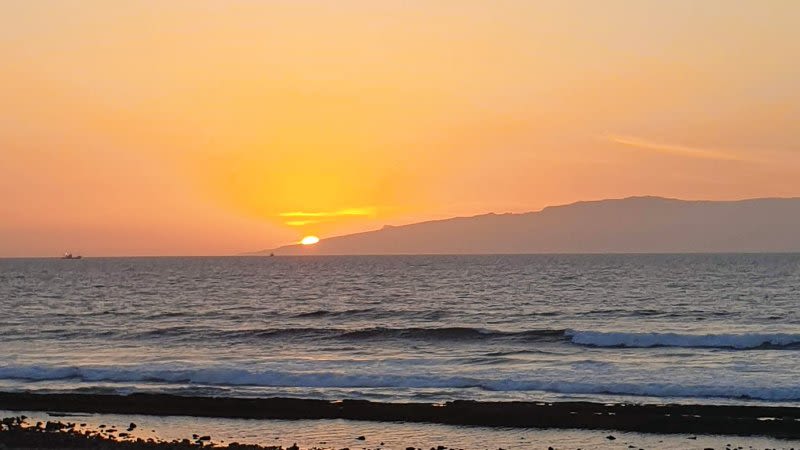 If you're staying in the south of Tenerife, you don't have to travel far in order to see a gorgeous sunset.
Playa de las Americas is actually a convenient place to watch the sunset in Tenerife, as you can see from our picture which was taken at Playa Honda in March.
6. Mirador de Chipeque
This place might not be as convenient as Playa de Las Americas, but it offers a great sunset with Mount Teide in the background and you'll most likely have the place to yourself.
7. Playa de Benijo
Located in the Anaga Rural Park, this wild beach offers dramatic views of the Roques de Anaga and it truly is a photographer's dream at sunset time.
You'll see many pro photographers here and amateurs as well, but even if you don't take any pictures yourself, you'll probably remember the image forever, as it's a truly spectacular show of nature.
In any case, no matter where you are in Tenerife at sunset, just stop for a few minutes and take the time to admire the view. If you are together with a loved one, then this will be a memorable and romantic experience to share, so we highly recommend making time for it at least once during your stay.