Playa Chica - The Town Beach In Puerto Santiago, Tenerife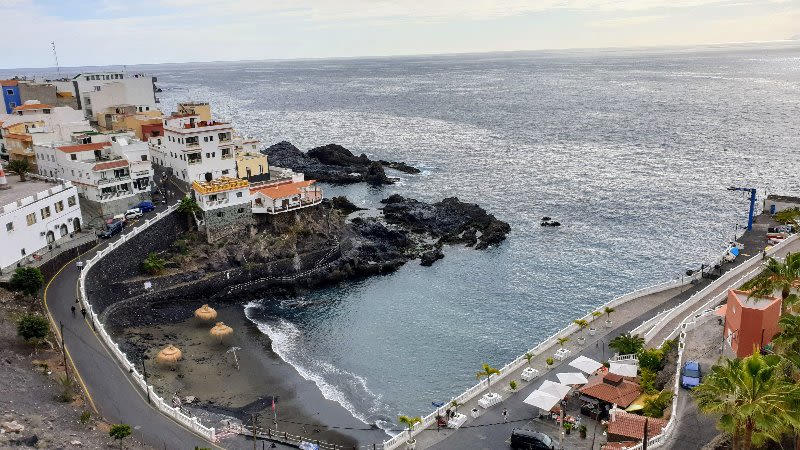 Playa Chica is centrally located in Puerto Santiago, accessible from the promenade and close to the fishing docks. Locals also call it Playa El Puertito, because from the beach you have a view towards the Fishermen's Harbour (Muelle de los Pescadores).
Due to its location, the beach is also known as Playa de Puerto Santiago, after the name of the town and foreign visitors also call it Puerto de Santiago Beach. In the end, it's the same beach under many names, a typical thing for Tenerife and Spain in general.
| | |
| --- | --- |
| Location: | Puerto Santiago, municipality of Santiago del Teide |
| Map: | see on Google maps |
| Beach type: | Urban beach with black sand |
| Access: | Easy |
| Facilities: | showers, waste bins |
| Nudist friendly: | No |
| Lifeguards: | No |
| Parking: | Yes |
| Public Transport: | Yes |
| Wheelchair accessible: | Yes |
The beach in Puerto de Santiago may be small, but you have plenty to explore around it
Playa Chica is really protected and the water here is sometimes warmer than in other places. There is a ladder that leads to the water, which people use to jump in the water during the high tide. You can also access a set of natural swimming pools, all situated nearby: Charco Los Chocos, La Cuevita, Pris Primero and Pris Segundo.
Puerto Santiago beach is situated below the street level and you have to access it via a set of stairs. During the summer months, the beach is usually busy, with tourists and locals also. At Playa Chica, you will find amenities like showers and waste bins, but no sun loungers, given the restricted size of the place. The actual name of the beach translates as the Small Beach, at only 50 m long and 20 m wide. The sand is black and the entrance to the water is rocky.
Read more: Things to do in Puerto Santiago, Tenerife
From the beach, you have easy access to many nice restaurants, as Santiago del Teide is a good place to try some local fish dishes.
From the promenade in front of Playa Chica, you can walk all the way to Los Gigantes, a good way to explore the coastline of Santiago del Teide and explore one of the traditional towns of Tenerife.
Close to the beach you can visit the Fishermen's Museum, dedicated to the history and the fishing traditions in Santiago del Teide.
Puerto Santiago Beach is not as popular as the neighboring Playa La Arena, which is a black sand beach with many amenities, attracting lots of tourists all year round.
Read also our complete guide to all 101 Beaches in Tenerife