Tenerife Weather in November: Is Tenerife Warm in November?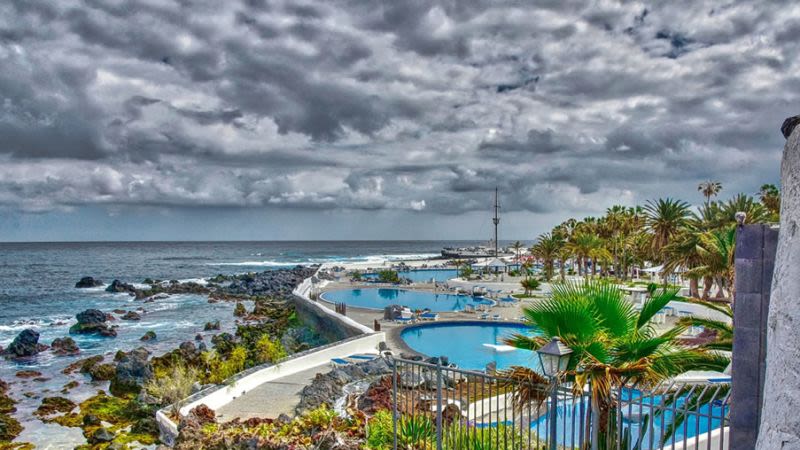 Tenerife is part of the Canary Islands, one of the most popular tourist destinations in Europe during the winter months.
Why?
Well, it's because the Canary Islands are probably the warmest European destination in winter when the rest of the continent is usually suffering from low temperatures.
How warm is Tenerife in November?
November is considered the month when the seasons change and the weather goes from summer hot to winter warm (still very warm for many of us visiting). Also, November is the month when northern Europeans come to Tenerife to spend the next 3 to 4 months here over the winter period, in order to escape the cold back home.
November marks the last days of hot summer, as temperatures rarely will surpass 30°C, even in the south.
But this doesn't mean it will be cold. It just means that the weather is still appropriate for sunbathing, just not as hot as during the summer months.
Weather in Tenerife in November
It's not an easy task to speak about the weather in Tenerife, as it can differ a lot due to its diverse microclimates.
We generally split Tenerife in two and talk about the south and the north. But the truth is that we were on a warm and calm day in Puerto de Santiago one time and we decided to walk to Los Gigantes. Well...the weather there was windy and it felt cooler than in Puerto Santiago. It's weird, considering there isn't much of a distance in between them.
So... the weather in Tenerife in November can be tricky and even a bit of a disappointment for some, especially for those coming to the island for the first time.
Even the south might get some rainy days, but the good thing is that it won't last for long.
It's much more common to be raining in the north of Tenerife, which is why the north is so green and attractive in terms of landscapes, compared to the south.
There's even the possibility of stormy days, strong winds and cloudy days, but it's impossible as to say when all this will happen.
The thing is, back in old Europe the weather is becoming darker and colder as well, so that's why people are looking for a break in the sun. And in Tenerife, it's difficult not to find a bit of sun and warmth if you spend here more than 3 days. The good thing about the weather in Tenerife in November is that no matter how bad it gets, it doesn't last for long (especially in the south).
Tenerife South Weather in November
Playa de las Americas, Costa Adeje and Los Cristianos are located in the south of Tenerife, where you have the best chances for beautiful weather, so choosing one of these places as a base for your holiday is always a good idea.
The weather should still be warm and sunny on most days in this part of the island, with temperatures just below 30°C during the daytime.
Average Temperature in Tenerife in November
The average temperature in November is still around 22°C, so if you're in the (usually) sunny south, you won't suffer from cold.
On sunny days the weather in November is still hot enough to sunbathe on the beach and the water temperature is still around 22°C, as it's just beginning to cool down.
Average high temperature: 24.7°C (76.5°F)
Average low temperature: 18.3°C (64.9°F)
Daily mean temperature: 21.5°C (71°F)
In Tenerife South, the daily mean temperature is 21.5°C in November, which is calculated as a mean between the average high temperature of 24.7°C and the average low of 18.3°C.
Record low & record high temperatures
The highest temperature ever recorded in Tenerife in November (at Tenerife South Airport station) was 35.2°C and the lowest temperature was 12°C.
Rainfall
Average rainfall: 26 mm
Average rainy days: 2
Although November does get more rain than October (even in the south), the number of wet days stays the same, with an average of 2 rainy days in November.
November is also the month when the big storms usually happen in Tenerife, most of the times after the first half of the month, so you should be advised that there's also the chance of thunderstorms, strong winds and heavy rain.
Sunshine hours
Monthly sunshine hours in November: 210
Daily average sunshine hours: 7
UV Index: 5
Tenerife gets an average of 7 hours/day of sunshine in November.
The UV index is situated at a 5 on a scale that goes up to 11 as max. You should still use sun lotion with at least moderate SPF if you want to protect your skin when you are out in the sun.
Sea temperature

Can you swim in November?
The ocean around Tenerife is still pretty warm and good for swimming, so you'll be able to enjoy the ocean especially when the sun is out.
Snow in November
Can it snow in Tenerife in November?
The truthful answer is that yes, it can snow in the month of November inside Teide National Park, but it is most likely to happen on the summit of Mount Teide. But chances are that the snow won't last for long during this month.
What's Tenerife like in November
November Weather
Average
High °C (°F)
Average
Low °C (°F)
Rain
mm (inches)
Rain
Days
Average
Sun Hours
Puerto de la Cruz
23.9 (75)
18 (64.4)
59 (2.32)
8
6
Tenerife North Airport (SC La Laguna)
19.6 (67.3)
13.3 (55.9)
81 (3.19)
8
5
Izana (Teide)
11.1 (52)
4.5 (40.1)
54 (2.13)
4
7
Santa Cruz de Tenerife
24.1 (75.4)
18.4 (65.1)
34 (1.34)
9
6
Guimar
23.4 (74.1)
16.4 (61.5)
62 (2.44)
8
7
Tenerife South Airport
24.8 (76.6)
18.2 (64.8)
26 (1.04)
2
7
Los Cristianos
24.7 (76.5)
18.3 (64.9)
26 (1.02)
2
7
Costa Adeje (Playa de Las Americas)
24.7 (76.5)
18.3 (64.9)
26 (1.02)
2
7
Garachico
19.5 (67.1)
13.2 (55.8)
83 (3.27)
8
6
What should you expect from a winter break in Tenerife in November?
Depending on where you're coming from, the weather will probably be much better and warmer than back home but be prepared for some bad and rainy days as well.
We don't want to put you off booking a holiday to Tenerife this month, but it's a well-known fact that the weather can be tricky in November.
If you don't mind a bit of overcast weather, the probable rainy days and you want more than just laying on the beach, then coming over in November might be a good choice for you. There aren't many families with children at this time of the year, as they are in school, so the scene will be more quiet and chilled compared to the summer months.
Should you go on holiday to Tenerife in November?
In our opinion, any month is good for a holiday to Tenerife, but it's true that November can be a tricky month due to weather changes.
If you want guaranteed good weather, then November is not the month for you. If you want a short break and you love Tenerife no matter what, then of course you should go.
No matter when you decide to visit, there are so many things to do in Tenerife that you can easily find somewhere new to go and explore, despite the weather and season.
Is Tenerife hot in November?
Generally yes, it's pretty hot, considering the temperatures are around the high 20s°C on most days. The ocean is still pleasantly warm and ideal for swimming and even water sports (many surfers come here during this time to ride big waves).
If HOT HOT HOT is what you're looking for, then maybe the best time to visit Tenerife for you is in July or August, when temperatures often go above 30°C.
We love the warm autumn weather in Tenerife as we cannot stand the scorching heat when all we do is hide in the shade. But everyone is different, so we understand that some of you might be looking for something warmer than 27 - 29°C in the daytime.
If you're planning a winter holiday to Tenerife you can read our other articles as well:
FAQ about November weather in Tenerife (Canary Islands)
Is Tenerife warm in November?
Yes, Tenerife is warm in November. You can swim and sunbathe on most days, with an average high temperature of 24.7°C (76.5°F).
Is November a good time to visit Tenerife?
Yes, November is a great time to come to Tenerife, so you can escape the cold back home.
Can you get a tan in Tenerife in November?
Yes, you can still sunbathe during the day and get a tan. The UV index is 5 in November, so make sure to use a sun lotion while sunbathing.
Which is hotter in November: Tenerife or Lanzarote?
In November, the temperature in Tenerife South is similar to the one in Lanzarote, while the north of Tenerife is cooler and gets more rain.