Callao Salvaje, Tenerife - Things To Do & Travel Guide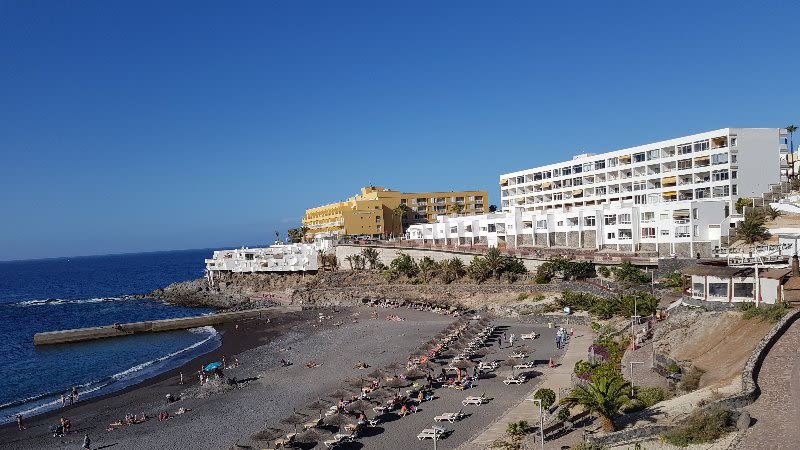 Callao Salvaje is a tourist destination in the municipality of Adeje, in the very south of Tenerife. It is an ideal place to spend a quiet holiday on the island at any time of the year, due to the warm climate throughout the year.
Callao Salvaje is not as developed and large as Costa Adeje for example, which is the major tourist resort in the municipality. This means that if you would prefer a quiet and relaxing holiday in the south of the island, Callao Salvaje would be a good place to stay, as here you will mostly find private apartments to rent, instead of the big all-inclusive hotels, which are usually set up in the larger resorts like Playa de Las Americas, Costa Adeje or Los Cristianos.
What to do in Callao Salvaje
Callao is a spot for relaxation and a great base if you want to rent a car and explore the island of Tenerife on your own.
Even by using public transport, you can hop on a bus (known as Guagua in Tenerife) and you can visit the surrounding towns and resorts like Playa Paraiso, Playa San Juan, or Costa Adeje. This way you can alternate which beach you go to every day, without having to travel too far out.
If you decide to rent a car, a great day trip would be to the beach in El Puertito, which is the most charming place in this area of the coast, still undeveloped, but highly popular among locals and surfers. There's even a bar next to the beach where you can have a drink and even lunch, although a bit overpriced for what they serve.
Playa de Ajabo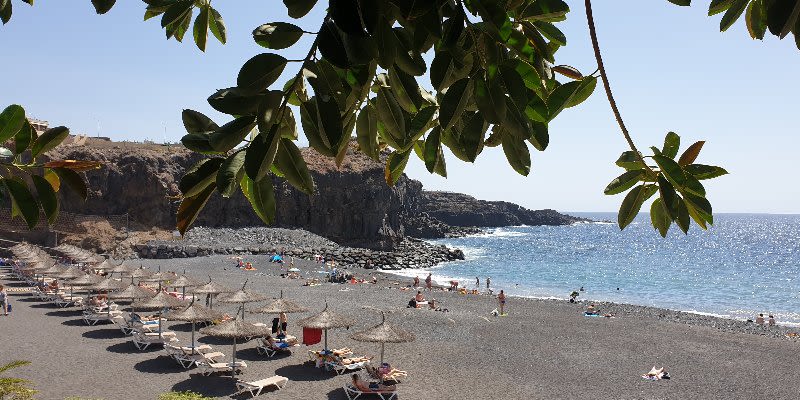 This is the local beach in Callao Salvaje, with black sand and pebbles, which has only become safe for swimming in recent years after extensive works were carried out in the area. We remember that back in 2012 they were just starting works on this beach.
There used to be a beach bar on Playa Ajabo, but during our last visits in the town in 2018 and 2019, it was closed and there was no nearby place to grab a drink or something to eat. This is quite a shame since the view from the bar overlooking the beach was really lovely.
There are sunbeds and umbrellas on the beach in Callao Salvaje, but this subject sparks a lot of conflicts and controversies in town. This is because the sunbeds and umbrellas belong to the company which used to manage the beach bar (which is now closed), but some individuals, who could be former employees of the bar's owner, still charge a fee for the use of these facilities. There have been several disputes between locals and even tourists who refused to pay the fee set up by these individuals and despite the several complaints to the local authorities, it's not really certain if they have the right to still charge for the use of the sunbeds or not (since the beach bar is not operational anymore).
For us, this is off-putting and it makes us not want to come back to Playa Ajabo or Callao Salvaje, since we want to relax and have a good time while on holiday, not get into fights over such things. We are happy to pay a fee for the use of sunbeds, umbrellas, or toilets like we do on every other beach in Tenerife, but only if this fee is charged legally by the people who are taking care of the facilities and the beach.
We really do hope that this situation gets resolved quickly so that visitors can enjoy a relaxing holiday in Callao Salvaje. If you have more details about changes to the situation, please let us know via our Contact form, so that we can update this article and let people know.
Nightlife in Callao Salvaje
There are no clubs in Callao Salvaje, so there are no noisy establishments to keep you up at night.
Other day trips from Callao Salvaje
Besides the other nearby towns which we previously recommended, you could also go on day trips to:
Playa Abama
Barranco del Infierno - a great day of hiking in the south of Tenerife
Golf Costa Adeje
These are only the closest places that you could easily visit if staying in Callao Salvaje, but of course you could also go further to visit Teide National Park, Masca village, Los Gigantes and all the other beautiful places to see in Tenerife.