Tenerife Weather in July - Hot and Perfect for a Beach Holiday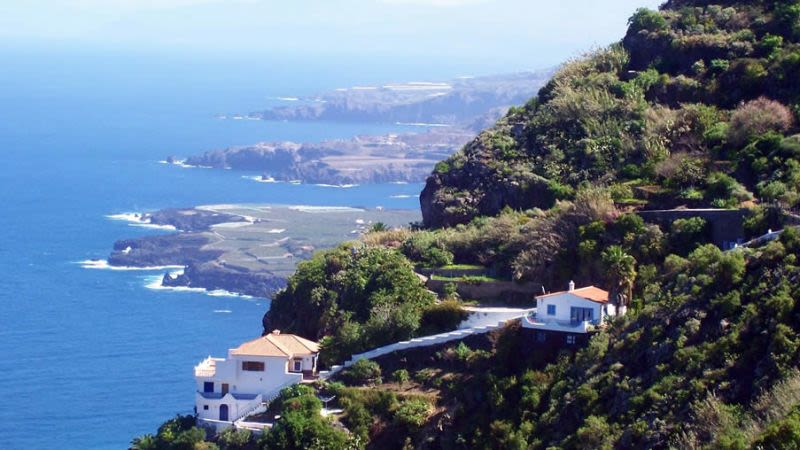 July means full on summer in Tenerife, and this translated in high temperatures, low chances of precipitation and moderate chances of calima.
July and August are the months when Tenerife is visited by families with children who are on their school holiday and also many Spaniard come to the island on their summer holiday. If winter in the Canary Islands is the season when most of the visitors are from the UK, Germany and the Nordic countries, summer is a different story. There are still many foreign visitors, but there are also many Spaniards coming to Tenerife from the continent.
If in winter the Canaries have virtually no competition in Europe in terms of warm weather, the situation changes in summer. Greece, Portugal, the south of France, mainland Spain and the Balearics are also hugely popular during the summer months. So you would maybe think that July might be a slow month in Tenerife. Which is totally WRONG!
Summer is still high season in Tenerife and July makes no exception. The weather is pretty much guaranteed to be gorgeous and hot in July in Tenerife, so this is the reason why so many people choose to come here during this month.
How is the weather in Tenerife in July
If the month of June in Tenerife is usually warm and pleasant, with low chances of rain, July is even HOTTER and drier, with virtually no chances of precipitation in the south of the island.
July is the month to visit Tenerife is you are after long sunbathing days, when the sun in up on the sky from early morning to late in the evening. Beware of sunburns and use a factor 50 sun cream, as the UV index gets pretty high in the Canary Islands during summer and you skin will thank you for giving it protection. And don't worry, in July you will get a tan just by walking outside, you don't even have to lounge all day on the beach.
July is also a perfect month for exploring the north, as the weather will be also warm and dry on most days. If months like January or February might prove to be a gamble for spending your winter holiday in Tenerife in the north of Tenerife due to the high chances of precipitation, July is considered a dry month even as far as the north is concerned.
Tenerife South in July
Beaches in Tenerife South are packed in July, just like you would expect them to be.
Most visitors come here to take full advantage of the warm and gorgeous weather, which translated to spending all day around the pool or on the beach. When you see those videos of people fighting for sunbeds around hotel pools, the highest probability is that they were filmed either in July or August.
So, as a side note: don't throw your towel on a sunbed, only to disappear for hours on end! It's not fair towards other hotel guests to keep your towel sitting on a sunbed when you are not even there to use it.
In July the sea temperature is around 22 - 23 °C, so swimming should be smooth and pleasant wherever you plan to spend your beach day.
The natural pools near Alcala or Los Gigantes are also nice during this time of year, as well as the natural pools in Garachico if you are willing to travel further.
Temperature in Tenerife in July
Although Tenerife might not get as hot as some of the other popular summer destinations that we have presented earlier, the temperatures are still around 30°C during the daytime. And at 30°C in Tenerife in July, on a clear sunny day, you will not wish for more - or at least this is the case for us.
Record low & record high temperatures
The highest temperature recorded in Tenerife is July was of 42.6°C and the lowest was of 16.5°C - and this wasn't in the south, so no need to panic or get worried about temperatures like that in summer.
Temperatures recorded in Tenerife in July 2018
Recorded temperatures during the month of July 2018 so you can get an idea of what you can expect from your upcoming holiday.
Highest temperature during daytime: 34 °C
Lowest temperature during daytime: 27 °C
Highest temperature during nighttime: 21 °C
Lowest temperature during nighttime: 19 °C
COSTA ADEJE temperatures - JULY 2018
Highest temperature during daytime: 34 °C
Lowest temperature during daytime: 27 °C
Highest temperature during nighttime: 21 °C
Lowest temperature during nighttime: 19 °C
SANTA CRUZ DE TENERIFE temperatures - JULY 2018

Highest temperature during daytime: 35 °C
Lowest temperature during daytime: 21 °C
Highest temperature during nighttime: 17 °C
Lowest temperature during nighttime: 15 °C
Rain in Tenerife in July
July is one dry month in Tenerife.
Rain should not be on your mind when thinking of your July holiday to Tenerife. The weather is usually dry and hot and it stays like this throughout August as well.
Sunshine hours in July
Tenerife gets an average of 11 hours/day of sunshine in July and it is the sunniest month in Tenerife throughout the year.
Sea temperature in July in Tenerife South

These are the average numbers for the sea temperature in July for Playa de las Americas:
Max: 23.2°C / 72.9°F
Avg: 22.1°C / 71.8°F
Min: 21°C / 70.7°F
Info from https://www.seatemperature.org
July is for beach holidays and time spent swimming in the sea or lounging by the pool with a cocktail in hand.
But if you want to explore and discover the island beyond Tenerife South, this is a perfect time to do so. You can find plenty of inspiration in regards to how you can spend you days here in Tenerife, but for July this is what we recommend:
Discover Anaga beaches
Summer is the perfect season to explore Anaga Rural Park, to do hikes and to spend time on the wild and beautiful beaches. During the winter months the weather can be quite tricky and swimming definitely is not recommended, but you can go there during summer to enjoy these less touristic places. Take care when going into the water, because the currents are strong in this part of the island.
Bajamar Natural Pools
In winter, the natural pools in Bajamar are often photographed by visitors attracted there by the huge waves that come crushing violently into the rocks. In summer you can actually enjoy the pools and swim in there with all the locals and tourists that gather here.
Maritime Park Cesar Manrique in Santa Cruz de Tenerife
We know that Siam Park is great, but if you want to try something different, come to Santa Cruz de Tenerife!
Parque Marítimo César Manrique has 3 saltwater swimming pools in a location that was designed by the famous artist Cesar Manrique.
If during winter these pools can be too chilly to be able to swim comfortably, in summer the park is filled with locals and children. Entrance to the park costs just 2,50€, so it's super affordable to go in just for a swim.
Events in Tenerife in July
Magic Nights at Siam Park in July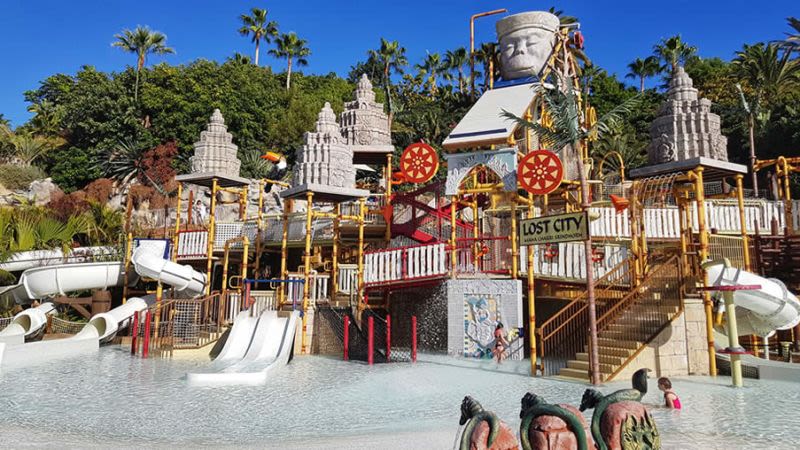 Only in July and August you get the chance to enjoy a special experience at Siam Park, one of the best water parks in Spain!
Magic Nights are usually organized only on Fridays and Saturdays of July and August and you can experience the same thrilling rides under the magic of the night in Tenerife South.
Arona Music Festival
Arona Music Festival is a big festival of electronic music, happening in Playa de las Americas. They usually draw big crowds and the line-up includes huge names in the industry like STEVE AOKI. STEVE ANGELLO and ARMIN VAN BUUREN.