Driving in Fuerteventura & Top 3 Driving Routes Around The Island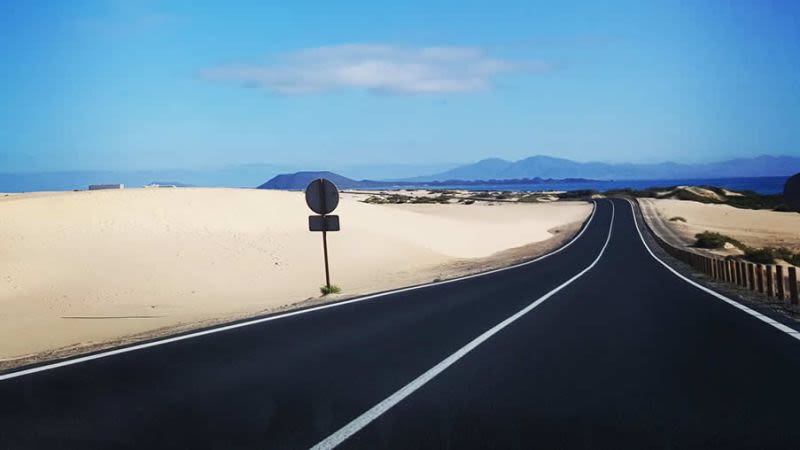 Driving in Fuerteventura is usually easy and stress-free and as long as you follow the rules and you stick to the right side of the road, you should be perfectly fine.
Although Fuerteventura is the second largest Canary Island, driving on the island is pretty smooth and it is easy to move across the island if you hire a car.
Tips For Driving in Fuerteventura
First of all, driving is on the right side of the road!
The main roads are FV-1 (Puerto del Rosario to Corralejo) and FV-2 (Puerto del Rosario to Morro Jable)
Be careful when entering roundabouts (you'll understand why once you're there)
Roads are in good condition in most parts of the island and it's easy to drive on the island
If you hire a car you must stick to public paved roads. Cars are not insured for driving on unpaved roads like the road to Cofete
Be careful when driving on the road through the Corralejo Dunes, as many tourists go out of their parking places without giving way. Also, cars may slow down suddenly while looking for an empty parking place, so you should be careful while driving on this section of FV-1.
Don't miss: Best Things To Do In Fuerteventura
Since Fuerteventura is much flatter than the western islands in the archipelago, the roads are not as winding and challenging as they can be in Tenerife or Gran Canaria.
Best driving routes in Fuerteventura & Best places to visit by car in Fuerteventura
Discover Fuerteventura's most scenic drives
If you decide to hire a car and drive around the island on your own, you'll have the liberty to enjoy things at your own pace, plus you'll be able to stop wherever you want along the way.
1. The Northern Route: Corralejo, El Cotillo and La Oliva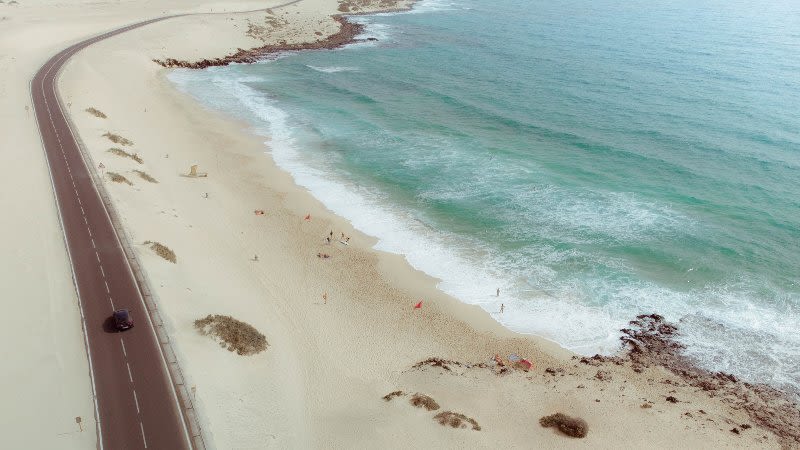 A drive to remember through the Corralejo Sand Dunes
The road through the Corralejo Dunes is probably the most scenic route in Fuerteventura.
This drive is so scenic that you will probably want to stop every 2 minutes, hence why we said you should be careful while driving through this section. You can easily spend a day just exploring the amazing beaches, but if you're not staying in this part of the island and you are just visiting during a day trip, then you should continue driving all the way to Corralejo.
After a walk in Corralejo (or maybe lunch there?), you can go back to the car and drive to El Cotillo, with maybe a stop on the way to Lajares. In El Cotillo, you can admire one of the best sunsets in Fuerteventura and on your way back you can drive through La Oliva, a charming inland town where you can stop to see the Church of Our Lady of La Candelaria.
2. The Drive Through Betancuria Rural Park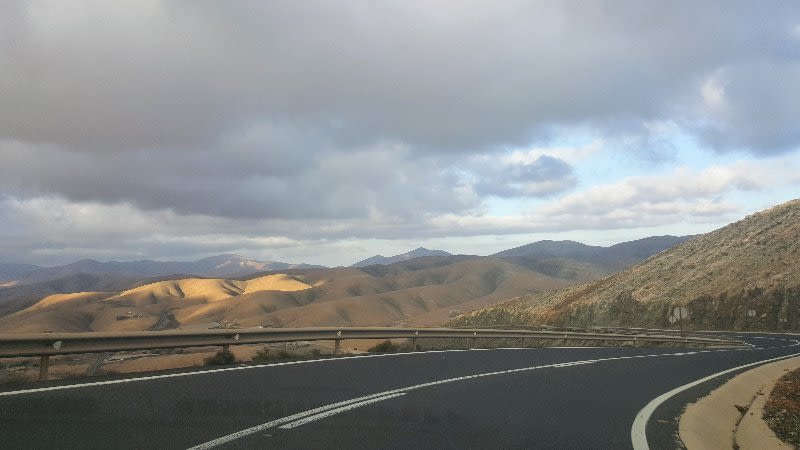 A day away from the coast, to discover Fuerteventura's rugged inland beauty
This particular drive can be scary for many visitors, as it is winding and has lots of turns.
If you are driving from Corralejo you have to go through La Oliva on FV-101, then towards Tefia, Llanos de la Conception and you should make your first stop at the Morro Velosa statues. Visit the Mirador, admire the beautiful view of the inland and then continue your drive towards Betancuria on FV-30.
After visiting Bentancuria you can continue driving towards Vega de Rio Palmas, then stop at Mirador Las Penitas. The scary and winding part of the drive starts from there. We personally love this road and we don't find it scary at all, and you will be ok as long as you don't rush.
Once you get to Pajara, depending on what the time is, you can go to Ajuy and visit the caves or watch the sunset, or you can head straight back home through the alternative route that goes through Antigua (FV-20).
If you are staying the in South of Fuerteventura, then you will do the same route in reverse. Drive to Pajara, then head over to Betancuria, then to Mirador de Morro Velosa, then take the FV-416 road which will lead you to Antigua. From there you can go to Tuineje and then down to Gran Tarajal, or you can head over to Caleta de Fuste and drive on the main FV-2 road.
3. The Southern Route in Fuerteventura: Costa Calma, the famous beaches of Jandia and Morro Jable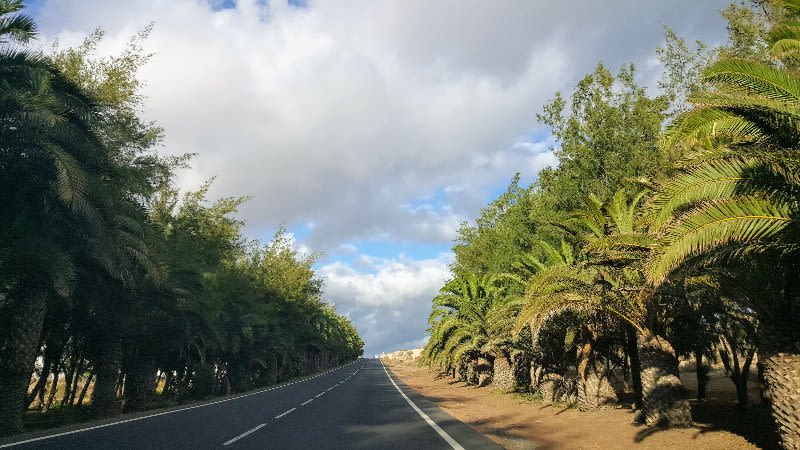 A day of beach hopping while driving along the southern coast of Fuerteventura
No visit to Fuerteventura would be complete without seeing the amazing beaches in the Jandia peninsula.
You can stop in Costa Calma, then head over to the most famous beach of them all: Sotavento Beach - especially Playa Barca. You see it on almost every postcard of Fuerteventura, with its unique tidal lagoon.
Other spectacular beaches on the route are Playa Risco de Paso, Playa Mal Nombre, Playa Esquinzo and then finish on Playa Matorral. If you plan to stop at every beach you won't have much time to spend in one place, but you can make an idea of what there is to see and maybe you can come back some other time to spend more time in this region.
End the day in Morro Jable, the island's southernmost resort town, where you can enjoy a well-deserved drink and meal (no alcoholic drinks though...if you're planning to drive afterwards).