Lanzarote Weather in May - Summer Is Around The Corner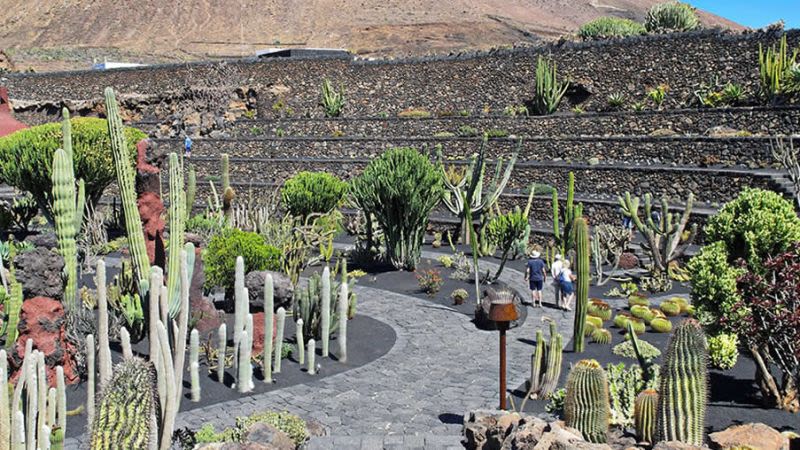 May starts to feel like proper summer in Lanzarote, the UV index is already at high levels and the warm weather is just perfect for a lazy day in the sun, followed by a dip in the sea.
Lanzarote is the westernmost island in the Canaries, so its climate sometimes resembles the one in the Sahara Desert. This means that during the month of May you can except hot days and cool nights, with temperatures around 15 - 17°C, so remember to pack a cardigan or a light jacket when you come over.
Weather in Lanzarote in May
With summer just around the corner, May is a good month to visit Lanzarote if you want to have the summer experience without the summer crowds. Yes, temperatures won't be as high as they are in July or August, but it will be hot enough to sunbathe and even swim in the sea (although this comes to personal preference and tolerance).
With around 297 monthly sunshine hours, May sees quite an increase in daylight hours and sunshine hours compared to April. This means that with the warmer weather and the longer days you will have more time to enjoy the sun and explore the island as well.
Temperatures in Lanzarote in May
The average high temperature in May in Lanzarote is around 25°C , while at night you can expect temperatures of around 16°C.
Record low & record high temperatures
The highest temperature ever recorded in Lanzarote in May (at Airport station) was of 42.6°C and the lowest was of 11.5°C.
Temperatures recorded in Lanzarote in May 2018
Highest temperature during daytime: 25 °C
Lowest temperature during daytime: 22 °C
Highest temperature during nighttime: 18 °C
Lowest temperature during nighttime: 14 °C
Since the island is mostly flat, the temperatures stay pretty much the same across all major resorts in Lanzarote: Puerto del Carmen, Playa Blanca and Costa Teguise.
Spring 2018 saw a few unusual hot days in April which were significantly warmer than the hottest days in May 2018. In 2018 the maximum temperature in April in Lanzarote was of 29°C (well above what is normal for this month), while the maximum temperature in May was of 25°C (this is the usual average for this month).
Rain in Lanzarote in May
By the time the month of May starts, the rain almost disappears from Lanzarote and returns in late autumn.
There are virtually no wet days in May and the month usually sees an average of around 2mm of rainfall, so not much at all.
Sunshine hours in May
Lanzarote gets an average of 9.5 hours/day of sunshine in May, which is an 1h increase from the previous month. This means more time to spend on the beach or by the pool, but we always advise visitors to also go out and explore the island.
Don't miss: Best Things To Do in Lanzarote
Sea temperature in May in Lanzarote

These are the average numbers for the sea temperature in May in Puerto del Carmen:
Max: 21.3°C / 69°F
Avg: 19.6°C / 67.3°F
Min: 18°C / 65.7°F
Info from https://www.seatemperature.org
Can you swim in Lanzarote in May?
With an average of 19.6°C / 67.3°F, the sea will be warm enough for swimming for most people.
There are people who go swimming in the sea even during the colder months like January or February, so it definitely depends on each person's tolerance and preference.
Things To Do in Lanzarote in May
Visit the Cactus Garden
For a fun day out with the entire family you can try a visit to the Cactus Garden.
This attraction is located in a former quarry and boasts a number of 1100 species of cacti, so there's lots to see. Cesar Manrique is the mind behind the design of the Cactus Garden, so there's another reason for you why you should go visit. May is a good month to go because the temperatures are still acceptable for walking outside under the blazing sun - during the middle of summer it will probably be too hot to visit during the afternoons, as there isn't much shade.
Trip to Lobos Island
Go to Playa Blanca and book yourself a trip to the paradise island Los Lobos.
Since May is warm enough for most people to go swimming, we think it's a good month to go and explore this tiny island between Lanzarote and Fuerteventura.
Events in Lanzarote in May
Dia de Canarias - Canary Islands Day - 30 May 2020

Canary Islands Day is celebrated each year on May 30th and there are usually events organized throughout the month. Most pf the towns and resorts in Lanzarote will have a list of events for the celebration of Dia de Canarias.
Also keep in mind that the day of May 30th is a bank holiday, so the public institutions and most supermarkets will be closed.