Lanzarote Weather in April: Temperatures, Rain & Sunshine Hours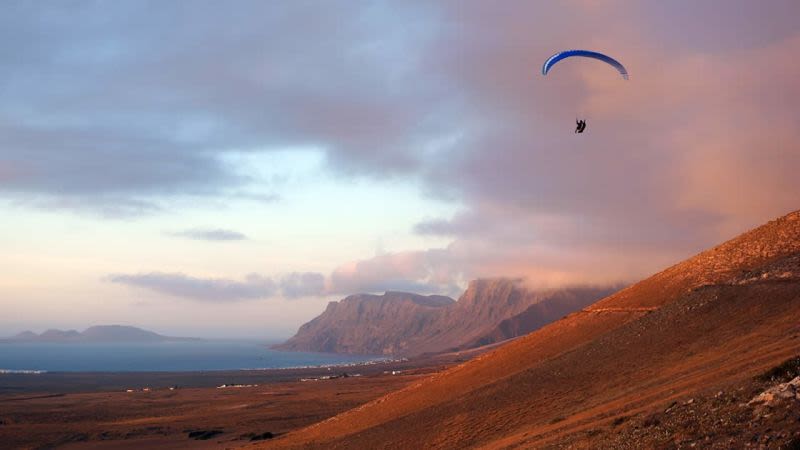 Starting April, the chances of rain Lanzarote start to drop considerably and the weather is perfect for sunbathing, as well as for walking about while visiting the island.
April can also be considered one of the more quiet months of the year in terms of visitors - it's not quite summer yet, but the weather in continental Europe starts to improve, so April can be a perfect month to visit Lanzarote if you want to avoid the big crowds. Also, but the time April comes around, most people who come to Lanzarote to avoid the cold winter will go back home, which is another reason why we think April is a good month to go on holiday to Lanzarote.
Weather in Lanzarote in April
The average temperature in April in Lanzarote is of 19.5°C, but during the daytime temperatures will usually be around their mid 20s°C. You can easily spend your days on the beach without being too hot, like it is the case with months like July or August.
With around 255 monthly sunshine hours, April is the perfect month for a getaway under the Canaries sun, before the summer crowds start to arrive.
Temperatures in Lanzarote in April
The average high temperature in April in Lanzarote is around 23.5°C , while at night you can expect temperatures of around 16°C.
Record low & record high temperatures
The highest temperature ever recorded in Lanzarote in April (at Airport station) was of 36.3°C and the lowest was of 9.5°C.
Temperatures recorded in Lanzarote in April 2018
Highest temperature during daytime: 29 °C
Lowest temperature during daytime: 22 °C
Highest temperature during nighttime: 17 °C
Lowest temperature during nighttime: 14 °C
Temperatures are similar between all major resorts in Lanzarote: Puerto del Carmen, Playa Blanca and Costa Teguise.
As you can see above, the highest temperature recorded in April 2018 in Lanzarote was of 29°C, well above the average for the month.
Rain in Lanzarote in April
Compared to the month of March in Lanzarote, in April the chances of rain drop by more than half - from 12 mm rainfall in March to 5.2 mm rainfall in April.
Most of the rain in April falls in a single day, so chances are big that you will have a dry and sunny holiday during this month.
However, exceptions can always occur and the chances of rain drop as the month progresses, so if you want you can delay your holiday for sometimes in the last 2 weeks of April, to improve your chances of good weather.
Sunshine hours in April
Lanzarote gets an average of 8.5 hours/day of sunshine in April. You will have plenty of time to hit the bars and also lounge by the pool or on the beach, while the days become longer compared to previous months.
Sea temperature in April in Lanzarote

These are the average numbers for the sea temperature in April in Puerto del Carmen:
Max: 19.9°C / 66.9°F
Avg: 18.8°C / 65.8°F
Min: 17.7°C / 64.7°F
Info from https://www.seatemperature.org
With an average of 18.8°C / 65.8°F, the sea might not be warm enough for most people to go swimming, although this depends on each person's tolerance. If you don't think you can handle this kind of sea temperature, it would be best to book a villa or a hotel with a heated pool.
Things To Do in Lanzarote in April
We believe that April is a good month to visit some of Lanzarote's attractions, as you can avoid the big queues that form during the summer months.
Timanfaya National Park - A Must See in Lanzarote
The journey through Timanfaya National Park is beautiful no matter the season and in April it will be definitely less crowded than in summer. If you're in Lanzarote for the first time, you should not miss a visit to Timanfaya National Park, which is one of the natural symbols of the island.
Jameos del Agua is one of the works of Cesar Manrique and a great place to visit. You can book a tour or you can hire a car and explore on your own. Jameos del Agua is one of the most gorgeous attractions in Lanzarote, a combination of an art and cultural center located in a series of lava tubes. The complex also has a restaurant, a wonderful pool (unfortunately you can't swim in it) and a museum.
Events in Lanzarote in April
Semana Santa and Easter 2019

Semana Santa 2019: 14 - 21 April
Semana Santa (Holy Week) is the week before Easter and in 2019 it will be celebrated in April. This is a week of great importance in Spain and there are lots of religious celebrations throughout the island. Semana Santa is also a time when lots of visitors come to the island for their Easter holiday, so prices might go up during this period.