Lanzarote Weather in February - Winter Sun Holiday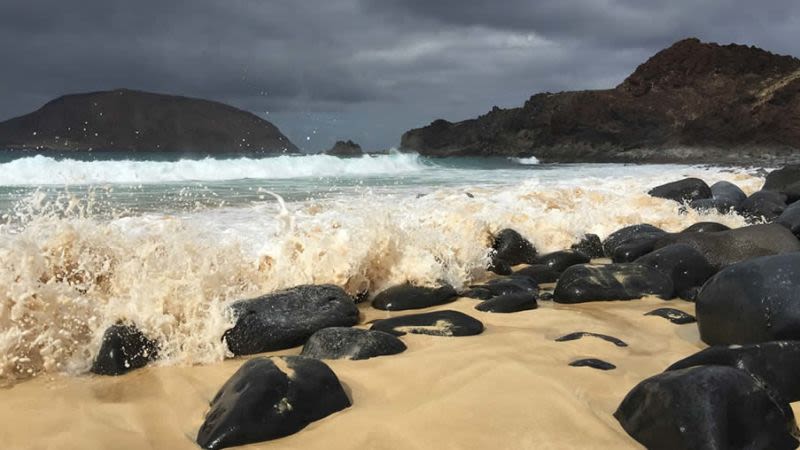 If you're looking for a bit of warm weather during those cold winter months back home, Lanzarote might be the perfect choice for a holiday abroad: you have mild temperatures, a sunny sky usually during the daytime and what's more important...no snow!
This is the main reason why the Canary Islands are our top choice when it comes to winter sun in Europe, as they enjoy a favorable climate all year round.
Lanzarote is one of the smaller islands in the Canaries, so it's an ideal destination if you want to combine a relaxing holiday by the pool with a bit of sightseeing.
What's the weather like in Lanzarote in February
Lanzarote's climate is classified as subtropical-dessert as the island is located just 125 km off the coast of Africa.
Although the weather during the winter months can be a bit of a gamble even in Lanzarote and the Canary Islands in general, the fact is that you still have more chances here to see a bit of sun than you have back in continental Europe.
The main concern regarding the weather in Lanzarote in winter revolves around rain and storms, which can hit the island from time to time and last for a few days.
Average temperature in Lanzarote in February
The average high temperature in February in Lanzarote is around 20 - 21°C, while at night you can expect temperatures of around 14°C. During the day time, you will usually be able to sunbathe, while at night you will need a cardigan or a jacket to feel warm and cosy.
Average high temperature: 21.3 °C (70.3°F)
Average low temperature: 14.3 °C (57.7°F)
Daily mean temperature: 17.8°C (63.1°F)
In Lanzarote, the daily mean temperature is 17.8 °C in November, which is calculated as a mean between the average high temperature of 21.3 °C and an average low of 14.3 °C.
Record low & record high temperatures
The highest temperature ever recorded in Lanzarote in February (at Airport station) was of 29.0 °C / 84.2 °F and the lowest was of 9.0 °C (48.2 °F).
Temperatures are pretty constant between Lanzarote's main resorts: Playa Blanca, Puerto del Carmen and Costa Teguise, and it usually doesn't get much colder than 12 - 13°C at nighttime. However, as you can see above, there are some times when temperatures drop below 10°C at night, but this is not usually the norm.
As we've said in our article about Lanzarote in January, during the winter season we actually prefer to stay Playa Blanca, as we feel it's less windy than Costa Teguise and Puerto del Carmen.
Beach holiday in Lanzarote in February - is this a good idea?

If you are coming to Lanzarote from mainland Europe, then the weather in Lanzarote in February will definitely be a step up.
Lanzarote (as well as the rest of the Canaries) is not a tropical island and so you should not expect extreme temperatures and hot days like in the summer. Lanzarote has a subtropical desert climate, which means that the winters are still mild and you will not find temperatures below 0°C, like it's often the case in the rest of Europe in February.
Temperatures still reach around 20°C during the day time and when the sun is out the weather is perfect for lounging on the beach or by the pool. Weather in Lanzarote in February can be tricky as there's more chance of rain compared to the summer months when it hardly rains, but if this happens during your holiday, we have a list of things to do in Lanzarote when it rains to keep you busy.
How warm is the weather in February in reality - actual photos from Lanzarote in February
View towards Costa Teguise on a sunny February day.
Haria Valley becomes green during the winter months, a very different landscape from the summer months. Although Haria is considered to be the greenest part in Lanzarote at any time of the year, during the winter months it really comes to life, due to the more frequent rain.
A sunny day on the beach in Lanzarote in winter - this is the reason why most people come to the island during this season.
Rainfall
Average rainfall (mm): 18 mm
Average rainy days (>=1mm): 3
Winter is the rainiest season in Lanzarote, with December being the rainiest month usually.
But even in February, you can expect to see some rainy days and even stormy days, as the period between mid-February up to the end of March marks the changing of seasons from winter to spring, so the weather can be a bit unpredictable. As long as you have realistic expectations regarding the weather in Lanzarote in February, the island is a great destination to spend your winter holiday if what you want is to escape the grey and the extremely low temperatures back home.
Snow in Lanzarote
Does it snow in Lanzarote?
NO.
On some rare occasions you can see hail, but not snow, so keep your winter boots at home.
Sunshine hours
Lanzarote gets an average of 7 hours of sunshine per day in February, which is very similar to the previous winter months.
What to wear & pack
Bathing suit
Flip flops
A waterproof coat
A cardigan that you can use for layering with the coat during the colder evenings
Closed footwear (if they are also waterproof would be excellent)
Sun lotion (you don't have to bring it from home as you can find it here as well - just don't forget to use it even in winter)
Sea temperature
Average sea temperature in February: 19.4°C / 66.9°F18.6°C / 65.5°F
Ocean temperatures are measured for Puerto del Carmen.
What's the best resort for a holiday in Lanzarote in February
The weather is pretty similar between all 3 major resorts in Lanzarote, although Playa Blanca tends to be a bit more protected when it comes to wind.
If you have been to Lanzarote before and have a favourite, then go with what you love. If this would be your first time on the island and you have no idea what to choose, please read more in our dedicated article about where to stay in Lanzarote. As the differences in weather between resorts are not as significant as the differences in Tenerife between north and south, you should just choose the resort that you think would suit your needs.
February weather averages
February Weather
Average
High °C (°F)
Average
Low °C (°F)
Rain
mm (inches)
Rain
Days
Average
Sun Hours
Lanzatore (Airport)
21.3 (70.3)
14.3 (57.7)
18 (0.72)
3
7
La Graciosa
20.2 (68.4)
14.2 (57.6)
13 (0.52)
2
6
Playa Blanca
21.5 (70.7)
14.2 (57.6)
14 (0.55)
2
7
Is February a good month to visit Lanzarote?
Yes, if you want to escape the hard winter back home.
If you want a holiday with scorching hot temperatures, then February is not the best month to visit Lanzarote and you should choose one of the summer months. But if warm weather with temperatures between 20°C and 25°C during the daytime are what you seek, then this time of the year might be perfect.
Lanzarote is an all year round destination, so any month is great for visiting and February is perfect if you just want to exchange the crazy cold weather for a bit of sunshine.
LANZAROTE WEATHER - MONTHLY REPORTS