Lanzarote Weather in September - Our Favourite Month For a Holiday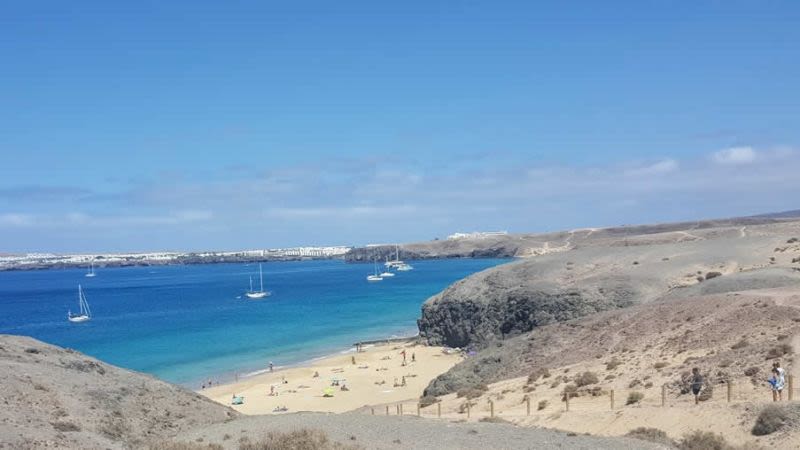 September is our favourite month to come to Lanzarote.
The weather in September is still hot, but not quite as hot as in August. Also, after the first week of September passes the big summer crowds start to disappear, as schools start the new year all across Europe. Just don't imagine that you'll have the island all to yourself, since Lanzarote is an year round destination, and it's lively and busy even in winter.
Weather in Lanzarote in September
Another great thing about visiting Lanzarote in September is that the ocean water has had time to warm up all throughout the summer months and now it's even warmer than it was back in August.
For us the weather is perfect for beach exploration, from north to south and from east to west. Playa Grande in Puerto del Carmen has the perfect clear water, Papagayo beaches in the south are simply a joy and Playa Famara draws us in to watch the surfers, even if we don't surf ourselves.
Rainfall is still a rare event in September, so no need to worry about that. This is why this month is the perfect mix of great weather and a more quiet and relaxed atmosphere compared to the summer season.
Temperatures in Lanzarote in September
The average high temperature in September in Lanzarote is still around 28°C, while at night you can expect temperatures of around 20°C.
Remember that due to Lanzarote's closeness to the Equator the sun feels stronger and it will easily burn your skin if you don't wear sun cream. After the sun is gone some evenings might start to feel chilly, especially towards the end of the month, depending on wind speed on most days. Might be a good idea to pack a cardigan or some light jacket, just for wind protection.
Record low & record high temperatures
The highest temperature ever recorded in Lanzarote in September (at Airport station) was of 40.5°C and the lowest was of 15.5°C.
Temperatures recorded in Lanzarote in September 2018
Highest temperature during daytime: 33 °C
Lowest temperature during daytime: 28 °C
Highest temperature during nighttime: 22 °C
Lowest temperature during nighttime: 20 °C
Since the island is mostly flat, the temperatures stay pretty much the same across all major resorts in Lanzarote: Puerto del Carmen, Playa Blanca and Costa Teguise.
Rain in Lanzarote in September
Average rainfall for September is still close to 0 mm, so there's almost no chance to see rain during this month. You can still enjoy a full summer month here in Lanzarote, because even in winter the island still has a mild climate, with pleasant temperatures, comparable to an early summer/late spring.
Sunshine hours in September
Lanzarote gets an average of 8 hours of sunshine per day in September, which is a big drop compared to the previous month when the island still got 10 hours of sunshine per day.
But since the evenings are still pretty warm and pleasant, they are perfect for long walks along the coast or through the resorts, while discovering the many great bars and restaurants the island has to offer.
Sea temperature in September in Lanzarote

These are the average numbers for the sea temperature in September in Puerto del Carmen:
Max: 24.1°C / 74.3°F
Avg: 22.7°C / 72.9°F
Min: 21.3°C / 71.5°F
Info from https://www.seatemperature.org
Can you swim in Lanzarote in September?
With an average of 22.7°C / 72.9°F, the sea is perfect for swimming. With a warmer sea compared to August, Lanzarote in September is perfect for beach holidays, without the crowds. So if you are able to visit sometimes in September or October outside school holidays, you will get to see a more chilled and relaxed side of the island.
Things To Do in Lanzarote in September
September still feels like summer in Lanzarote, so you can easily sit by the pool all day or lounge on the beach and swim in the sea. But we always recommend that people also go out and explore the island and discover beautiful places to visit.
Los Hervideros - Lanzarote's Natural Wonder
Situated in a rugged volcanic landscape, Los Hervideros is a great spot to watch in admiration and fear the true force of nature.
Our advice is to come here at a time when it's high tide, so you will see the place at its full potential.
You can come here by booking a tour at one of the excursion centers in the resorts, or you can hire a car and drive on your own. Driving in Lanzarote is easy and the roads are in good condition, so we encourage you to explore the island at your own pace.
A visit to Timanfaya National Park
A visit to Timanfaya National Park is a MUST when coming to Lanzarote, but during the summer months it can be crowded and and you may have to wait a long time to go on the bus tour around
Events in Lanzarote in September
29 September 2018
A day of music and party, to celebrate the ongoing summer days in Lanzarote. 2018 was the first edition of this event, so we will have to see if it will continue in the following years.
Fiestas del Pino in Punta Mujeres
31 August - 9 September 2018
10 days of celebration in Punta Mujeres, with different types of activities, music and dancing.